NRP Harmonic Patterns MA Fractals Based can be located on the MQL5 marketplace, it was created and uploaded by Sergey Efimenko on the 8th of June 2019, it has had a couple of updates, the most recent of which was on the 7th of March 2020 and it is currently at version 1.4.
Overview
NRP Harmonic Patterns MA Fractals Based is an indicator that can be used with the MetaTrader 4 platform. It is an indicator that was designed to display harmonic patterns on the graphs without redrawing and with a low delay. 
The indicator is able to recognize ABCD, Gartley (Butterfly, Crab, Bat), 3Drives, 5-0, Batman, SHS, One2One, Camel, Triangles, WXY, Fibo, Vibrations patterns.
The main parameters that come with the indicator include the number of bars to analyze, to show up or down arrows, to enable alerts and alert types, used price, using high or low bar values, to limit points on patterns, and more.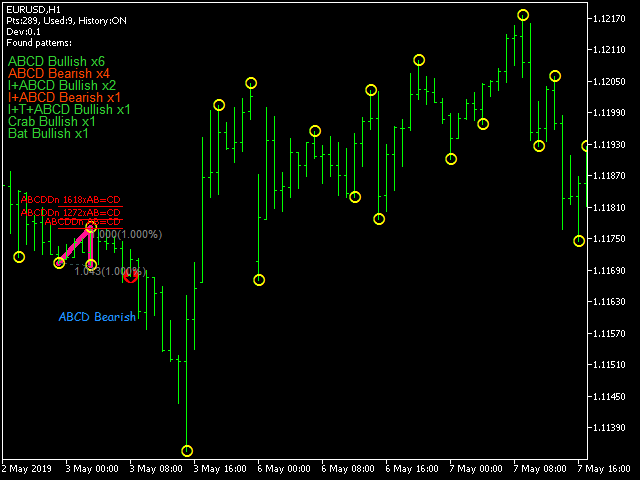 Service Cost
The NRP Harmonic Patterns MA Fractals Based can be purchased outright for $50, this comes with up to 5 activations and no other limitations. If you would prefer to rent the indicator, you can do this for a period of six months, it will cost you $25 for that six-month period.
A free demo version is also available, the details are not shown on the site which often means that it can only be used with the strategy tester within the MT4 platform.
Conclusion
There are no reviews, ratings, or comments for the NRP Harmonic Patterns MA Fractals Based indicator. This means that we do not know whether people are finding that it does what it is meant to do or if it is useful at all. Due to the lack of feedback, we would strongly suggest that you contact the developer, you can use that opportunity to ensure that the indicator will do what you need it to do, it is also a way to make sure that the developer is still around and offering support for the indicator.