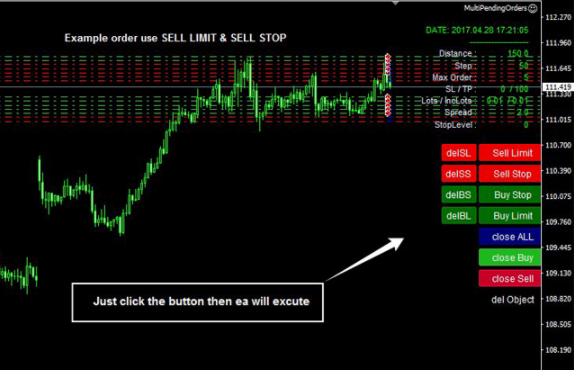 The MultiLimitStop EA can be found within the Utilities section of the MQL5 marketplace, there may be others with similar names so we have provided you with a link to the expert advisor below. The expert advisor was first uploaded on the 20th of June 2017 by its creator Siti Latifah, it has had a number of different updates, the most recent update was on the 2nd of March 2020 and this brought it up to version 2.1.
Overview
The MultiLimitStop EA is an expert advisor for the MetaTrader 4 trading platform, the indicator works by automatically placing pending orders (sell limit, buy limit, sell stop, buy stop), it also adds stop losses and take profit levels with just a single click of a button. The EA can also be used as a grid expert advisor.
The main features of the expert advisor:
Automation Pending orders grid style trading.

Automation of the process of placing the Pending Orders.

Automation of close Orders/Pending Orders.

Manage orders like Delete Pending, Close All, Close buy only, Close sell only.

Avoiding unwanted triggering of Placing Pending, Stop Loss, Take Profit in case the broker's stop level is different than usual.

Makes work easier and faster.
There are also a number of parameters that can help you adapt the expert advisor to suit your style a bit more, some of these include the lot sizes, how much the lots increase, the maximum number of orders, the step between trades, take profits, stop losses, trailing stops, and more.
Service Cost
The MultiLimitStop EA will currently cost you $30 to purchase it outright with no limitations attached. Many expert advisors have the opportunity to rent it, but this one does not, the only option is to purchase it. The site indicates that there is a free demo version available, but we do not know what the limitations of this free version are, many are only able to be used on demo accounts or only a few pairs are available to use.
Conclusion
There is just one review available, the user leaving the review did not leave a rating however he said the following.
"Lo he comprado y no me sale en el terminal y no puedo instalarlo." This translates into: "I have bought it and it does not appear in the terminal and I cannot install it."
Not the most positive thing that can be written about your product.
There are also a number of comments Siti Latifah (the creator) seems to be replying to the majority of them which is good to see and shows that there is at least some customer service available. As there are not many reviews to go off, we would highly recommend that you get in touch with the creator with any possible questions, also download and try out the free version to give you a better idea of exactly how it works before making a purchase.