The Market Open Hours Indicator can be found within the indicators section of the marketplace on the MQL5 website. We have provided a link to it just in case there are others with similar names. The indicator was uploaded by Kok Jye Yen on the 4th of July 2016, it has had a few updates, the most recent update was on the 11th of June 2018 and that brought the indicator up to version 1.3.
Overview
The Market Open Hours is an indicator for the MetaTrader 43 trading platform, the purpose of the indicator is to show you the times where the markets open, change, and close. This will allow you to know when the liquidity in the markets might change, such as a time when the markets switch over, the indicator works with the M1, M5, M15, M30, and H1 charts and can give up to a 2-week time span.
Some of the main features of this indicator:
-Changeable market name; up to 7 market names with their respective time zone and color settings.
-Changeable open and close market hours for each market name. Default settings – open: 08:00, close: 17:00.
-Time Bar (option to turn On/Off).
-TimeLine (option to turn On/Off).
-Event Label (text indicating opening/closing on the timeline for the respective market, with the option to turn On/Off).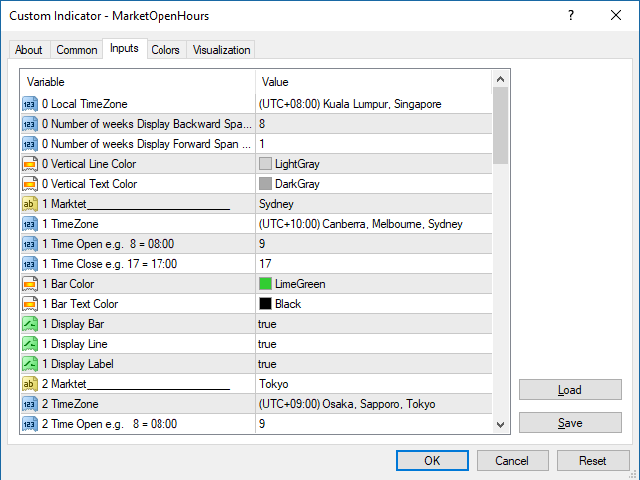 -Changeable market place name, time zone, and color.
-Dynamic Time Zone handling; meaning whichever time zone your server maybe, this indicator manages it dynamically. Hence, the indication of market opening hours is always correct.
-Dynamically handles daylight saving according to your PC settings.
-Time Bar and Event Label adjust dynamically with each change of the chart, giving the trader a sense of order.
There are also a number of parameters that can be altered, these include things like the market, time zones, time to open and close bar colors, to display bars, lines and labels, local time zone, number of weeks to display, and line and text color.
Service Cost
The indicator can be purchased for $200, this will purchase it outright and give you unlimited access without any limitations. There are also a few options to rent it, you can rent it on a monthly basis which will cost you $20 per month, for three months it will cost you $50, for six months it will cost you $75 and for one year it will cost you $100.
There is a free demo version, however, the site does not indicate what the possible limitations of the free version are, we would still suggest downloading and trying it out though.
Conclusion
Unfortunately, there aren't any reviews available for the indicator, there is also just one comment the developer replied to it promptly which is positive. Due to there not being any reviews, we would very strongly suggest that you download the free version, even with the limitations that it may have, you should also contact the developer with any questions, this way you can make sure that the indicator is right for you before you make a purchase or a rental.
This Forex service can be found at the following web address: https://www.mql5.com/en/market/product/17075