Interactive RSI Matrix can be found on the MQL5 marketplace, it was created by Tsvetan Tsvetanov on the 27th of October 2017, it was most recently updated on the 10th of January 2018 and is currently at version 1.1.
Overview
Interactive RSI Matrix is an indicator for the MetaTrader 4 platform, the main purpose is to show the current RSI values for a number of symbols and multiple timeframes, it will also allow you to switch between timeframes and symbols with one click. It allows you to analyze a large number of symbols across multiple timeframes in order to detect the strongest trends quickly.
The key features of the indicator:
-Shows RSI values for multiple symbols and timeframes simultaneously.
-Colored cells with progressive color intensity depending on the RSI values.
-Ability to change the symbol and the timeframe on the chart with one click directly from the matrix.
-Ability to adjust the size of the interface and the font.
-Ability to set the number of symbols and timeframes.
-Ability to set a neutral zone. (For example – red color below 30, gray color from 30 to 70, the green color above 70)
-The indicator is automatically synchronized with the Market Watch window in MetaTrader 4 where you can set custom lists with symbols.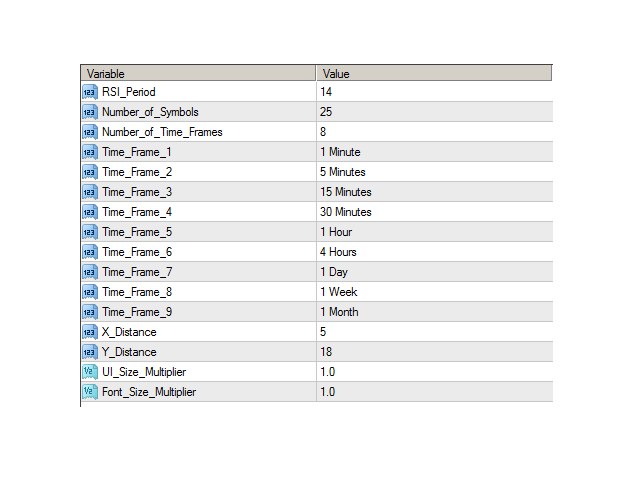 There are plenty of parameters available too, these include the RSI period, number of symbols, number of timeframes, neutral zone high and low, timeframe settings, UI size, and more.
Service Cost
The indicator can be purchased for $30 which will give you up to 8 activations of the software, there is also an option to rent the indicator, this can be done monthly and will cost you $12 per month.
There is a free demo version, this can only be used with the strategy tester and so it is limited to only one currency pair, this means that a lot fo the functions are not usable such as switching between charts and times.
Conclusion
The indicator currently has six reviews giving it an overall rating of 4.5 out of 5.
"This is an excellent indicator. So helpful to have all the RSI information at a glance and be able to display a chart with just one click of the mouse. A user-definable alert would make it perfect. True or False whenever a currency pair is overbought or oversold on any time frame send an alert, preferably a Push alert for when I am away from my computer and only able to trade from my mobile." – A 5-star review.
"Good panel. The only thing is that I cant change the color. It will be very useful to change the color." – A 4-star review.
So the reviews are generally very positive which is a good sign, there are a few comments, the developer was originally replying to them but seems to have stopped, there has not been a reply since 2018, this could mean that it is no longer being supported. Due to the lack of responses, we would highly suggest that you send your questions to the developer this will not only ensure that it will do what you need it to, but it will also let you know whether the developer is til actively supporting it.
This Forex service is currently available in the MQL5 marketplace: https://www.mql5.com/en/market/product/26074