Halo M15 can be found within the Experts section of the MQL5 marketplace, it was first uploaded to the marketplace on the 21st of March 2020 by its creator Raphael Schwietering. There have not been any updates since being updated so the software is still at version 1.0.
Overview
Halo M15 is an expert advisor that was created to be used with the MetaTrader 4 trading platform. The EA has been optimized to work with the EURUSD currency pair on the M15 timeframe. It uses complex algorithms along with some other indicators to work out its entry and exit points. It works with bar close only, it does not actually give any more information on its actual trading strategy.
The EA comes with some additional features which include working with 4 or 5 digit brokers, it has a spread filter, an equity stop functions, offers drawdown protection, take profit bracket functions, to stop trading once take profit or stop loss target is reached, fast buttons for order types, an information panel, 5 types of money management including fixed lots and percentages, adjustable trading times, and an advanced algorithm for entering the exiting the markets.
There are also some parameters and settings that to come with the EA which allows you to alter its functions. Some of these inputs include showing the information panel, magic numbers, lot sizes, risk management settings, take profit and stop loss goals, maximum spreads, slippage, minimum equity, and many more.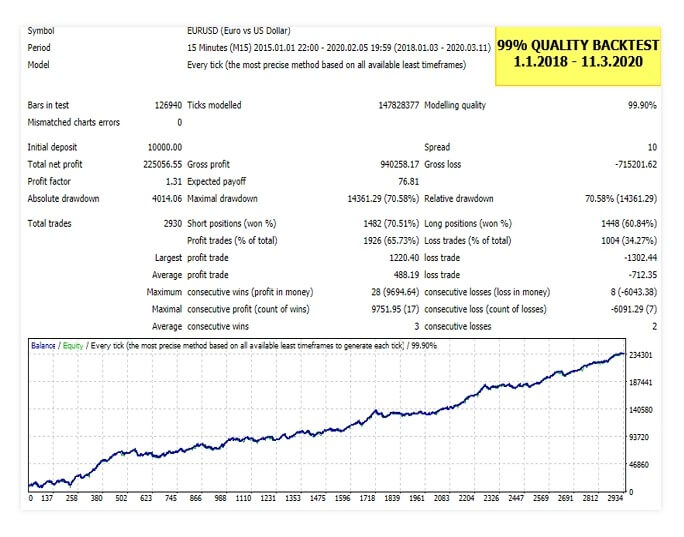 Service Cost
The expert advisor will cost you $499 to purchase it outright, this is a one-time payment that will get you up to 50 activations. There are also a few rental options available, it can be rented for a three month period which will cost $199, for six months it will cost $299 and for a year it will cost $399. There is also a free demo version, but this is limited to be ing used with the strategy tester within the MT4 trading platform and cannot be used on a live account.
Conclusion
There are currently no user reviews or ratings so we do not know whether people are finding the EA profitable or whether it is doing what it is intended to do, there are also no comments from users so we do not know if the developer is offering support, due to this we would suggest contacting them, just to make sure they will be there should you decide to get the EA and then need some support.
This Forex Indicator is currently available in the MQL5 marketplace: https://www.mql5.com/en/market/product/47490