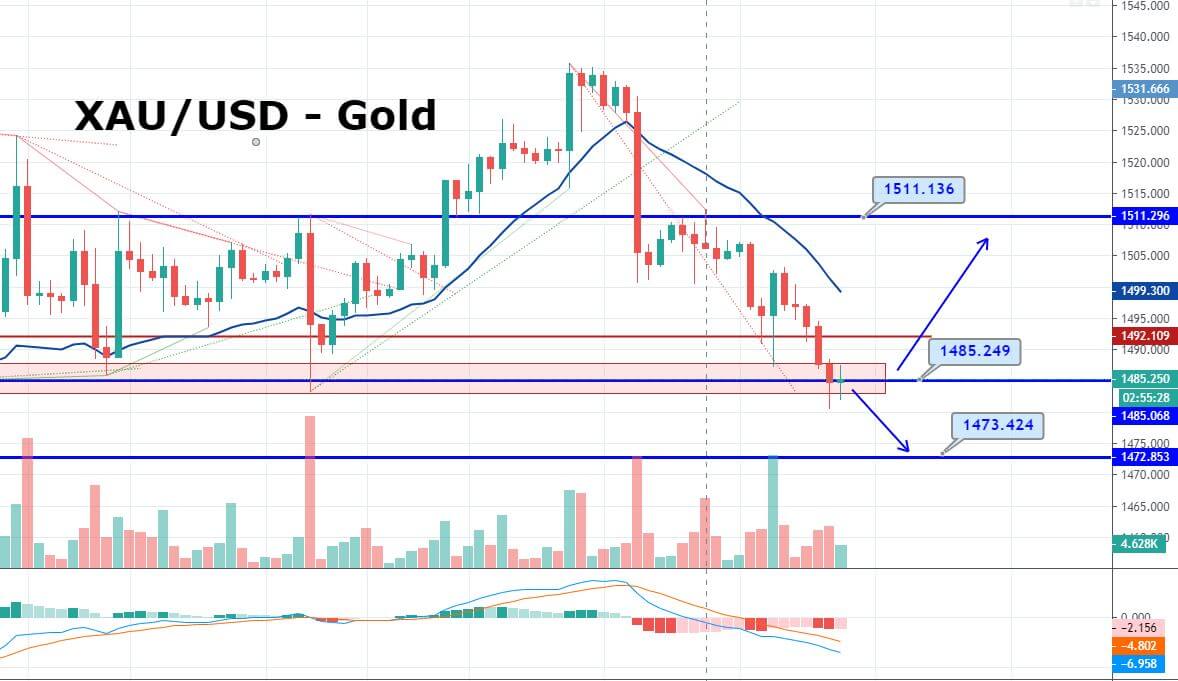 What's happening on Gold?
On Monday, the yellow metal gold prices were headed distinctly lower, slipping beneath a psychologically vital level at $1,500 on the last trading day of a month as well as a quarter. 
Most of the bearish trend in gold is triggered by a more robust dollar and slight buying in the U.S. stocks and yields, pulling demand away from bullion market.
The U.S. President Donald Trump's government is weighing delisting Chinese businesses from U.S. stock exchanges. Three specialists advised on the matter stated on Friday, in what would be a drastic intensification of U.S.-China trade tensions. 
This was supposed to drive a sharp buying in gold, but the subsequent news that the United States does not currently intend to prevent Chinese companies from entering on U.S. exchanges drove the risk-on sentiment in the market. 
Gold – Technical Outlook 
On the technical side, gold is trading at the triple bottom level of 1485, which is extending pretty solid support. The new candle has closed as a sort of hammer which may help drive bullish retracement in the gold. 
The leading indicator MACD is still forming bearish histograms, and its value stays at -14, suggesting a substantial bearish bias among traders.
The RSI and moving averages are still signaling bearish bias for gold, but may not see further selling until 1,485 gets violated. On the upperside, gold is likely to face resistance at 1,492 and 1,499. 
Gold – Technical Levels
Support Resistance 
1,486.94    1,507.06
1,476.88    1,517.12
1,456.76    1,537.24
Pivot Point 1,497
Let's seep an eye on 1497 to stay bearish and 1484 to remain bullish in gold today. All the best! Let's