Thank you for visiting the Forex Academy FX Options market combined volume expiries section. Each day, where available, we will bring you notable maturities in FX Options of amounts of $100 million-plus, and where these large combined maturities at specified currency exchange rates often have a magnetic effect on price action, especially in the hours leading to their maturities, which happens daily at 10.00 AM Eastern time. This is because the big institutional players hedge their positions accordingly. Each option expiry should be considered 'in-play' with a good chance of a strike if labelled in red, still in play and a possible strike if labelled in orange and 'out of play' and an unlikely strike if labelled in blue, with regard to the likelihood of price action meeting the strike price at maturity.
……………………………………………………………………………………………………………………..
FX option expiries for June 25 NY cut at 10:00 Eastern Time, via DTCC, can be found below.
– EUR/USD: EUR amounts
1.1200 1.6bn
1.1260 775m
1.1300 987m
1.1400 736m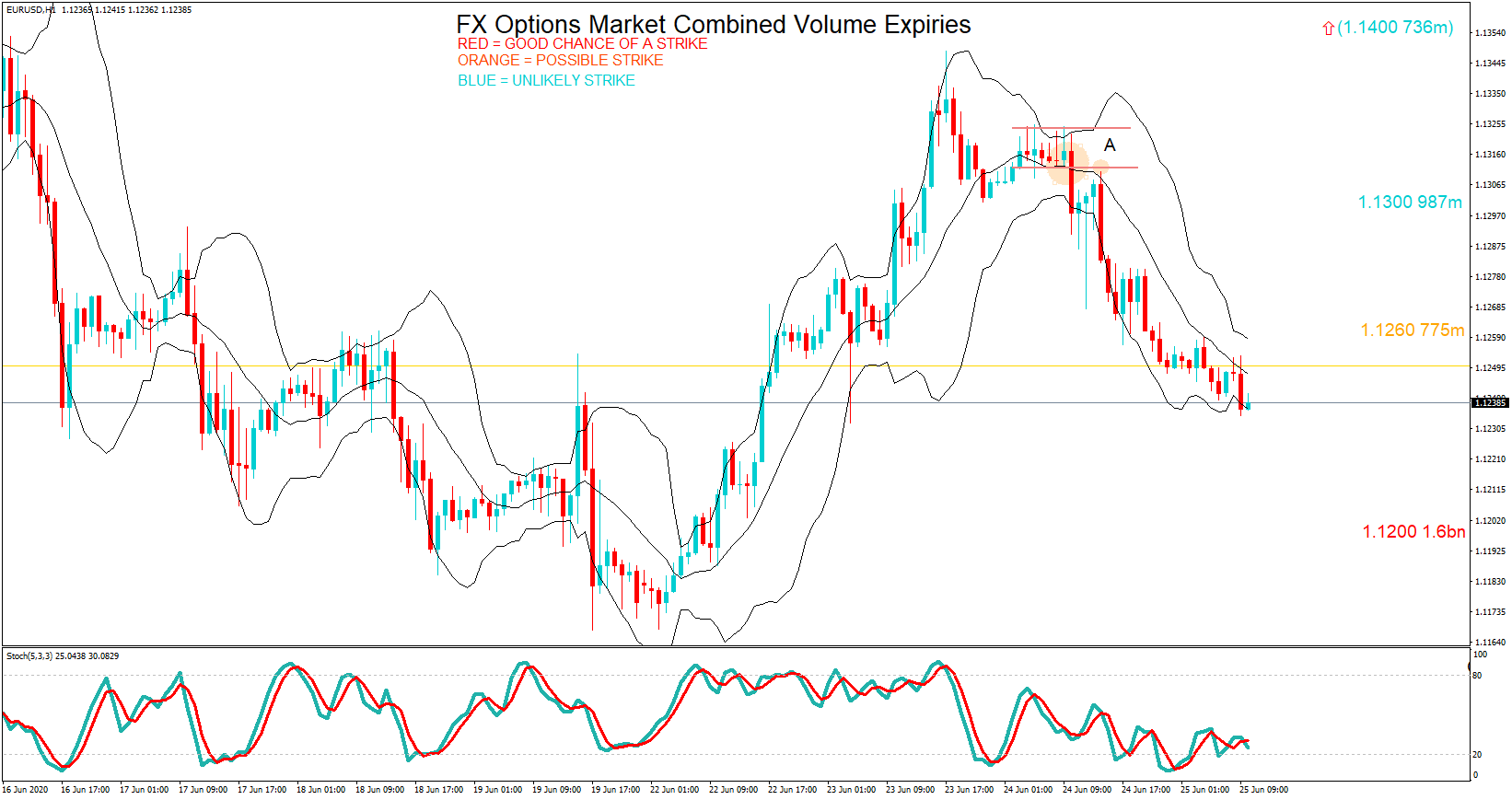 EURUSD (1-hour chart) pair is pausing from the bear move yesterday where price action consolidated at position A, and where the support line became a resistance line and where price action was defended at the key 1.13 level. Buyers eventually through the towel in, even after better data came from Germany. This was driven by Dollar strength and where that will continue today, at least until the important slew of US data out later today. The 1.1200 option expiry looks the most likely contender for a strike.
– USD/JPY: USD amounts
105.78 500m
107.00 475m
107.40 501m
108.00 530m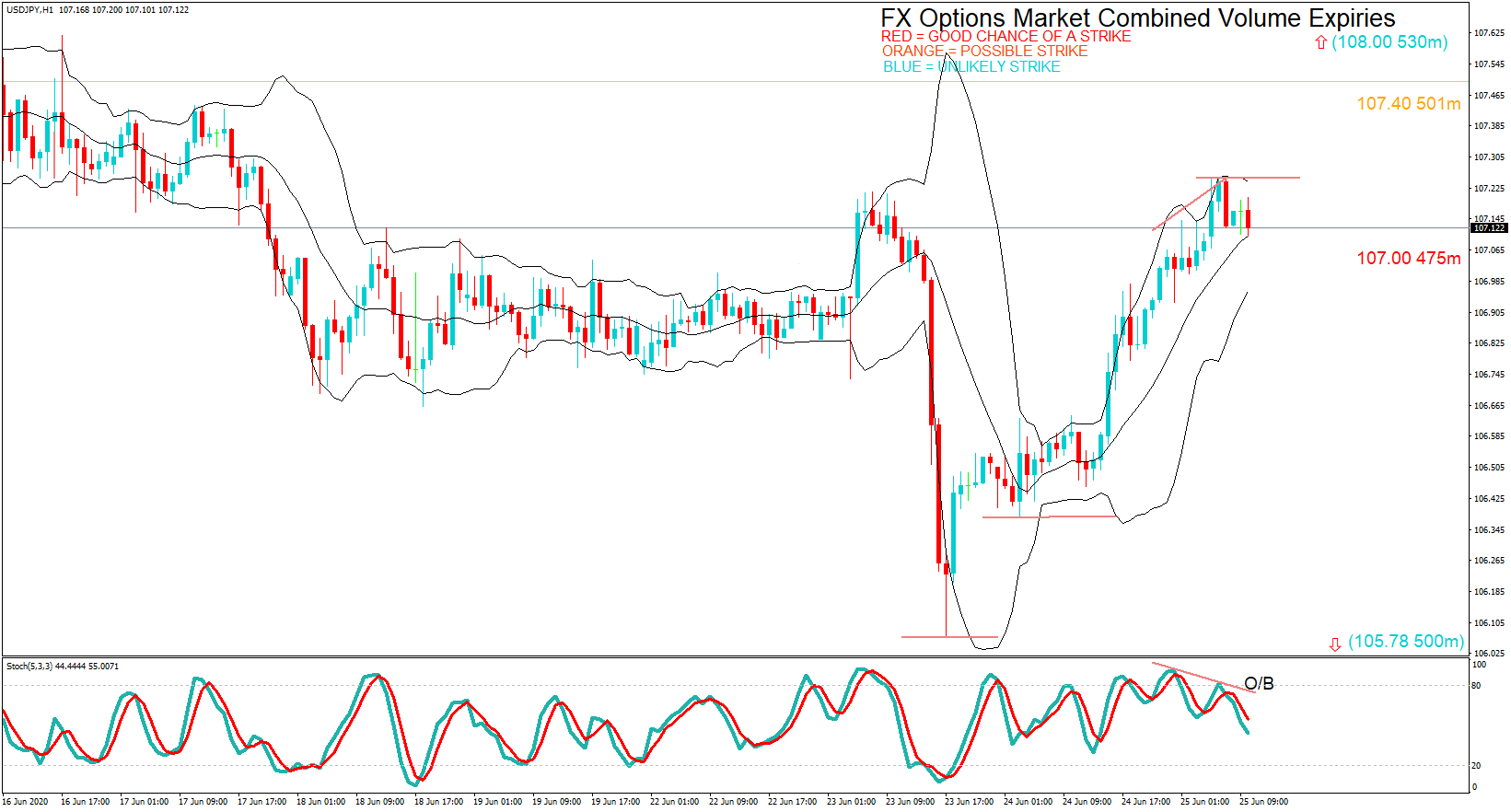 USDJPY is showing signs of being overbought, including the stochastic and divergence. The likely contender for a strike is the 107.00 option maturity. However, signs are that the Yen currency may get bought as risk-off factor gets some momentum due to the spike in Covid-19 cases in the USA. Data from the USA will be telling for the pair later.
– USD/CAD: USD amounts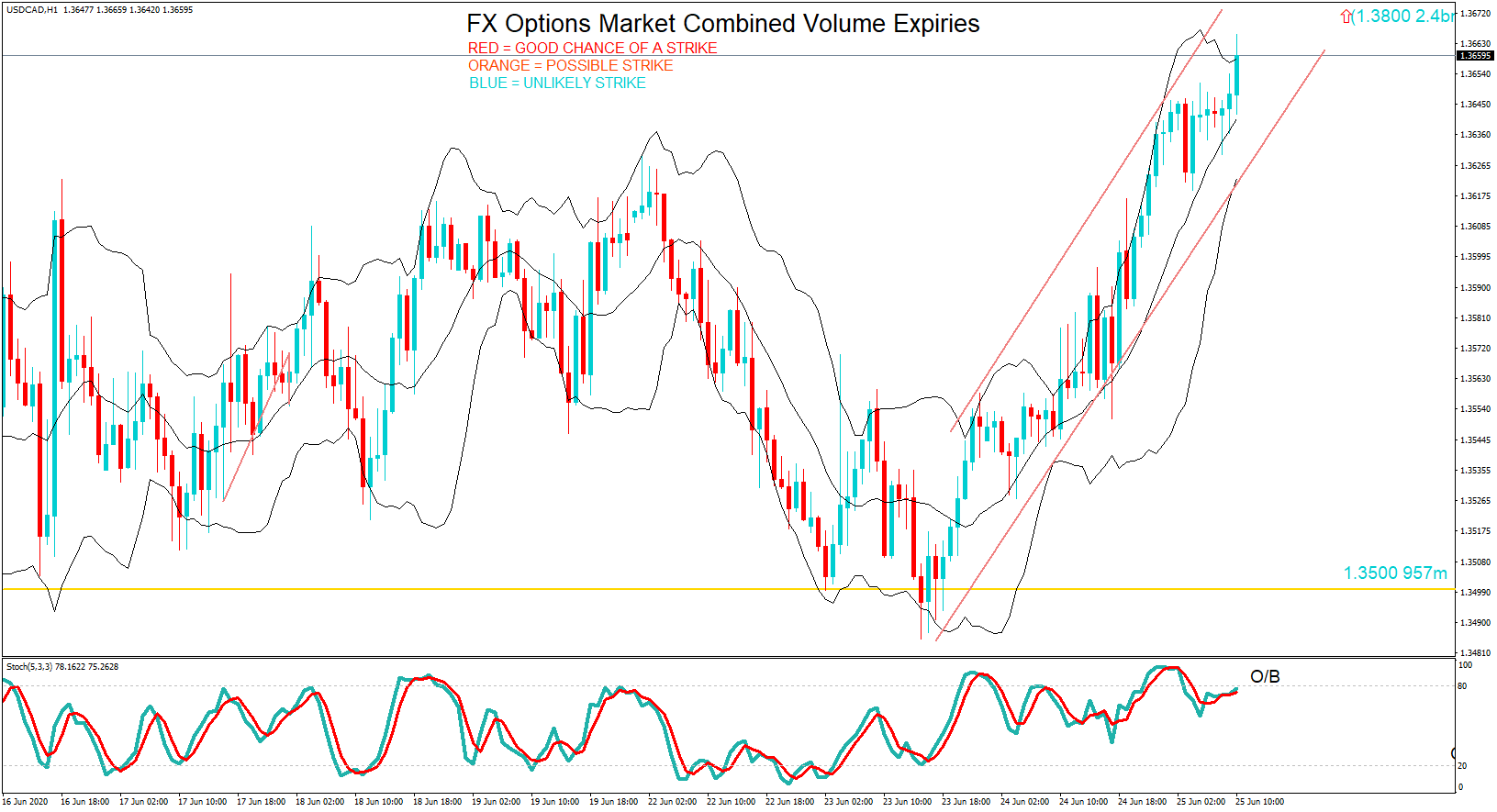 USDCAD is in a strong bull trend and is likely to continue for the duration of the European session, at least until US data comes out today. Both option expiries look to be out of play.
Watch out for Initial jobless claims and GDP from the USA plus a slew of other data at 1:30 BST today.
………………………………………………………………………………………………………………………..
As you can see on the charts we have also plotted the expiration levels at the various exchange rate maturities and we have also labelled in red, orange and blue. Therefore, if you see option expiry exchange rates labelled in red these should be considered in-play, because we believe there is a greater chance of the expiry maturing at these levels based on technical analysis at the time of writing. There is still a lesser possibility of a strike if they are in orange and so these are 'in-play' too. However, if we have labelled them in blue, they should be considered 'not in-play' and therefore price action would be unlikely to reach these levels, which are often referred to as Strikes, at the time of the 10 AM New York cut.
Our technical analysis is based on exchange rates which may be several hours earlier in the day and may not reflect price action at the time of the maturities. Also, we have not factored in economic data releases or keynote speeches by policymakers, or potential market volatility leading up to the cut.
Although we have added some technical analysis we suggest you take the levels and plot them onto your own trading charts and incorporate the information into your own trading methodology in order to use the information to your advantage. Remember the higher the amount, the larger the gravitational pull towards the exchange rate maturity at 10:00 AM Eastern time.
If you want to learn how forex option expiries affect price action in the spot FX market see our educational article by clicking here: https://bit.ly/2VR2Nji
DISCLAIMER: Please note that this information is for educational purposes. Also, the maturities will look more or less likely to become a strike at 10 AM NY time due to exchange rate fluctuations resulting in a different perspective with regard to technical analysis, and also due to upcoming economic data releases for the associated pairs.