FZR Breakout Trading Robot is an Expert Advisor that was published to the mql5 marketplace by developer Wanna Fernando. The original version was launched in January of 2019 and it was most previously updated to version 2.1 for miscellaneous improvements.
Overview
The FZR breakout Trading Robot automatically enters or sells orders when sudden sharp movements occur on charts with a time-sensitive strategy, which consists of moving a certain number of pips in a specified maximum number of seconds on the chart. By looking at the price movements over the period of time, the robot identifies potential breakout events and makes buy or sell decisions based on that data.
The developer sticks to this lower-risk strategy without using Martingale, grid, hedging, or averaging techniques, which are historically risky. Traders can also customize settings like SL, TP, and trailing stops, or use the EA without TP to take advantage of sudden spikes. Here are a few key facts about the robot:
-Works with any currency pair; GBPUSD, AUDUSD, EURUSD, and USDCAD are recommended
-M1 timeframe
-Compatible with MT4; MT5 version available
-Makes only one trade per bar
-Doubles as a news trader
-The developer recommends using a low-spread, low-latency, ultra-fast execution with low-latency VPS. An ECN broker is preferable, but not absolutely necessary.
The developer recommends choosing IC Markets, which comes with the advantage of a 30% discount on spreads and commissions when the IB code 23649 is used.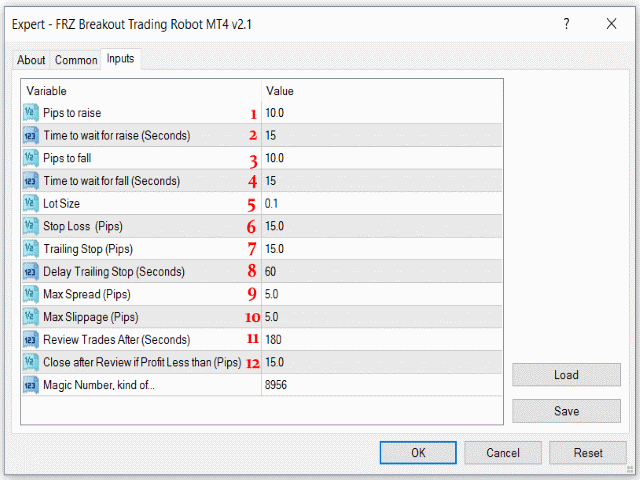 Service Cost
There are a few different costs to keep in mind anytime you're planning on purchasing an EA. First, the most obvious cost would be the price to rent/buy the product. Unfortunately, the developer doesn't allow traders to rent this product, so traders are looking at $129 USD to access it. Next, you'll want to consider the cost of finding a broker that fits the above recommendations, which might mean paying extra for VPS, making a specified deposit into the trading account, and so on. Keep in mind that while renting is not an option, the developer does offer free demo accounts for testing.
Conclusion
FZR Breakout Trading Robot is a fully automated EA that identifies breakout events based on time data while doubling as a news trader. It is available for $139 USD, but the costs of using this EA will likely add up once VPS and other factors are considered. On the plus side, those that choose the recommended broker IC Markets and sign up with the provided IB code will receive a 30% discount. This product has been rated 5 stars (based off of two ratings), and received the following review:
"Much better than I thought. Simple logic but it works." -JamesK123
It isn't much feedback, but it is enough to let us know that the EA does work when used correctly. An installation & usage video is available, so traders shouldn't have much of an issue getting acquainted with the program. Overall, this is a good EA that is worth purchasing if it fits into your budget.
This Forex service can be found at the following web address: https://www.mql5.com/en/market/product/34869