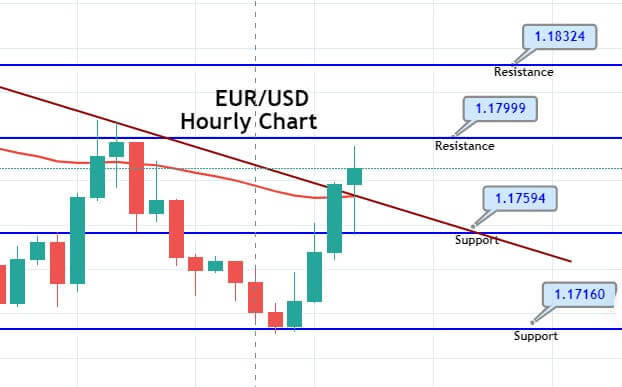 The EUR/USD pair traded in a bearish mode earlier today when we opened a sell trade at 1.17132. However, every soon, the market sentiment started to change, and the EUR/USD pair started forming a bullish setup. We decided to cut the minor loss in the EUR/USD pair, instead of keeping it until it hit loss. 
As we see now, the EUR/USD has formed three white soldiers' candlestick patterns suggesting strong bullish bias in the EUR/USD pair. On the higher side, the EUR/USD may head further higher until the 1.1799 level. The hope provided by Trump raised US dollar bars in the market, and that pulled EUR/USD pair from its daily high to below 1.1800 level.
Meanwhile, the risk sentiment was also disturbed by the fears of escalating China-US tensions, as China announced that it would also impose sanctions on 11 Americans in retaliation to the US same sanctions on Hong Kong & Chinese officials. The list of Americans to be sanctioned by China included Senator Macro Rubio and Ted Cruz also.
The faded risk sentiment weighed on EUR/USD pair and pair started to lose its daily gains.
At 17:30 GMT, the Core PPI from the US for July rose to 0.5%from the 0.1% of expectations and supported the dollar. The PPI for July also rose to 0.6% from the expected 0.3% and came in favor of the dollar.
The better than expected PPI data from the US added strength to the US dollar and added pressure to EUR/USD pair, causing it to lose all daily gains and close at the same level the market was opened.


The EUR/USD is trading at 1.1790 level, heading to test the triple top resistance level of 1.1800 level. The closing of candles below 1.1800 level can drive more selling in the pair until the 1.1760 level is met. On the higher side, the EUR/USD pair may find resistance at 1.1835 level after 1.1800 level. In contrast, support continues to stay at 1.1759. Let's wait for the next entry from our side. Good luck!