EMA Dashboard can be found within the indicators section of the MQL5 marketplace, it was created by Chantal Sala and was first uploaded to the marketplace on the 29th of August 2017, it received its most recent update on the 17th of July 2019 and is currently at version 1.3.
Overview
EMA Dashboard is an indicator that can be used with the MetaTrader 4 platform, its main purpose is to allow you to monitor moving averages on multiple symbols and timeframes at the same time. The dashboard will display and analyze the charts of 28 different currency pairs on a unique chart.
There are also a number of different parameters and settings available, these include things like alerts, which symbols to use, the EMA settings, graphic setup, colors and sizes, and more.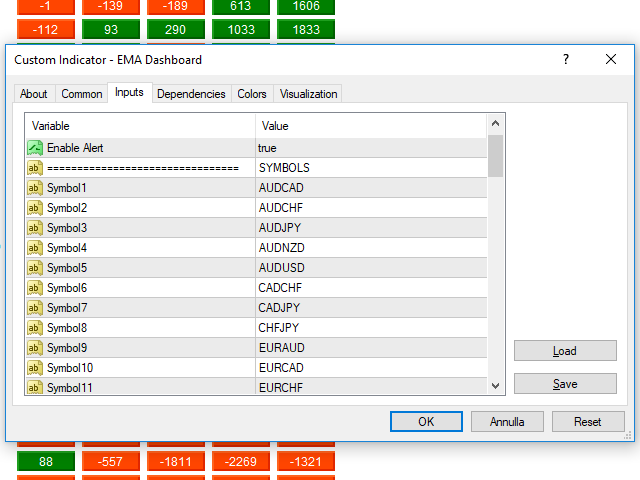 Service Cost
The indicator will cost you $100 to purchase it outright, this will allow you to activate the software up to 5 times, there is also the option to rent it on a monthly basis which will cost you $10 per month. A free demo version is available which can be used with the strategy tester within MT4.
Conclusion
There is just one review for the indicator which has given it an overall rating of 1 out of 5.
"THIS INDICATOR WE CANT'S CHANGE INPUT AND TIME CHART. WORKS ONLY REAL INPUT ONLY. MY REVIEWS NOT GREAT THIS" – A 1-star review.
So the review isn't very positive, but it is clear from the comments that it has now been updated and this issue should have been resolved. The developer was quick to reply to comments which is a good sign and shows that the developer is there and available for support should you need it.
This Forex service is currently available in the MQL5 marketplace: https://www.mql5.com/en/market/product/25055