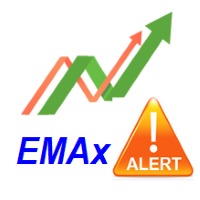 EMA Cross alert is a simple but paid category indicator created by Suriya Thammalungka from Thailand. The EMA means Exponential Moving Average, an indicator used very frequently in many combinations but mostly as a two-line crossing for trend following. The indicator is simple and is never updated since the initial version in June 2016 for MetaTrader 4. It is interesting to see this indicator in the paid category as it is too simple to belong here and the indicators used are basic.
Overview
Traders mostly use the 50, 21, and 100 period EMA for as the support line and in combination with a faster EMA for a signal. This is what the indicator's main purpose is, to alert on the faster EAM crossing the slower. By default, you can insert as many EMAs as you want onto your chart in MT4.
Service Cost
To purchase EMA Cross Alert you will have to pay $19 for 5 activations, or $12 to rent for 3 months. A demo is available. The response to this release is absent. There are no reviews and no comments. The reason for this is the indicator simplicity, EMA already exists in the standard MT4 installation and the only this the author did is add the alert on the cross with an arrow. Other indicators like this exist and they are free. Therefore, there is no reason to spend $19 on this version. There are other simple products by this author (10), interestingly, none of them have received any rating or popularity.
Conclusion
There is nothing worth mentioning with this indicator except that is has the alert system on line cross. The alert can be turned off in the settings but there are no special notifications. Essentially, there are 3 settings, period for the first and second EMA, and the alert on/off setting. Based on the settings, the EMA will leave a visual arrow on the chart on the candle close on any timeframe. You can customize the periods giving you different uses. The author published a video with all the settings demonstration. Of course, it is nonsense to measure the performance of such a simple indicator.
This Forex service can be found at the following web address: https://www.mql5.com/en/market/product/16974