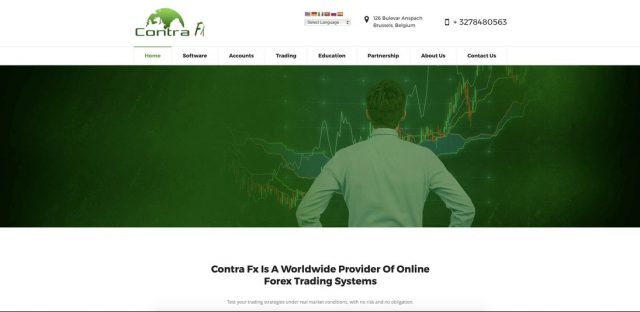 Contra FX is a Forex and CFDs broker in stock indices and commodities. It also has a wide range of shares to trade. The website reports that Contra FX is a partner of Contra Forex Ltd. We have investigated and have not found any information about this company. They also say that their accounts are maintained with BRE or Earthportfx which are entities registered with the Financial Conduct Authority (FCA), but Contra FX does not report any registration or license, so we can't know anything about its regulation. It has come to our attention that in several internet forums, Contra FX usually has good reviews.
ACCOUNT TYPES
Against FX you can open 3 different account types, Individual or Joint, Corporate, and Trust. For the opening of the account, a complete request of the client, a copy of identification issued by the government, proof of address will be required. A copy of the business partnership agreements and a copy of the trust agreement will also be requested in the corporate accounts. The commercial characteristics of each account are not explained in the section "Account Types."
PLATFORMS
Contra FX offers its customers the MT4 platform in its desktop version to be able to trade from your computer. They have their own platform designed exclusively for use on mobile devices, such as Smartphones and tablets. They promise an intuitive and user-friendly environment. To download the mobile app it is necessary to contact customer service to provide the corresponding download link.
They also have software for managing multiple accounts. It would be an FX trading tool for asset managers. One of the improvements of this platform with respect to MT4 is that it promises to be faster to change accounts from one client to another, which in MT4 you have to do manually by entering the data of each client.
LEVERAGE
We have encountered the general difficulty of collecting different information concerning this broker. One of them is that we do not currently know the leverage levels that Contra FX can offer in their accounts to their customers.
TRADE SIZES
We do not have information about the trade sizes available for each of the 3 accounts offered by the Counter FX broker.
TRADING COSTS
Against Fx, it informs us on its website that it does not apply commissions to trades and that its benefit is implicit in the spread. We can also talk about a cost that is common in all brokers, which is overnight financing. Here we explain how it works.
When it comes to, for example, foreign exchange positions, overnight financing is calculated using one-day interest rate spreads for both currencies. You receive interest on the currency you purchased and pay interest on the currency you sold. The financing shall be accounted for in a single currency.
For a position on a Friday or non-business day on the market, the financing shall be applied in the number of days until the next business day.
ASSETS
We will detail the assets you can trade with this broker. We will report on Forex, indices, commodities, and bonds.
Forex:  EUR/USD, USD/JPY, GBP/USD, USD/CHF, USD/CAD, AUD/USD, EUR/GBP, EUR/  JPY, GBP/JPY, CHF/JPY, EUR/CHF, NZD/USD, GBP/CHF, AUD/JPY, EUR/AUD, EUR/CAD, NZD/JPY, CAD/JPY, GBP/CAD, GBP/NZD, GBP/AUD, AUD/NZD, AUD/CHF, and USD/MXN.
Índices: CAC 40, DAX 30, Dow Jones 30, FTSE 100, NASDAQ 100, Nikkei 225, S&P 500, and Swiss 30
Commodities: Copper,  Gold, Silver, Crude Oil, Natural Gas, and Soy.
Bonds and other indices: USD index,  10-year US T-Note, and 30-year T-Bonds.
Additionally, this broker offers a range of 60 Exchange stocks to trade. We understand that the range of marketable assets offered by the reverse FX is extensive and reasonable.
SPREADS
The spreads have not been informed and the search for this information has been unsuccessful. This lack of clarity in the information on the part of the broker is unprofessional.
MINIMUM DEPOSIT
When a deposit is made by bank transfer, the minimum deposit is $5,000 USD, without specifying a maximum amount. When a deposit is made by bank card the minimum deposit is USD 5,000 and the maximum deposit is USD 50,000. We find it a very high demand for a first deposit compared to most brokers.
DEPOSIT METHODS & COSTS
The deposit methods detected on the broker's website are 2, bank transfer and debit or credit cards, Visa or Mastercard. Contra FX does not allow deposits in virtual currencies such as Paypal, Neteller, Skrill, and others. They recommend making a bank transfer, at least for the first deposit. Deposits made by credit card can be delayed up to 1 business day to be displayed in the account. All transactions made using a bank card are automatically converted into US dollars and there is the possibility that the bank issuing your card may charge fees for currency conversion.
WITHDRAWAL METHODS & COSTS
We understand that withdrawal methods are the same ones that the broker offers for deposits, that is, bank transfer and credit or debit cards. Withdrawal costs have not been reported by the broker on his website.
WITHDRAWAL PROCESSING & WAIT TIME
In the absence of accurate information on the costs of withdrawals and deposits, we have no information about either. Withdrawal processing & wait time. The only information we have found is that Contra FX reports that funds deposited with a credit card will not be available for an upcoming withdrawal for a period of thirty calendar days. The period that seems to us excessively high.
BONUSES & PROMOTIONS
There are currently no bonuses or promotions available. Researching the Internet, we have detected that during the year 2019, Contrafx had a promotion consisting of 10% bonuses on deposits. This promotion was valid for both new and existing clients. The minimum deposit to qualify for this promotion was USD 2000, to get USD 200 bonus, and the maximum deposit was USD 50,000 to get USD 5,000 bonus. A certain volume had to be traded in order to be awarded the amount of the bonus.
EDUCATIONAL & TRADING TOOLS
Contra FX has an educational section where we find a glossary of terms related to Trading. The glossary is extensive, but it seems insufficient for an educational area. As for the trading tools, we have not found anything of interest. We usually comment that an updated news section and an economic calendar where the most important events of the day are indicated are basic tools that every broker must offer to his clients.
CUSTOMER SERVICE
To contact customer service, we have the following ways:
Email: contactsonline@contafx.com

Phone: + 3278480563 (only available for active accounts)

Mailing Address: 126 Boulevard Anspach, Brussels, Belgium
A contact form is also available. There is no online chat, which we consider to be of interest as it is a quick way to contact and resolve doubts or questions practically instantly.
DEMO ACCOUNT
Contra FX offers its customers a free Demo account, based on the MT4 platform. This demo account is available to customers up to a maximum of 30 days, time which we consider insufficient and which should be unlimited to offer good service.
COUNTRIES ACCEPTED
We have found no exceptions to any citizen or jurisdiction that cannot open an account with this broker. If you are interested in opening an account with Contra Fx you should contact your customer service for this information.
CONCLUSION
Advantages: Only the variety of available assets has seemed to us a positive aspect. Because this broker does not provide information related to important aspects, we have not found more relevant advantages to open an account with him.
Disadvantages: Few payment methods. Very high minimum deposit (5,000 USD). Much lack of information is important for the trader, such as Trade Sizes, Trade costs, Spreads, and leverage. Regulation doubtful.