Changelly exchange in-depth review – part 3/3
This is third (and the last) part of the Changelly in-depth review. This part of the review will touch upon the exchange's fees, deposit methods as well as security.
Changelly Fees
The platform's fees consist of:
Deposit fees, Trading fees, and Withdrawal fees.
Deposit fees may vary depending on the way a user deposits the funds.
Trading fees

When choosing an exchange, you must take a look at how the trading fees are structured. Every trade occurs between two parties the market makers, whose order already exists on the order book, and the market taker, who takes the maker's order. While makers create market liquidity, takers reduce it. Most exchanges differentiate between the fees they charge to takers and the fees they charge makers.
However, Changelly opted for a different route. The exchange charges the takers and the makers the same fees, which is called the "flat fee rate." The platform offers a flat trading fee of 0.25%, which is considered the industry standard. This fee structure might be an attractive trading model for traders who prefer to take already existing orders from the order book, rather than having to wait for their orders to get filled.
Withdrawal fees

Many exchanges try to maximize their profits by having low trading fees while maintaining extremely high withdrawal fees. Changelly is, however, not one of them. The company charges only 0.0001 BTC for withdrawals.
Deposit Methods
Users can deposit their funds through the regular fiat transfer via the platform's corporate partners using credit cards (such as VISA and MasterCard). This feature is extremely helpful to novice crypto investors as one of the main things they want is fiat deposits. There are many exchanges that offer no fiat currency deposit support at all, which makes Changelly stand out.
Changelly has also lowered the entry barriers for crypto-to-crypto exchanges recently. This makes traders able to deposit with as little funds as possible.
Changelly Security/Account Verification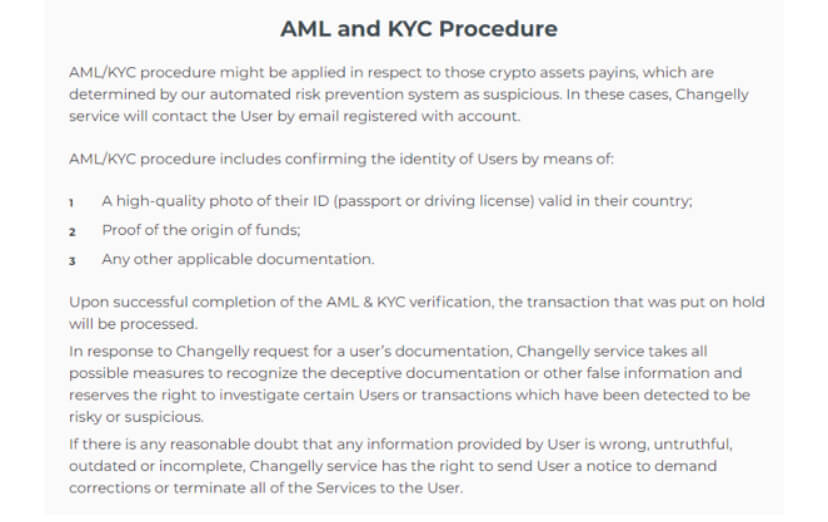 Changelly does not submit every single user to its verification protocol. If you want to use the platform's conversion services, you don't need to submit any of the KYC-documentation (such as passports, utility bills, or ID photos). The only thing you need to use the conversion services is a valid wallet address. However, if you would use Changelly to purchase cryptocurrencies by using some form of fiat-based deposits (such as a credit card), then you will need to submit additional documentation in order to pass the KYC process.
General
Changelly states that security is one of its main priorities. When tested on the Mozilla Observatory test, the platform received a score of B, which is a great score for a cryptocurrency exchange. While it can be improved, many popular exchanges score as low as F on this test.