WaveTrend Momentum Oscillator can be found within the MQL5 marketplace under the indicators heading. The indicator was first uploaded on the 20th of October 2016, it was most recently updated on the 22nd of March 2017 and is currently at version 1.2.
Overview
The WaveTrend Momentum Oscillator is an indicator that can be used with the MetaTrader 4 trading platform. It is easy to use WaveTrend Oscillator, it adds a momentum component to the original WaveTrend calculation, so it manages to get more accurate entry points. When the WaveTrend is in the overbought level and then goes below the control line a sell signal will trigger, when it is below the oversold and then moves up it will be a buy signal.
The indicator also comes with some alerts and can have messages, emails, and sounds. There are a set of parameters available that you are able to alter, some of these include the wave trend type, the calculation period, the averaging period, the momentum length, the oversold level, to turn alerts on and off, the type of alert to use, and more.
Service Cost
The indicator will cost you $49 in order to purchase it outright with no limitations. There is also the option to rent it, you can do this on a monthly basis for $16 per month, or you can rent it for three months which will cost you $33 for the three months. 
There is also a free version available for you to demo, this version will have some limitations added to it, the site, unfortunately, does not have any information on what the limitations are, but whatever they are it is worth downloading to try it out.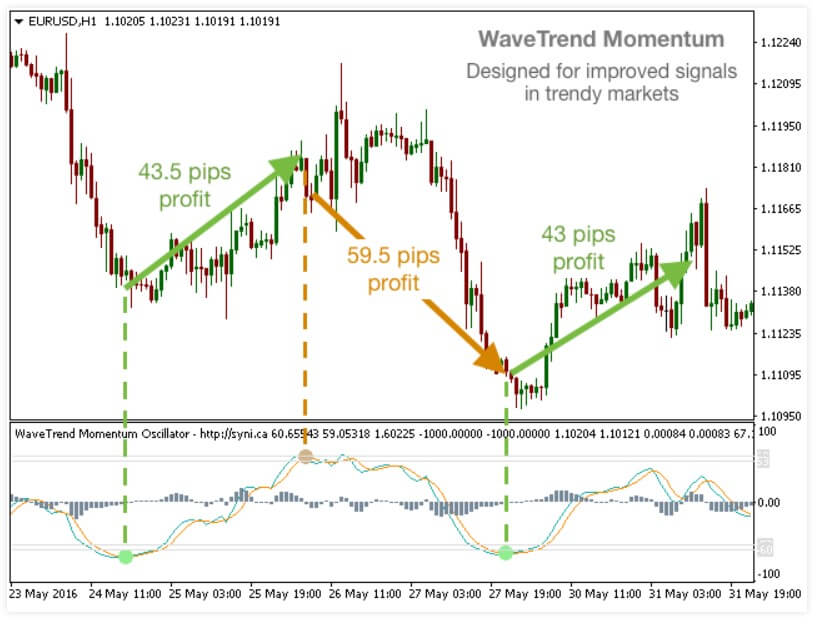 Conclusion
The WaveTrend Momentum Oscillator has only received two reviews, its overall rating is 5 out of 5.
"Great indicator with good signals. It's also great to use for divergence." – A 5-star review.

"This is a great Oscillator that helps in entry and exit trades especially with other combinations or alone after tweaking. I have been using it since I got it. 49$ seems a reasonable price for a solid profitable indicator. I hope you can develop an EA from it. I think it would be a good EA scalper on 1M." – A 5-star review.
The two available reviews are very positive which is good to see, however as there aren't many reviews we would still recommend that you download the free version to check it out and to ensure that it works with your setup. There are also a few comments, the creator has replied to some of them but not the most recent ones, so we hope that you could get some better support directly from the developer, you could always send a comment to them with any queries that you have to see if they reply and to ensure that you will get some after purchase support with the indicator.