The Telegram MT4 Bot EA is used to connect Telegram to MT4 and once done, use Telegram in various modes for MT4 control. This utility, which is currently available for purchase in the MQL marketplace, offers a variety of possibilities. Is it worth the price of admission though? Let's find out…
Overview
This Telegram MT4 Bot EA can be used in three different ways:
As a Personal Service: For personal use only. View your trading account, create orders, check orders, and more. 

As a Server: Send trade performance messages in your MT4 platform to a Chat in Telegram.

As a Client: Copy the trades that you receive from a Telegram Chat by using this EA as a Server in MT4.
Personal Server: This mode will allow you to use this Exper Advisor with a live graphical interface within Telegram. Contact your BOT and then send the "/start" command. You can view your personal account information, receive quotes, view, and check your order list, view, and check on your order status, place orders, and more. 
Server: Using this mode, you can select the specific type of order that you want to send to a Telegram Chat. You can opt to send a message to 'Market Order' only, 'Pending Order' only, or choose 'All orders'. When you create an order (pending, market, etc) within MT4 (MT4 Mobile, too) the EA will immediately message the Telegram Chat.
Client: Using this mode, the EA is waiting for a message to arrive from a Telegram Chat. Whenever you receive a Chat Message (from an Expert Advisor Server), it completes the command using the Lot size that you specify. Select a Fixed Lot or a Variable Lot using a percentage of the risk of your balance sheet relative to your stop-loss order.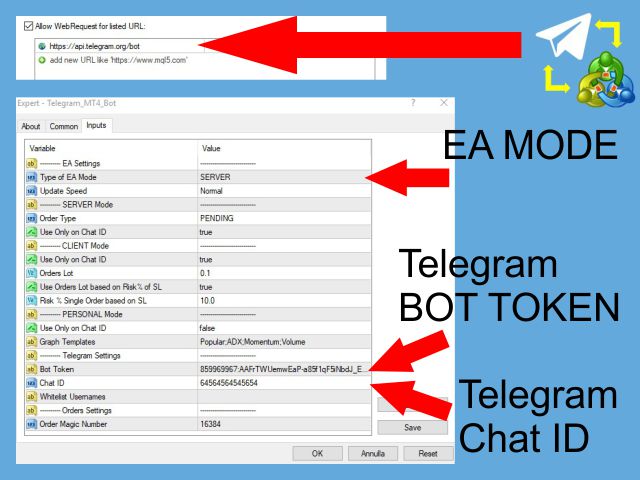 Example of Server and Client Functions
-The server can be set with a specific chat to send all commands.
-The client can be set to receive chat and risk 10% of your capital on all trades.
-Using Server in MT4, it creates an order and sends the message to make a purchase in the chat.
-Using Client in MT4, it takes the message and then executes the Order by modifying the Batch Size as outlined within the configuration.
The Telegram MT4 Bot EA requires you to create a telegram bot for each and every mode that you need to use. This robot can attach an MT4 graph inside personal mode and another graph inside a bot as the server.
Service Cost
This tool is available within the MQL market in the "utilities" section at a price of 100 USD for one year of use. You can also rent it for three months at a price of 50 USD, or one month for 20 USD. A free demo version is also available for evaluation.
Conclusion
As you can see this is a handy tool for copying trading signals. The trader will be able to make available to its customers all its commercial operations so that they can copy it in real-time. These days it is common for many beginner traders to look for trading signals to make their accounts profitable. For this, Telegram has become a good tool.