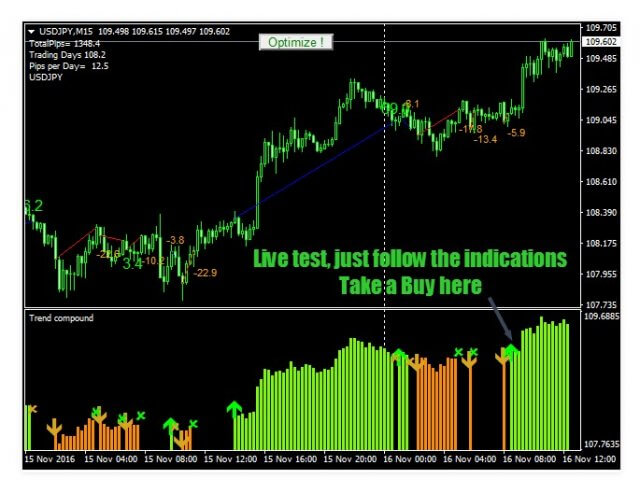 Trend Compound can be found within the MQL5 marketplace, it was first uploaded by its creator Remi Passanello on the 24th of November 2016, it has had a few different updates, the most recent update was on the 23rd of March 2020 and this brought the indicator up to version 1.4.
Overview
Trend Compound is an indicator that can be used with the MetaTrader 4 platform, its main purpose is to work as a trend indicator that uses a mix of three other internal indicators. It will help you to work out when to open your trades, when to close them, and the potential pips that can be gained.
The main features of the indicator:
It's designed to be used by anyone, even the complete newbie in trading can use it.
Trend Compound does not repaint.
Indications are given from close to close.
Trend Compound can be used alone, no other indicators are required.
The indicator will work with any asset including currency pairs, indices, metals, futures, and any other that you wish to sue. It can work on any timeframe and with any broker. There are also a few different inputs that can be changed, thee include the trend period, the trend step, the range filter, whether to show the optimize button, and more.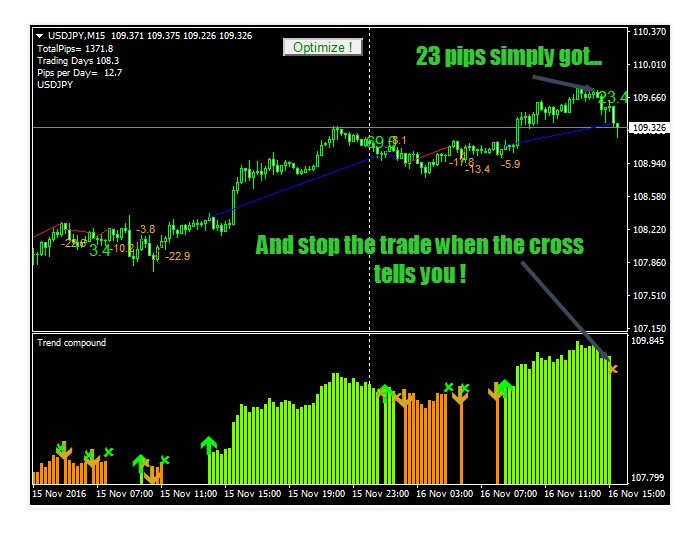 Service Cost
The Trend Compound indicator can be purchased with a one-time payment of $250, this will get you up to 5 activations with no other limitations. There is also the option to rent it, this can be done monthly and will cost you $70 per month. There is a free demo version, this can only be used with the strategy tester and backtester within the MT4 platform rather than on an actual account.
Conclusion
There are two user reviews available giving the indicator an overall rating of 5 out of 5.
"Profitable indicator, highly recommended." – A 5-star review.
"It's my 1st review about the Product in this site. I like the author's brilliant ideas in this indicator." – A 5-star review.
The reviews are both very positive saying that it is doing what it is meant to do, there are also a number of comments, the developer has been replying t them quite promptly and there have been some recent replies which are a good sign as it shows that the developer is still actively supporting the indicator and those that have purchased or rented it.
This Forex Indicator is currently available in the MQL5 marketplace: https://www.mql5.com/en/market/product/19467