Trendax is an EA that can be found within the Experts section of the MQL5 marketplace, it was created by Antonis Michos and was uploaded to the marketplace on the 19th of March 2020, it received an update on the same day as its release which brought the software up to version 1.2.
Overview
Trendax is an expert advisor that was created for use with the MetaTrader 4 trading platform. It is an EA that will try to trade along with the trends within the markets, if it opens up positions at the end of the trend then it will look to average out the losing position with other trades. The EA will use the 4H chart to find the trends and then the M15 timeframe to find entry points. Trendax does not use the martingale strategy or grid strategy when trading.
It is recommended to use 0.01 lots for every $1000 that you have in the account, use only one pair or two if they are opposite correlated. Use different magic numbers for each chart that you use and ensure that they are on the M15 timeframe.
In terms of parameters, there isn't a huge selection but they include the amount of profit in pips, the volume block percentages, and the time in minutes that you wish to use the EA.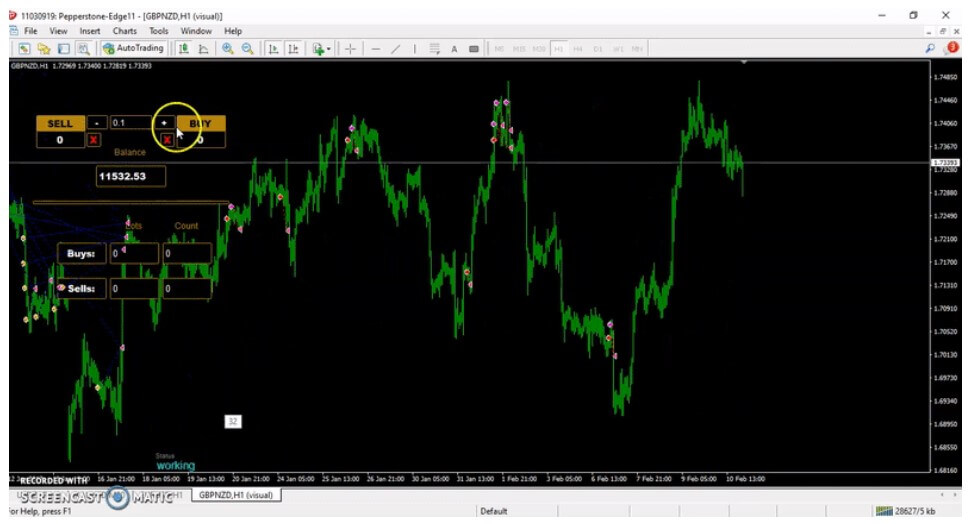 Service Cost
The Trendax EA will currently cost you $90 to purchase it outright, this will allow you to activate the software up to 5 times with no further limitations. There is also the option to rent the EA for a year, this will cost you $85 for the year rental. A free demo version is also available but this can only be used with the strategy tester within the MT4 platform and not on a live account.
Conclusion
There is just one review of this EA which has given it an overall rating of 5 out of 5″
"Very interesting and promising EA that can be a great tool on a trader arsenal. I conduct several Backtests from 01.01.2013 to 20.03.2020, on EUR/USD, with default settings, and despite all the volatility during this big period, EA stands very well. The max DD was 10,19% using tick. Please don't try to be rich in one day, respect money management, no EA or trader can survive without good money management. I´ll go now on demo ( just to see if there is any bug), and will put it alive soon. I'm a client of Antonis, have two other EA´s, and I just have good things to say about him and his support. On demo and alive if I find something that worth sharing with the community I will do it with all honesty. Antonis knows that I´m the first to suggest changes and to point for improvements."
– A 5-star user review.
So the review is very positive but there is just one so it does not give a varied view of the EA, there are also no comments so the support offered by the developer is not known (apart from what was written in the review which was positive). Due to the lack of information, you should try to contact the developer before purchasing so you can be sure that the EA will function how you require it to.