Stochastic Oscillator Crossing Levels Alerts is an indicator that can be found on the MQL5 marketplace. The indicator was first released on the MQL5 marketplace on the 4th of August 2016, it has been updated since the most recent update was on the 10th of February 2017 and it is currently at version 1.10.
Overview
The Stochastic Oscillator Crossing Levels Alerts is an indicator that can be used with the MetaTrader 4 trading platform from MetaQuotes. The way that the indicator works is by using the Stochastic Oscillator, this can send a buy signal when the Oscillator falls below a specific level and then rises above it, or a sell signal when it goes above a specific level and then falls below.
There is a wide range of features available:
4 types of signals can be enabled:

MAIN entering OB/OS zones

MAIN exiting OB/OS zones

SIGNAL entering OB/OS zones

SIGNAL exiting OB/OS zones
The end-user can set not only the Stochastic parameters but also the levels where Stochastic will trigger the signals to trade (30 & 70 instead of 20 & 80 – set by default). The trade signals are triggered at the closing of the last bar/opening of a new bar;
A variety of alerts can be enabled, including:
Dialog Box

Email message

SMS notifications

Sound alerts
By default upward arrows are plotted for buying signals and downward arrows for sell signals. Each user can choose the actual style of the arrows. The Stochastic Oscillator Crossing Levels Alerts indicator works properly at any symbol (no matter how exotic) and on any timeframe.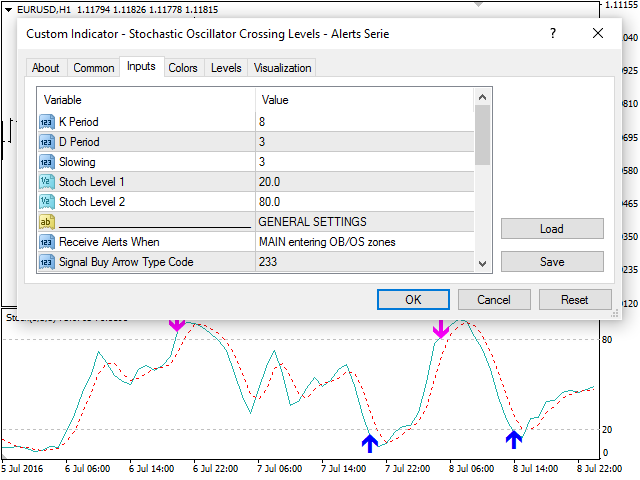 It is compatible with any version of the MetaTrader platform, regardless of the number of price digits or other parameters. Furthermore, it is compatible with any other tool (indicator, EA or script) without slowing down terminal performance or trading operations.
There are also a number of different parameters which can be altered. Changing these will slightly alter the functions for you. These include when to receive alerts, the types of arrows, the color of the arrows, the ability to turn off alerts, dialog boxes, sounds, and more.
Service Cost
The indicator can be purchased outright for $15, there is no option to rent this indicator, there is however a free version available, we are not sure what the limitations of this free version are, but it is always worth downloading it to try out.
Conclusion
Unfortunately, there aren't any reviews for the Stochastic Oscillator Crossing Levels Alerts indicator, there are however some comments, while these are just questions about the indicator, the creator is replying to each one in a prompt manner which is a positive sign for the support being provided. In regards to the actual indicator, we would highly recommend that you download the trial version, this way you are able to make sure that it functions correctly and is actually what you need for your own strategies, prior to making an actual purchase.