Apple is an American technology company that is headquartered in California. The company was founded by Steve Jobs and his partner Ronald Wayne back in April of 1976. This recognizable brand is insanely popular thanks to the easily recognizable iPhone smartphone, iPad tablets, Mac computers, iPad music devices, the Apple Watch, AppleTV, HomePod speaker, and AirPods, along with other products and online features. In addition to producing popular products, Apple is also responsible for creating online software like iTunes, the Safari web browser, and so much more. You've likely heard of Steve Jobs before, as he was a famous American businessman. The company's co-creator Ronald Wayne sold his portion of the company shortly after its original launch in a move that he likely regrets to this day.
One thing is for sure about Apple: people will probably buy their products as long as they're making them. With the popularity of the iPhone, many people trade in their older phones for the newest version every time one is released, even with costs soaring above $1,000 for a new phone. We've never doubted that Apple has built a dedicated fan base that will choose their products over anything else, but this company has experienced some ups and downs with their stocks in the past.
Early in 2019, Apple suffered a crisis where stocks plummeted 10%, sinking to an all-time low for the first time in 52 weeks. Financial media commented on the company's downfall, and things didn't seem to be going to well for Apple, even though the company had expected the value of their stock to rise right after Christmastime when many people would have been expected to buy their products for gifts.
Fortunately for Apple, their stocks have risen 43% in the previous 12 months, with record revenues being announced for their previous quarter. This rise in value happens to be occurring during the coronavirus pandemic, despite the uncertainty of these pressing times. Considering that many people are relying on unemployment or suffering delayed work hours, it is reassuring for Apple to see a rise in their stock's value. This is more reassurance that people truly believe in the company.
Considering Apple's ups and downs, many investors might wonder whether it is a good company to invest in. Here are some reasons why you should buy Apple stock:
The company is hoarding an almost legendary amount of cash. Apple was holding nearly $193 billion in cash at the end of March 2020 and this money is regularly returned to investors through stock buybacks and dividends.
Apple is expected to continue to grow. Their history proves this – the company's quarterly revenue is up 16% from one year ago. Apple will continue to produce new devices, like updated iPhones and the company will continue to bring in monthly revenue from its TV services, iTunes, and other online services they have created. We can also expect to see new products released as we move more towards the future. Apple makes money through various sources. If the popularity of one product falls, there are several other products that will help the company to continue making a profit.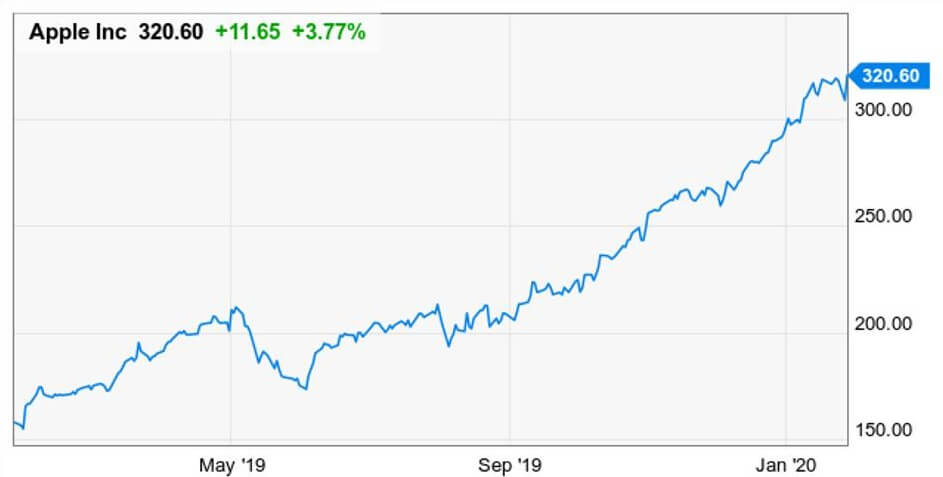 Although these factors are positive outlooks on Apple's stock, there are also some downsides to investing in the company. Some feel that their iPhones may be losing popularity as sales are on the decline. While the iPhone used to be the company's number #1 product, it only accounts for 50% of their revenue today. This could be contributed to the fact that the company continues to churn out new products and services, providing many more options for clients to spend their money on. Still, the number one earning product might end up taking a backseat to some of these other features. You'll also want to consider that Apple iPhone has some tough competition with Android, which continues to produce new upgraded phones alongside them.
Another downside is that the popularity of Apple TV could decline. This is because the company offered free service for one year to anyone that purchased one of their TVs. This paid off by attracting a large customer base, but it isn't yet clear how many of these customers are only watching because it's free. Many of these users are already paying for other monthly subscription streaming services like Netflix, Hulu, Disney Plus, etc. Apple TV only costs $4.99 a month, but some people might feel that they're already spending too much on streaming services and/or cable. The service will need to compete with other streaming devices to take their place with some customers.
Apple is easily one of the most recognizable companies in the world. It has attracted investors from all corners of the globe and many people have fallen in love with their products, with no plans to turn to any other companies for their technological needs. This company isn't going anywhere anytime soon, which gives the value of their shares alone.
A few of the main reasons why you might want to invest in Apple would be their continuously advancing products, news updates, and the fact that they gain revenue from various sources like sales and subscription services. Revenue is constantly flooding in for the company and this pays off for investors. As time goes on, the company is expected to grow and bring in even more money. We don't see Apple going out of business or slowing down anytime in the near future.
On the downside, Apple's previous reliance on its famous iPhone is declining. Product sales are down, and the iPhone is only responsible for 50% of the company's revenue. AppleTV also might not perform as well one many of the free yearly subscriptions run out if users decide not to pay for the service. It isn't clear whether these users will choose to start paying for the streaming service, considering that there are so many competitors out there, like Netflix, Amazon Prime, Hulu, Disney Plus, and so on.
Final Thoughts
As of right now, investing in Apple might not be the best idea. If you had invested back in 2019 when the stock's value dropped, then you would have made a good investment. Now, the best thing to do may be to wait to see if the value drops and then to invest. While we expect to see growth through new products and accessories from the company, some of Apple's recent updates aren't entirely original. For example, it almost seems as though the company is copying others by releasing a streaming service of their own. The only real difference is that the price is a few dollars less than the others. Of course, if you buy right now, the stock's value may rise – as nobody can predict the market 100%. Be sure to stay up to date on Apple's earnings reports, product launches, streaming service reviews, and other important information before making your own decision about whether to invest.