Trade Copier Pro MT5 is a utility used to copy trades remotely between different terminals and can be found on the MQL5 market. This software was last updated on the 14th of March 2020 (at the time of writing) and is currently on version 5.91.
Overview
The Trade Copier Pro software is designed to copy trades remotely between multiple different accounts using MetaTrader 4 or MetaTrader 5. This product is best used for signal providers needing to copy their trades to their client's accounts which are not hosted in the same place.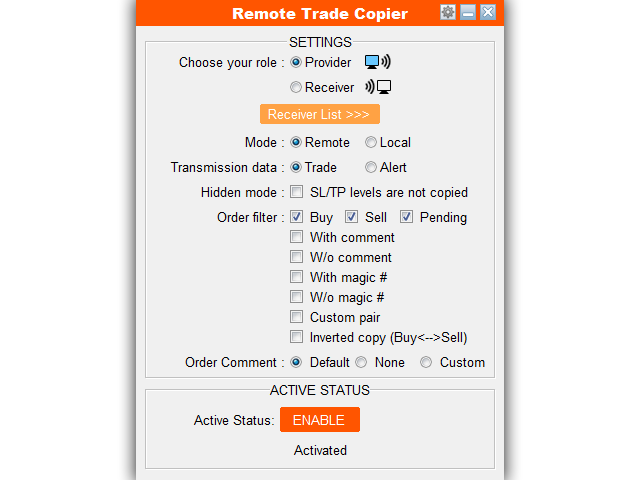 There is a whole host of features available, we won't list them all but a selection of them include:
Copy between MT4 and MT5 accounts.

Switchable between Provider or Receiver role within one tool.

Can copy Forex trades to multiple receivers (can also receive trades from multiple providers).

The provider/Receiver can manage his Receiver/Provider list via a powered database managing system without an additional tool (add, remove, edit, enable/disable, set expiry).

The provider can set the subscription expiry for each receiver so that the receiver will not be able to receive the signal after that time.

Protect the receiver from slippage and outdated orders.

The receiver's account can still trade manually or use other EAs without any conflict.

Auto recognizes and synchronizes symbol prefix/suffix between brokers.

Multi lot size setting options for the receiver.

Allows filtering copy – SL or TP or exit point.

Allows filtering which type of orders will be copied for both provider and receiver.

Allows inverted copying for both provider and receiver.

Drawdown protection.

Auto sends a mobile notification and emails to the receiver when the account has new activities.

Real-time control panel.

Easy usage and friendly interface.
So as you can see, there is a wide range of features, there are some additional ones available too. There is also a whole host of settings and parameters available to change such as lot sizes, max lot size, whether SL/TP levels are copied, max slippage, whether buy/sell orders are copied, and many more.
Service Cost
The cost of this piece of software is currently $149 to buy, you are also able to rent it, it will set you back $49 per month that you wish to rent. There is also a free demo version available should you wish to try it out before you buy, and we would recommend that you do, there are some limitations to it such as only allowing the receiver of the trades to set the volume with fixed lot sizes.
Conclusion
There are just three different reviews available for this product, there is a range of ratings, one five stars, one star, and one review without a rating.
"Very goood! I like it!!!" – 5-star review.

"The robot does not work correctly. It may not copy transactions at all. May try to copy trades with maximum lot. (AUD / CAD wanted to sell for 1010 lots !!!). When copying a transaction for 0.1 lot of sale, immediately bathe 0.01 lot." – 1-star review, translated from Russian.
So one positive and one negative does not provide a great consensus, but you should bear in mind that it does not work for everyone. You should try out the demo version in order to ensure that it has the features that you require prior to purchasing the full version.