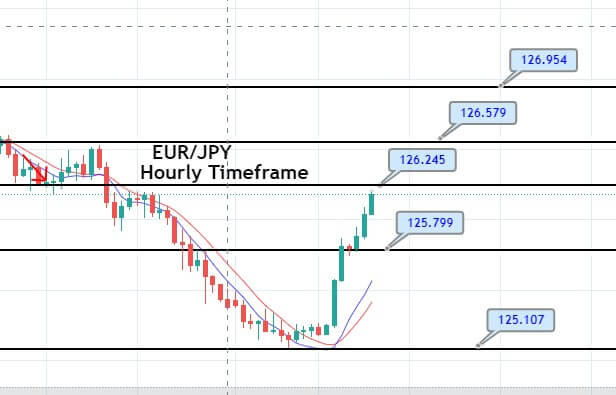 Join F.A. Telegram Channel: https://t.me/forexsignalsFA

The EUR/JPY pair is trading sharply bullish around 126.350 level, having formed three white soldiers on the two-hourly timeframes. The leading indicators are the suggesting buying trend in the pair, which may lead the EUR/JPY pair towards 126.245. On the lower side, the EUR/JPY is likely to find support at the 125.799 level. Let's stay bullish above 126.00 level today. Checkout the EUR/JPY trade plan below and also follow FA Trading Signal Channel on Telegram. 
Entry Price – Buy 126.036
Stop Loss – 125.636
Take Profit – 126.436
Risk to Reward – 1:1
Profit & Loss Per Standard Lot = -$400/ +$400
Profit & Loss Per Micro Lot = -$40/ +$40
Fellas, now you can check out forex trading signals via Forex Academy mobile app. Follow the links below.
iPhone Users: https://apps.apple.com/es/app/fasignals/id1521281368
Andriod Users: https://play.google.com/store/apps/details?id=academy.forex.thesignal&hl=en_US