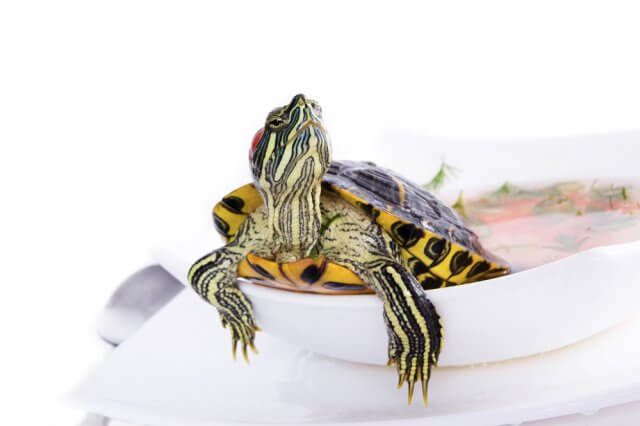 Turtle soup
As Newton found out, an action carries its reaction. The market found a solution to profit from these anticipated turtle breakouts: Turtle Soup.
Larry Connors and Linda Bradford Raschke wrote a beautiful book called Street Smarts, filled with many ideas to swing trade.
The method that Connors and Raschke propose looks to identify those times when a breakout fails and jump aboard to catch a reversal. By the way, this strategy can be traded in all markets and time frames.
The Turtle Soup rules for long positions (the inverse goes for short positions):
The market must make a 20-period low. The lower, the better.
The previous low must have happened four periods earlier.
After the market fell below the 20-period low, we place an entry buy-stop five ticks above the previous day low.
If the buy-stop is filled, buy a stop-loss some tics under the current period low.
Use trailing stops, as the current position is moving profitably.
Re-entry rule: if you're stopped out, you may re-enter at your original entry price if this happens in the next two bars.
Turtle soup plus one
This strategy is identical to the Turtle Soup, except it happens one day later.
This strategy is more conservative, as it waits for the current bar to end, and sets the buy stop at the same place, but one bar later.
To show that two radically different ways to trade are both valid, I've tested this strategy from mid-2006 up to Jan 2018.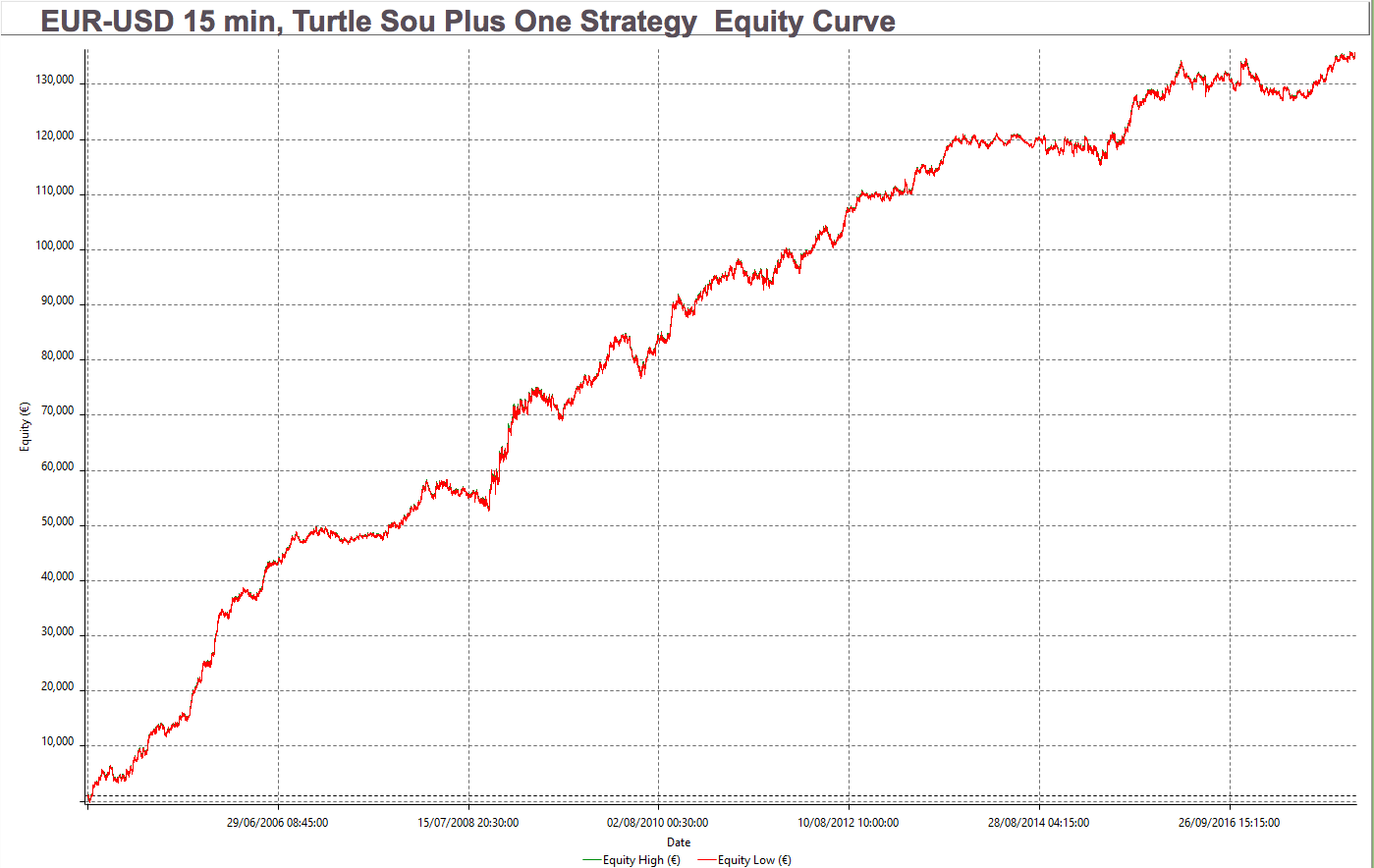 As we observe above, the strategy's percent winners are about 23%, but with a Risk/reward factor- which is the average win to the average loss ratio- of 3.77. Please note, also, that the average trade is rather small. That is the result of a short timeframe.
To achieve those values, we used a trailing stop of 0.22%
Main metrics of the naked Turtle Soup Donchian fading System, on the EUR-USD: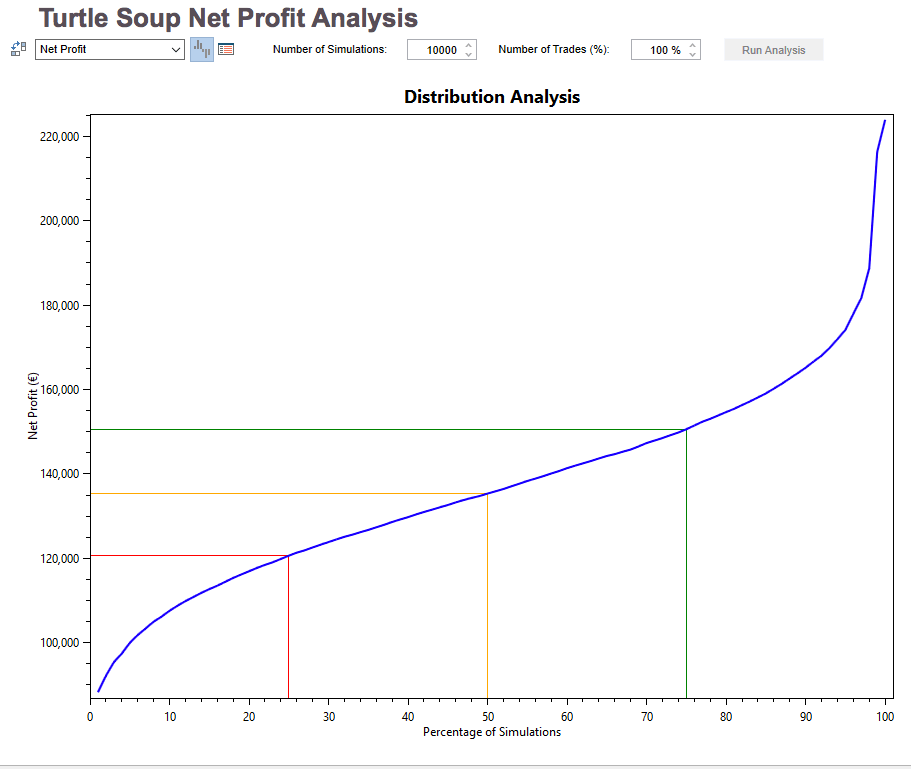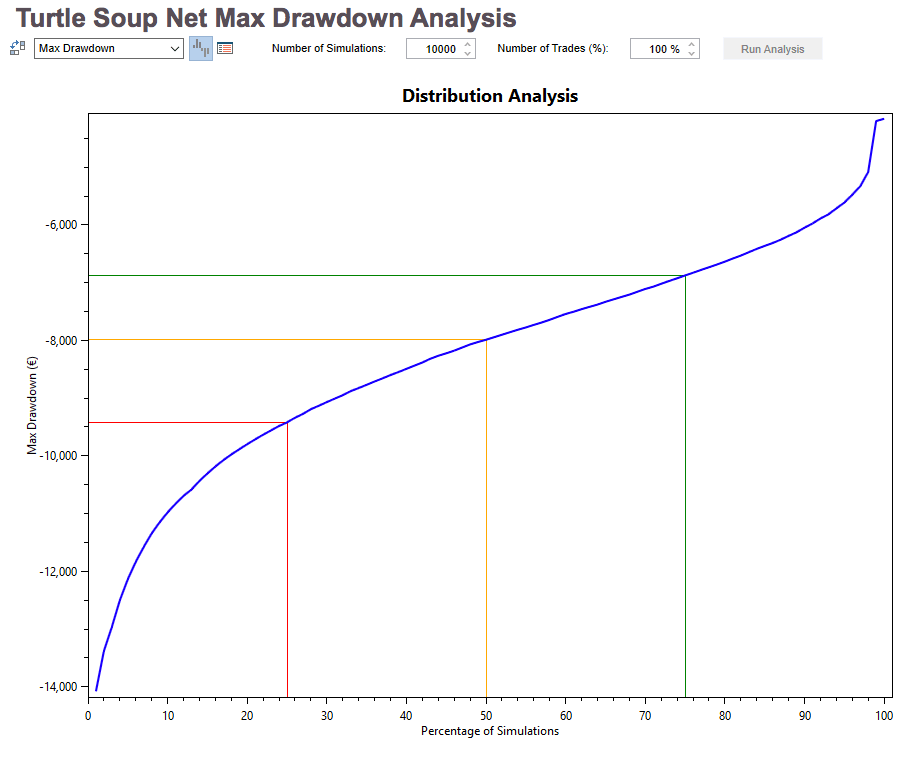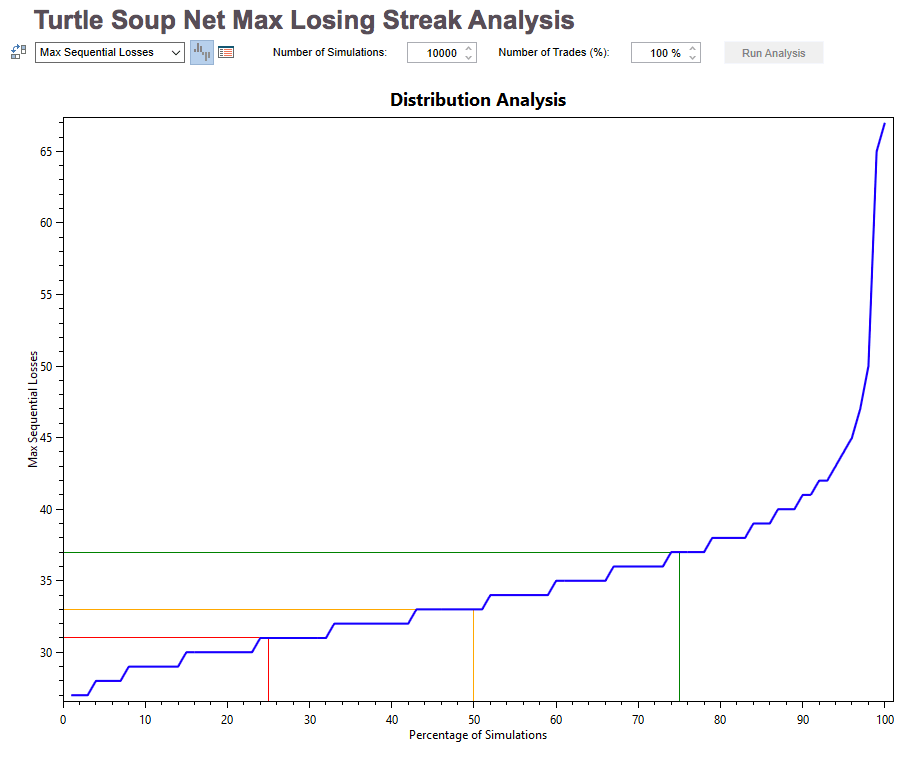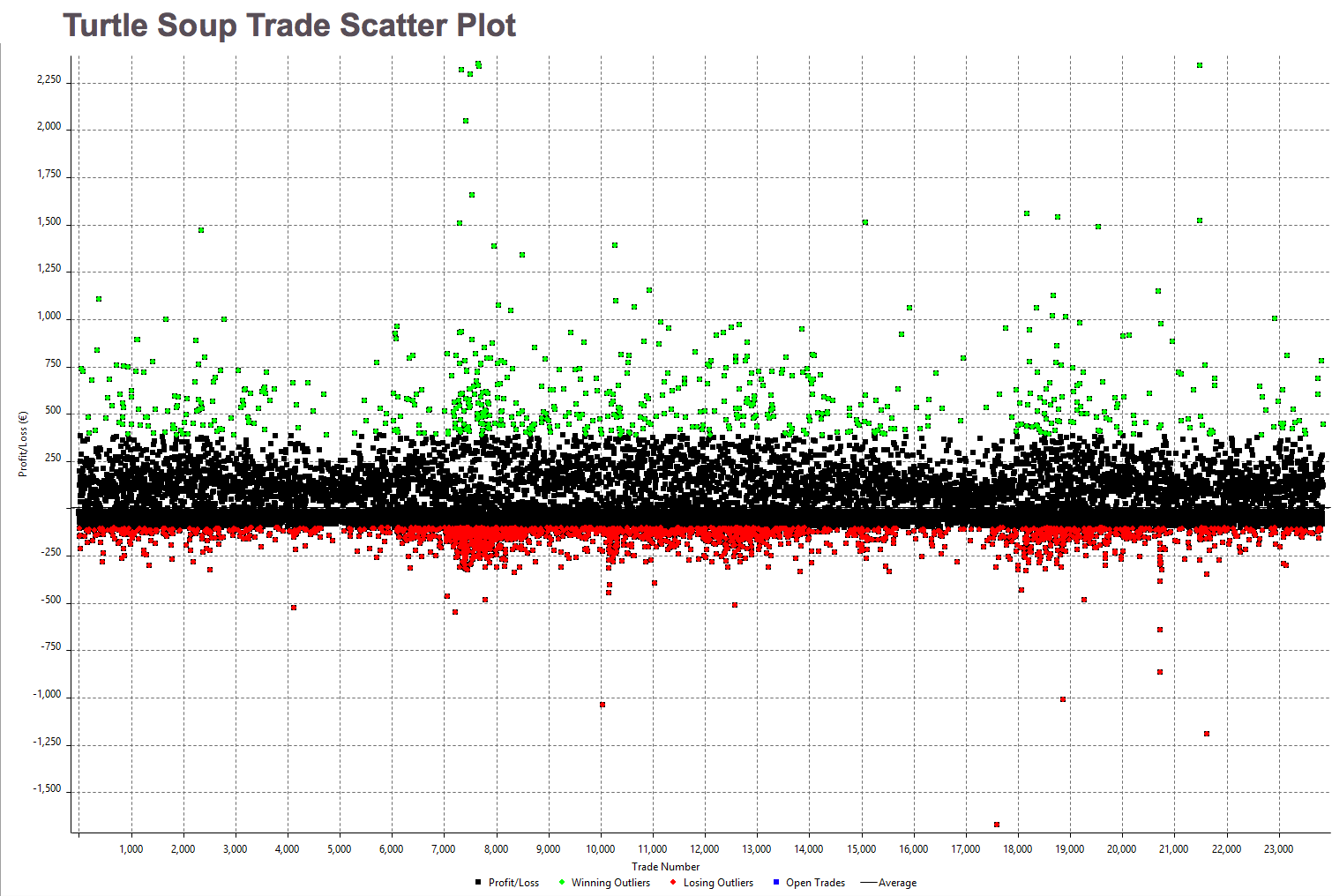 Conclusions:
The system is good. The reward to risk ratio is great, but it is hard to take just one successful trade every four trades.
The system could be much more profitable if we can assess when the asset is in a trading range, apply it only when this condition happens, and avoid trading it during prolonged trends. This can be done using a filter that allows only propper trades. For example, trading only when the ±1 STD Bollinger bands  (see figure below- BB bands in cyan) are shrinking in size, and its centerline goes flat. We should avoid the trade when the Bollinger bands start expanding with its center curving up or down. That would ensure a much higher success ratio.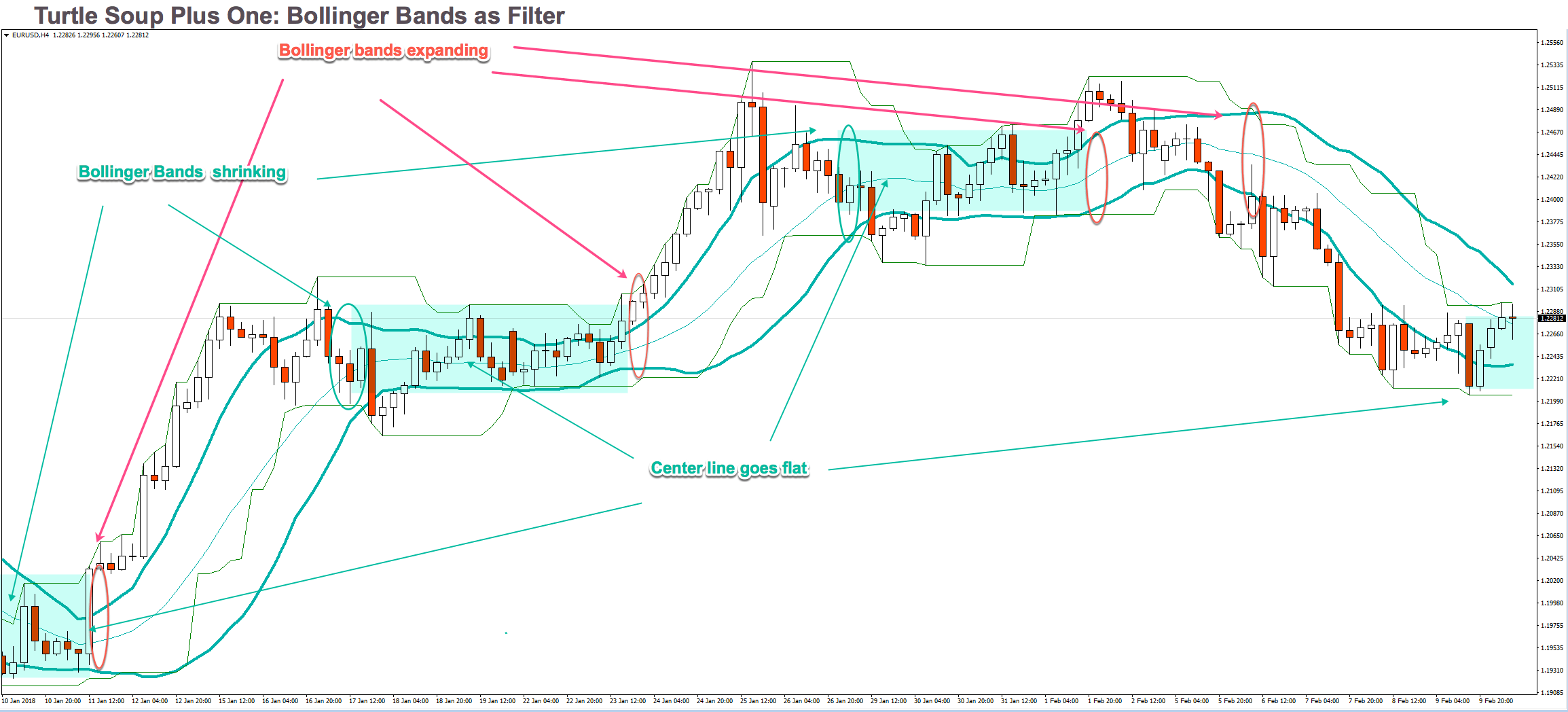 How to use Metatrader 4 to trade this strategy:
The Donchian Channel indicator can be directly downloaded to your MT4 from:
https://www.mql5.com/es/market/product/4782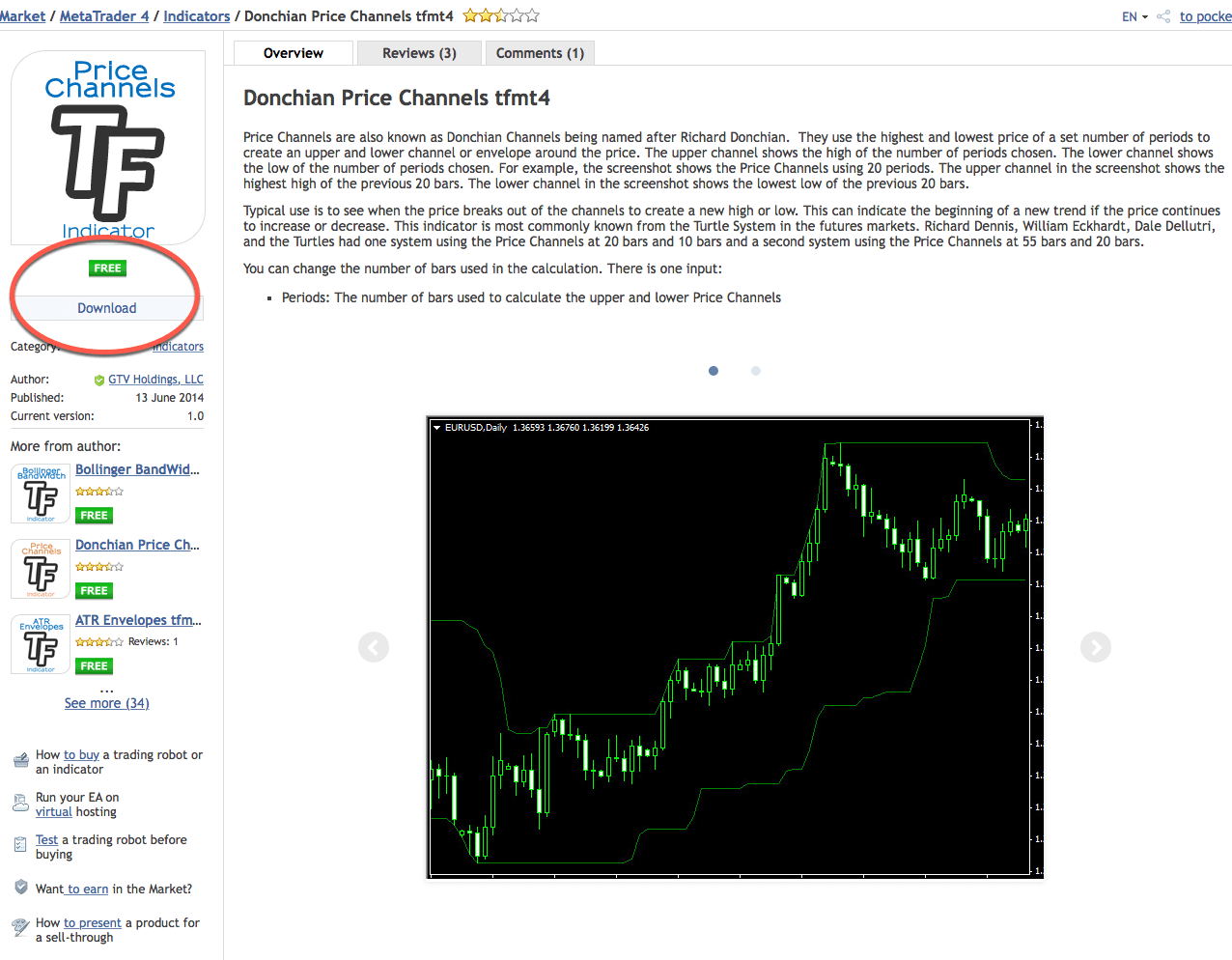 When clicking download, a pop-up window appears:
Clicking "Yes, I have MetaTrader 4," the indicator installs directly in your trading platform.
To load the indicator to a chart, on your MT4, go to Insert -> Indicators -> Custom- Donchian Price Channels tfmt4: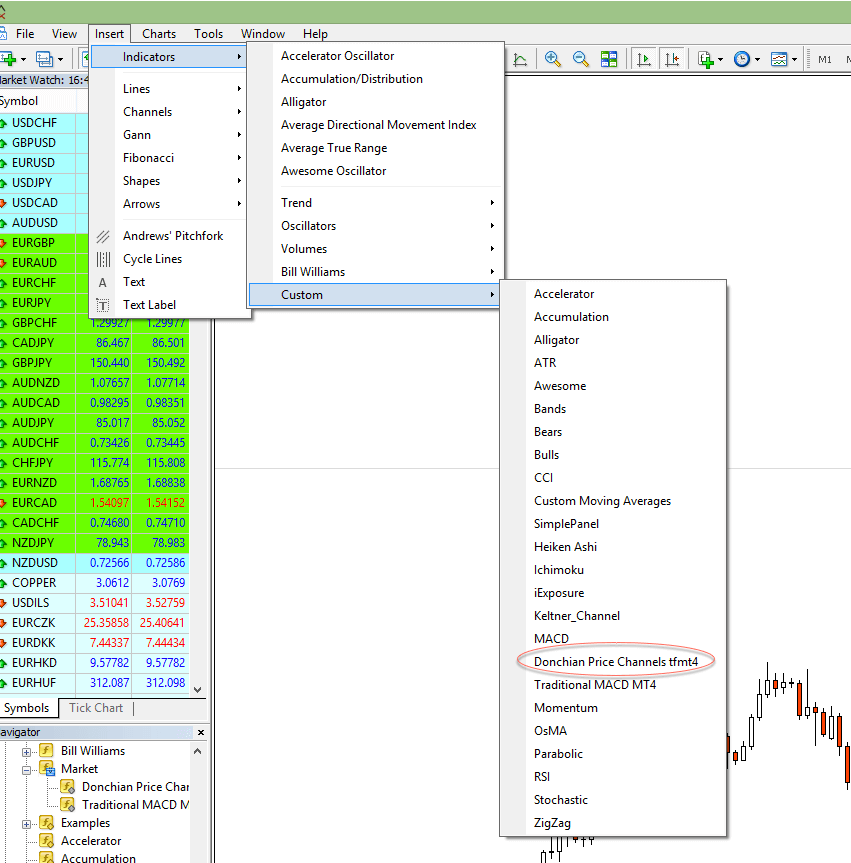 Then, a popup window with the parameter selection appears: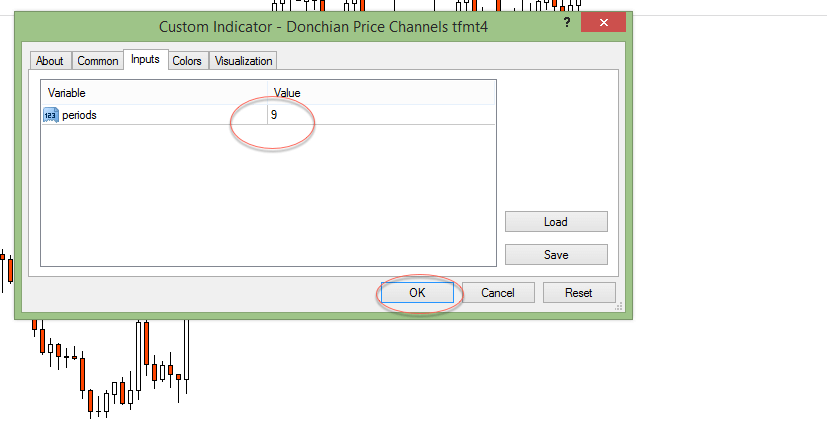 And, finally, we get the desired channel surrounding prices: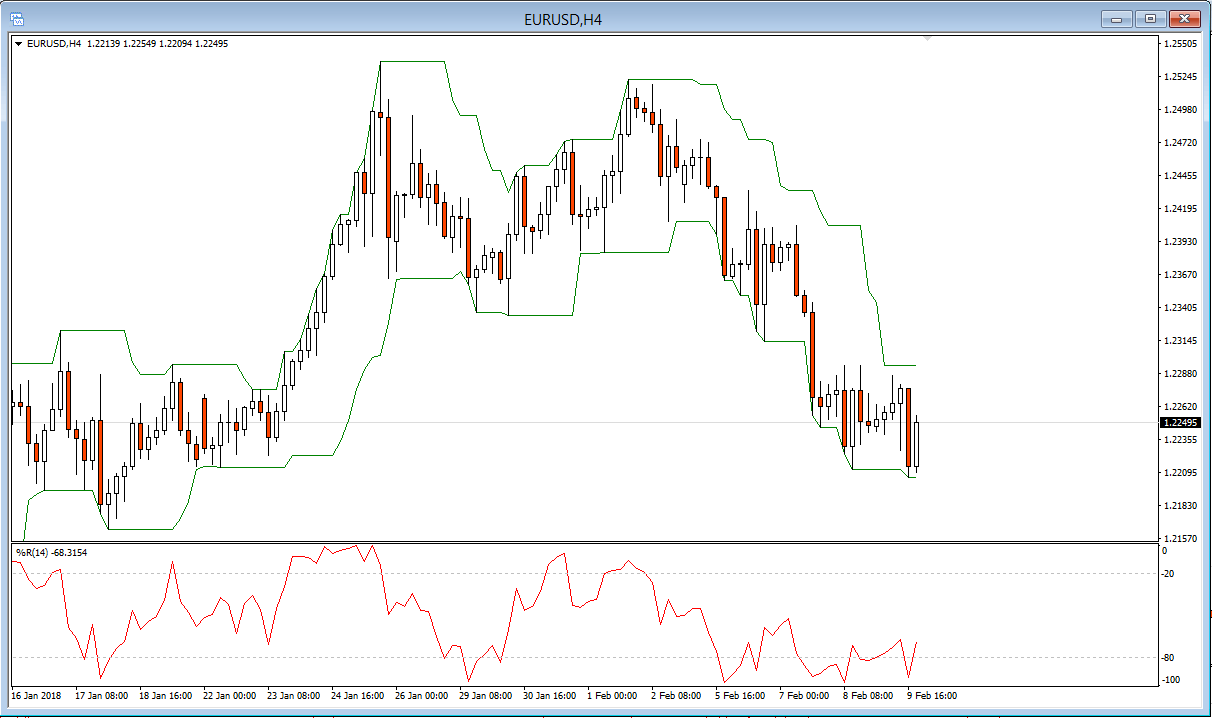 A sell signal happens at the candle following a close price breaking the channel's current upper border. A buy signal occurs at the candle following a closing price below the line of the current lower edge of the channel. See figure below three consecutive winners on a flat channel signaled by a Bollinger band contraction.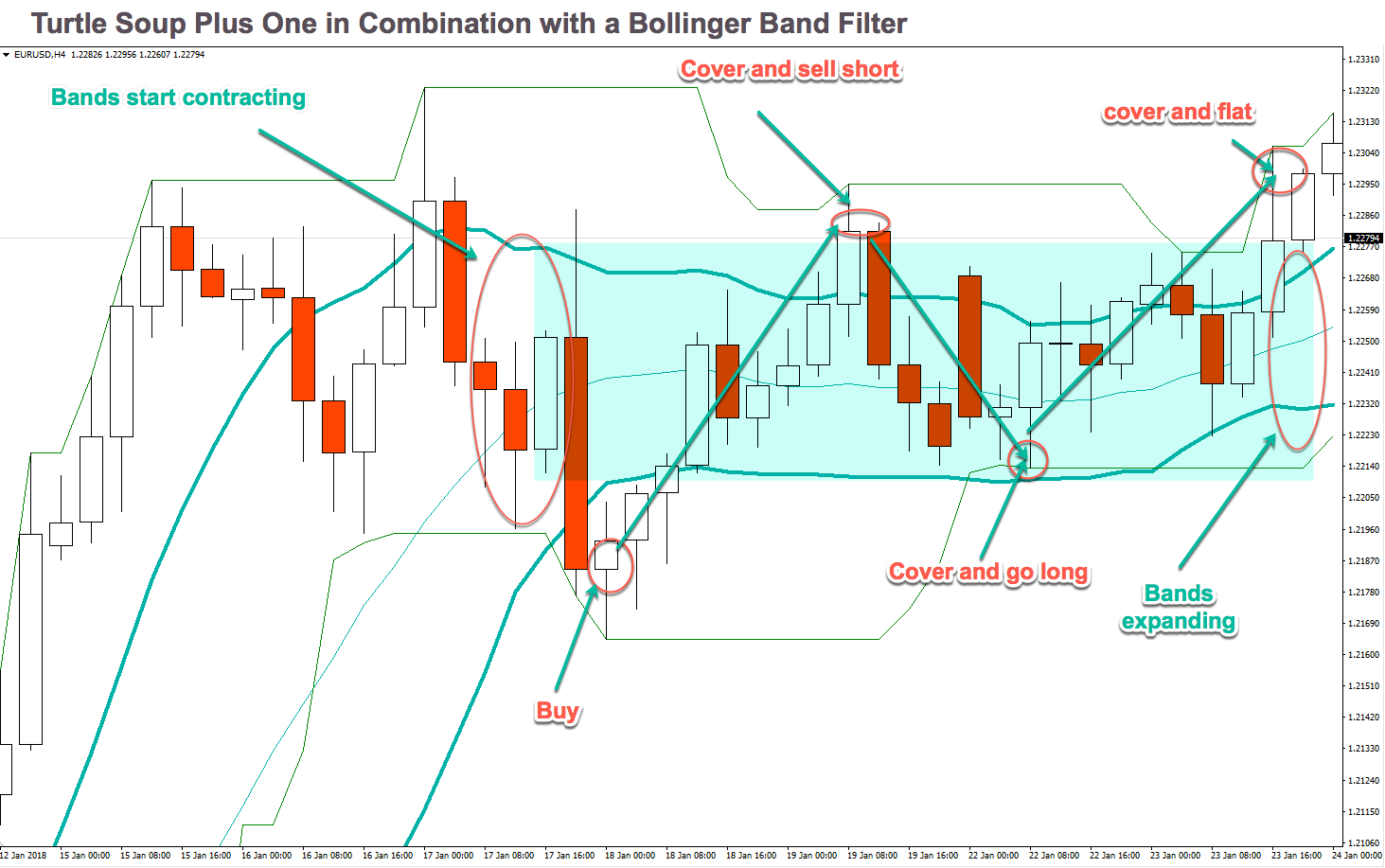 It's not usual, but, from time to time, we can expect a streak of up to 10 losing trades. Thus, we have to apply adequate money management rules.
As an example, let's say you don't like to have a drawdown higher than 20% of your capital. Then, if you divide that figure by 10, that should be your maximum risk for a single trade. In this case, this is 2% of the current capital allotted to this strategy.
As a final note, the Turtle Soup and Turtle soup plus one are counter-trending systems profiting from false breakouts. Therefore, these systems work best in ranging markets. Bull or bear markets don't fit well with its counter-trending nature. But they are a very good complement to trend following systems such as the Donchian channel breakout system or similar systems.