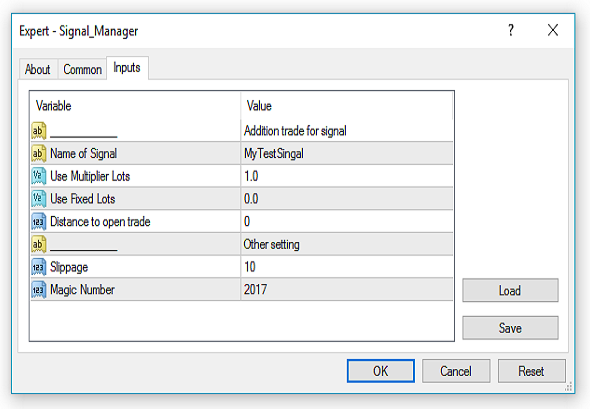 The Signal Manager is an expert adviser that can currently be found on the MQL5 marketplace. The expert adviser was first released on the 20th of February 2017, there are been a few updates, the most recent update was on the 16th of August 2018 and it is currently at version 1.6.
Overview
The Signal Manager is an expert advisor that can be used on the MetaTrader 4 trading platform, it is designed to copy trades and signals. The expert advisor comes with a number of parameters that can be altered in order to suit your needs, you can select the name of the signal or to use comments from the signal, you can change the multiplier of the lots, you can choose whether to use fixed lots or not, how far it should be from the original signal before skipping, to close orders when the signal does, to change the take profits or stop losses, to copy when at a loss, to continue after a stop, to close on a certain negative percentage, to send email notifications and to display the settings on the chart.
Service Cost
The Signal Manager utility can be purchased for $39, this will allow you to use it permanently, you are also able to rent it on a monthly basis and it will cost you $10 per month to use. There is also a free version available to download, there is no indication as to what the limitations of this free version are.
Conclusion
There is only one review available which is a 5-star review.
"This is a great signal copier. It works properly and it gives you great control over any signal. It also allows you to copy Scalping signals as it allows you to set a price offset in order to compensate for possible slippages. The author is a very good person, she always modifies the EA and includes new and useful options. I advise you to use it."
As there is only one review, we would highly recommend that you download and try out the free version to make sure that it works the way you need and that it can be set up correctly on your own charts.