Triplo EA is a robot created in March 2020 by developer Algelino Hafis Mohamed Yacine. Hafis Mohamed Yacine is a creator of automated trading systems that has several tools in the MQL market.
Triple EA Works very well with all Forex currency pairs. The best time frames in backtests are M5, M15, M30, and H1. The recommended minimum deposit to start operating with this EA is 1000 USD, using a lot size of 0.01 lots.
Triple EA would probably occur in the event that the volatility of your merchandise begins to decrease. In the case of some sort of benefit, checks are usually at the beginning of traveling sideways, that ATR benefit will probably figure out how to stop. This can trigger the delay to end up traveling excessively, as examining benefits began to be much less dangerous.
This can trigger the delay to end up traveling excessively, as examining benefits began to be much less dangerous. That ending the damage would probably start helping to change in your favor again. However, as soon as it is done with the entire ATR process, there is an additional opposition to our personal drag finishing over-traveling.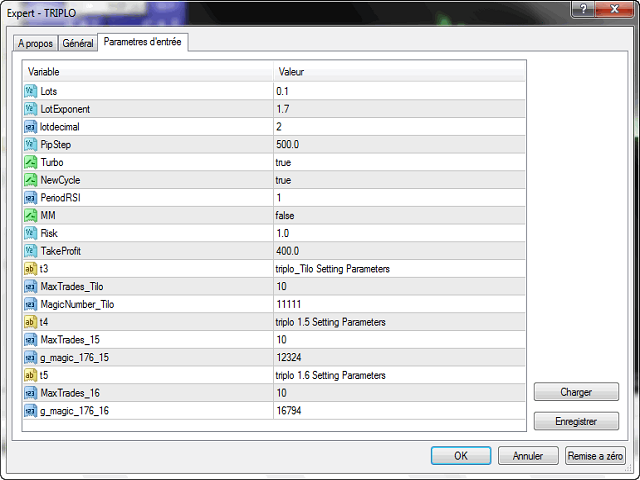 Triple EA Global Environment:
Batches = 0.1 per 10000$, Lot exponent = 1.55, Lot decimal = 2, Pip step = 500.0, Turbo = TRUE, Newcycle = TRUE, Period rsi = 1, MM = FALSE, Risk = 1.0, Profit = 100.0, Max trades tilo = 10, Max Trades = 15 = 16, Trades Max = 10.
In short, we are dealing with an EA in which the author does not give any information about the basis of its operation. From the parameters used, we can deduce that the EA is related to the RSI indicator, but we have not been able to find out more.
We always recommend that to use any EA, it is important to have a dedicated virtual server (VPS), to make sure that all transactions are executed correctly even if we have the computer turned off. If we don't have that resource, we'll have to leave the computer on 24/7. It is also important to have an ECN account in a reliable broker that has low commissions and spreads, and low latency so that transactions are executed in the shortest time possible. Since this tool is newly created, we have no criticism or comments from users who have already tried it and could have shared their experience with the MQL community.
Triplo EA is available for sale on the MQL market at a price of 200 USD, and it is also possible to rent it for a price of 30 USD per 1 month, 90 USD for 3 months of use, or 180 USD for 6 months of use. There is also a free demo version that is recommended to download in order to test this EA, understand its operation, and verify its profitability and if it is suitable to add it to your trading style or not.