The "Thymus Trend" indicator is a ready-to-use semi-automatic trading system. This is one of the many trend indicators that exist in the market. The developer Egor Manakhov, very active in the comments of MQL5, offers a demo version, so you can know the indicator before buying it. The price of this indicator in the MQL market is 30 USD.
Main Features
Considers changes in the market

Only one input parameter

A pattern recognition algorithm is used

"Objective" and "supporting" levels of trends are calculated

The intensity of the trend is calculated

Comments on the terms of trade

Contains a separate information menu

Offers a good color scheme

Works in all markets and on all instruments
The Strategy of TiModel Tendency
This indicator recognizes the "Reversal-Impulse-Correction" pattern. In terms of support levels, these are calculated and fixed on the basis of the "Reversal" and "Correction" analysis. Target levels are calculated and set on the basis of the "Momentum" analysis.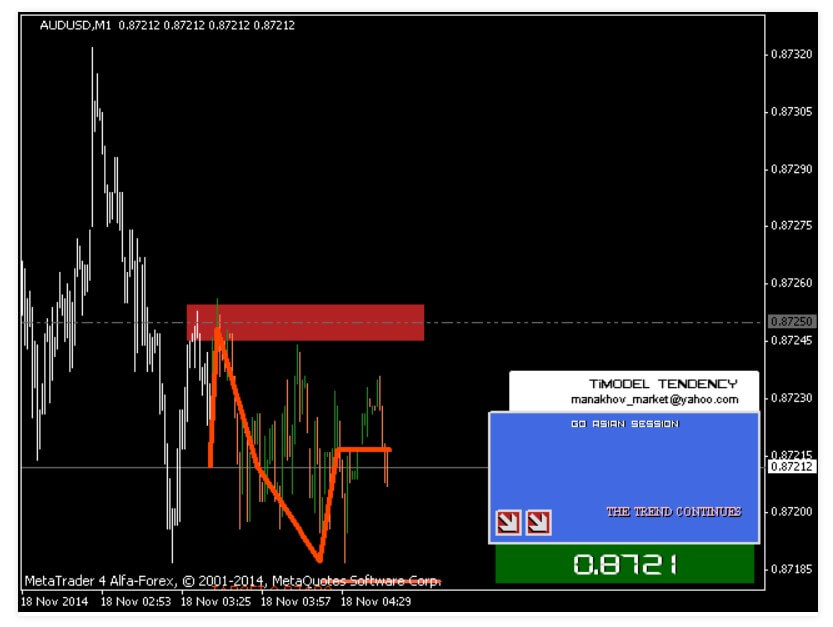 Principle of Operation
As we have said, the indicator recognizes the "Reverse-Impulse-Correction" pattern. In the strategy, this pattern will be the starting point for trend formation. Then the indicator draws the trend as continuous dashed lines, shows "support" lines, and "target" lines. The indicator follows the evolution of the primary trend, reflecting the dynamics and drawing new lines and levels. The Indicator Information menu shows which trends are present in the market at present, and the force of the momentum of the corresponding trend, as well as its current state.
Other Parameters
Sample length, bars – length of historical data (sample)

Language (1 – Russian, 0 – English)

Scale low 0 high 1 – scale information menu (1 – large, 0 – small)
In conclusion, and in the absence of comments from users, who can tell us how their experience has been using this indicator, It seems quite complete and could be one of the trend indicators to take into account in order to start us in the world of advanced indicators for our trading platform.