Price Probability can be found online within the MQL5 marketplace in the indicators section. The indicator was first uploaded on the 16th of May 2014. It has had a few updates, the most recent was on the 29th of October 2019 and this brought it up to version 1.3, the indicator was created and uploaded by Stanislav Korotky.
Overview
Price Probability is an indicator that can be used with the MetaTrader 4 trading platform, the indicator is pretty simple and shows you the probability for buys and sells in the future. It does this by using data gathered on existing history and observed price changes again corresponding pairs.
The indicator can provide you with 3 different signals:
As a plain quantitative measure of buying and selling strengths (Stats line). Can be used as a secondary signal. Can also be used for aggressive trading.

As a probability measure as a ratio of buying and selling probabilities (Probs line). Can also be used as a primary trading signal.

As suggested trading target in points (TP). Can be used as a confirming signal. Its sign should be positive for buy and negative for sell signals.
There are also a few parameters that you are able to alter, these include the depth of history, forecast depth, corners of the windows, and the mode of calculation, these can slightly alter the functionality of the indicator.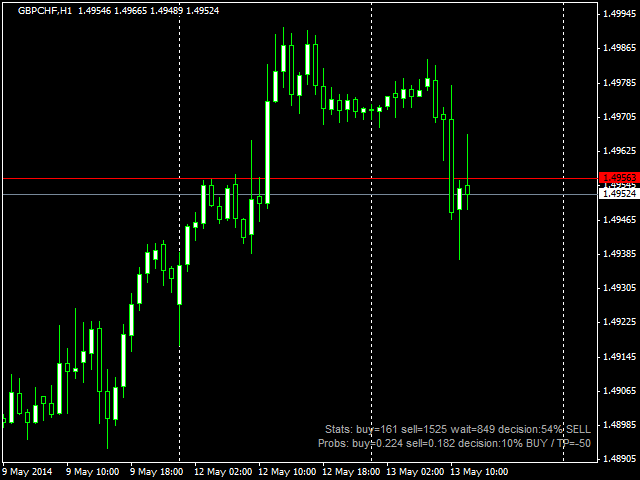 Service Cost
The indicator can be purchased outright for $72. This will give you unlimited access with no limitations. If you do not wish to purchase it, you can also rent it on a monthly basis. This will cost you $10 per month. There is a free version available, but we do not know what the limitations of the free version is as these are not mentioned on the site.
Conclusion
There is just one review that is giving the indicator a 1 out of 5 rating. Unfortunately, the user did not leave a comment so we do not know what the issue that the user had was. There are also 8 comments, the majority are from the creator themselves, however, the ones from other users have been answered promptly which is a good sign as to the sort of support you would get if you decided to purchase or rent it. Due to there being no real reviews, we would recommend trying out the free demo version or asking the developer any questions before purchasing it, just to make sure it will, in fact, do what you need it to do.