Philip Capital is a UK-based foreign exchange broker. Philip Capital claims to stand out from the crowd for a number of reasons, their quality of service, their multilingual and client focus team, the wide range of trading options and platforms, the safety of funds, and their global reach. Throughout this review, we will be looking into the services on offer to see if they really do stand out from the crowd or fall into the pool of mediocrity.
Account Types
Unfortunately, the account page doesn't appear to be loading properly so there is no comparison for us to go on, throughout this review, we will be looking at different trading conditions on offer if there are any differences between accounts we will make it clear in each section.
Platforms
There are two different trading platforms available, the first being a traditional trading platform, MetaTrader 4 (MT4). The second is ZuluTrade, which is one of the world's biggest social trading platforms. Both offer a variety of tools and features that will appeal to a broad range of Forex traders.
***UPDATE***
Philip Capital has now teamed up with Poems to offer Forex trading services. It appears that the aforementioned platforms may no longer be available, being instead replaced by a variety of Poems platforms.
Leverage
Unfortunately, we could not locate any information about leverage, so we do not know what the maximum leverage is.
Trade Sizes
Trade sizes start from 0.01 lots and go up in increments of 0.01 lots. We do not know what the maximum trade size is but recommend not making trades larger than 50 lots each due to difficulties in executing the trades quickly without any slippage.
Trading Costs
There is mention of a flat rate of $6 on US market trading. For cost information related to additional market locations, visit the broker's website.

Assets
The assets have been broken down into Forex, Metals, Commodities, and Indices, so let's look at what instruments there are.
Forex: AUDCAD, AUDCHF, AUDJPY, AUDNZD, AUDUSD, AUDSGD, CADCHF, CADJPY, CADSGD, CHFJPY, CHFSGD, EURAUD, EURCAD, EURCHF, EURGBP, EURJPY, EURNZD, EURSEK, EURSGD, EURTRY, EURUSD, GBPAUD, GBPCAD, GBPCHF, GBPJPY, GBPNZD, GBPSGD, GBPUSD, NZDCAD, NZDCHF, NZDJPY, NZDSGD, NZDUSD, SGDJPY, TRYJPY, USDCAD, USDCHF, USDCNH, USDJPY, USDNOK, USDSEK, USDSGD, USDTRY and, USDZAR
Metals: Gold (USD, EUR, and JPY), Silver (USD)
Indices: AEX25, AUS200, CN50, ESP35, EURO STOXX 50, FRA40, GER30, HKG50, NAS100l, SG100, SPX500, SUI30 and UK100.
Commodities: UK Brent Oil and US WTI Oil.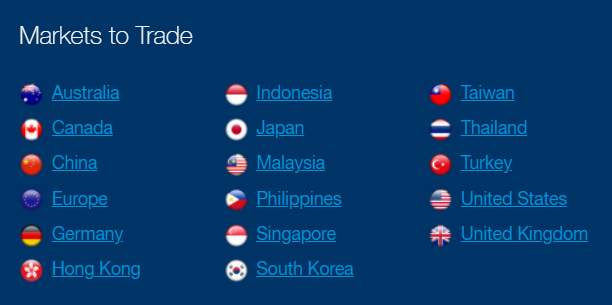 Spreads
Spreads are another aspect that we do not know much about, there is a mention of them being low, but no actual figures for us to go by.
Minimum Deposit
The minimum amount required to open up an account is £500 or the equivalent in EUR or USD. For a premium account, you will need to deposit at least £10,000 or equivalent in EUR or USD.
Deposit Methods & Costs
Just Bank Wire Transfer and Credit/Debit cards seem to be available for depositing, if there are any more we are not aware of them. There are no added fees from Philip Capital, but any fees charged by the banks will be made payable to the client.
Withdrawal Methods & Costs
The same two methods seem to be available for withdrawals, and it is the same with the fees, none are added by Philip Capital but be sure to check with your own bank to see if they charge any transfer fees of their own.
Withdrawal Processing & Wait Time
Philip Capital does not specify how long it takes for them to process withdrawals, just that your money should be with you within 5 working days.
Bonuses & Promotions
There does not seem to be any bonuses or promotions active when we are writing this review, if you are interested in bonuses then we recommend contacting the support team to see if there are any available.
Educational & Trading Tools
There is some basic analysis and news available but nothing much else. There is an economic calendar to detail any upcoming news events and which markets they may affect. The market news is exactly that, just some simple news articles. There is also a learning portal that has some videos around trading platforms, forex terms, and basic trading.
Customer Service
You can contact the customer service team over at Philip Capital using the following methods.
General Support Mon-Fri (8 AM – 6 PM LONDON TIME)

12-14 Mason's Avenue, London. EC2V 5BT

Helpdesk: +44(0)207 398 3100

E-Mail: support@phillipcapitaluk.com

Execution Desk Mon-Fri (8 AM – 6 PM LONDON TIME)

12-14 Mason's Avenue, London. EC2V 5BT

Helpdesk: +44(0)207 398 3100

E-Mail: support@phillipcapitaluk.com
—————————————————————
Payment Enquiries Mon-Fri (8 AM – 5 PM LONDON TIME)

Phone: +44(0)207 398 3120

E-Mail: mymoney@phillipcapitaluk.com
Demo Account
There is mention of demo accounts, however, as the account page is not working we cannot be 100% sure that they are not available. Demo accounts can allow potential clients to test out trading conditions and for existing clients to test new strategies without risking any of their capital.

Countries Accepted
The following statement is on the website: 
"The information on this site is not directed at residents of the United States of America and is not intended for distribution to or for use by, any person in any country or jurisdiction where such distribution or use would be contrary to local law or regulation."
If you are unsure of your eligibility, then we would recommend getting in contact with the customer service team to find out.
Conclusion
There is far too much information not available, we had to search deep into the site and FAQs to find most of what we have written. Potential customers will be put off by the lack of info and ease of access. There needs to be a lot of work put into the site and due to that, we are not able to recommend them as a broker to use at this point in time.
We hope you like this review if you do, be sure to check out some of the other reviews to help find the broker that is right for you.