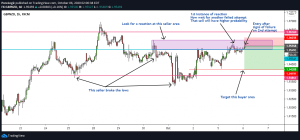 Flow Assessment
In the range shown in the picture, the overall flow is leaning down because sellers have broken a recent low and the buyers are coming back up in a slower fashion
Location Assessment
Price is right at the key seller area where the origin of the push that created a new low happened, thus giving us the right to look for sells when the buys fail
Momentum Assessment
We do not trade on the 1st seller reaction as the buyers may defend the nearest support strongly and continue making higher highs in their journey
When there were lower timeframe signs of rejection for the sellers, we got an indication that sellers may be acting around that area, thus creating an entry trigger.
Note: This is an aggressive entry, 25% of your usual position's risk can be used. Later, we can add remaining size to the trade once we get more signs that the sells are going to work.
Entry Price – Sell 1.95521
Stop Loss – 1.96001
Take Profit – 1.94171
Risk to Reward – 1:2.81
Profit & Loss Per Standard Lot = -$319/ +$899
Profit & Loss Per Micro Lot = -$31.9/ +$89.9
Fellas, now you can check out forex trading signals via Forex Academy mobile app. Follow the links below.
iPhone Users: https://apps.apple.com/es/app/fasignals/id1521281368
Andriod Users: https://play.google.com/store/apps/details?id=academy.forex.thesignal&hl=en_US