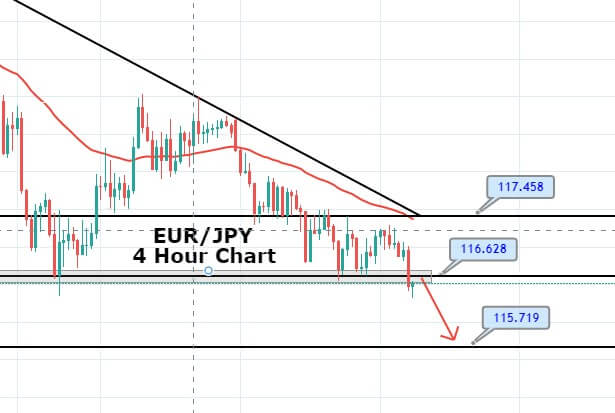 The EUR/JPY is trading bearish at 116.450, having violated the support level of 116.600 level. Holding below this strong resistance can extend selling bias until 115.650 areas in the coming days. It's the COVID 19, which is consistently impacting the exchange rate of the EUR/JPY pair. 
The Spanish government will offer to its European Union allies that they produce a 1.5 trillion euro ($1.63 trillion) rescue fund supported through perpetual debt to help countries worst-hit by the coronavirus trauma. With an increased number of finance, the single currency Euro may weaken. Alongside this, the Japanese yen is facing slight support in the wake of safe-haven appeal.
Technically, the EUR/JPY has violated a narrow range, which was extending support at 116.600 level. Below this, selling bias remains strong, and it can lead the EUR/JPY pair until 115.450. On the 4 hour timeframe, EUR/JPY seems to violate the descending triangle support level of 116.600, and this can lead the pair towards an initial target level of 115.450. The MACD is holding below 0, suggesting bearish bias among traders. While the 50 periods, EMA continues to support the selling trend in the pair. 
Entry Price: Sell at 116.452    
Take Profit 115.702    
Stop Loss 117.152    
Risk/Reward 1.07    
Profit & Loss Per Standard Lot = -$‭‭651‬/ +$‭697
Profit & Loss Per Micro Lot = -$‭‭65.1‬/ +$‭69.7