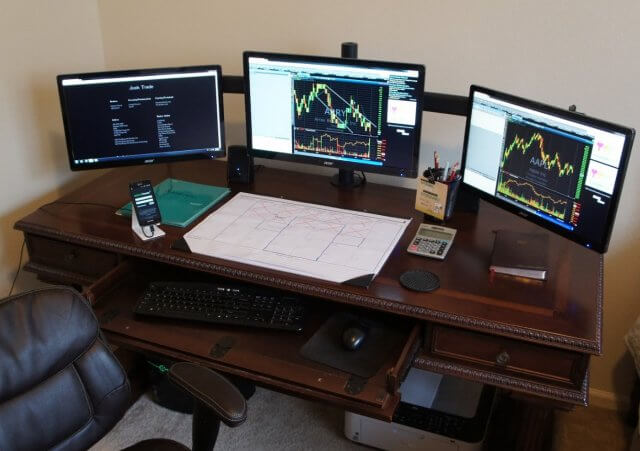 So, you want to start trading on Forex, but don't know what equipment you need? Scared that you might start something and then realize you are missing a part? What do we need before we start trading on Forex? Firstly, we need to know what or how "long" are we going to trade on Forex, meaning, we might be trading 15 minutes a day, or are we going to be a day trader.
Perception of stock trading, as you see in the movies, rows of monitors attached to a supercooled computer, is really not necessary – unless you are a day trader, who are forced to have that hardware because they need to monitor a lot of market and a lot of trades. And that's a harsh way to make a living, as they are always stressed with large amounts of data. That stress transfers to their lifestyle, family, and it is mentally unbearable. But for a novice, that perception has that wow factor, makes you imagine yourself like a captain of a starship.
Imagine rows of monitors with currency pairs and news on CNBC and Bloomberg to stay informed…everything beeping and humming, but not all that shines is gold. For the amount of money needed to buy such hardware, you would probably have to be in some other kind of business first. Once you get on trading you will see it's not necessary, and all that money spent on all that equipment you could not get back for at least 3 years of initial trading. What we would even recommend is buying used computers, because on the hardware side, luckily, we don't need much. It's a workhorse, it doesn't need to be flashy. One laptop, or even a tablet, and a good internet connection is all that we need to trade on Forex.
The minimum requirements for the MetaTrader 4 or 5 platform are what most average grade old computers can easily handle. Note that once you become open for many other markets and indicators, the load on opened charts could become quite evident, so you might need to wait 30 seconds to a minute for all 28 currency pair charts. Of course, this is not necessary and depends on how you use the platform.
The network connection stability is a priority here. If you have an unstable connection you will experience a lag in order executions, feedback, and some EAs will not be able to work optimally. If you try scalping strategy EAs know they will not give you positive results in this environment even if they might be performing well otherwise.
Smartphones are a potential solution too, but given that their screens are small(ish) and are power reduced devices, using them may be awkward and uncomfortable. For example, you can have MT4 on your phone but can't use custom indicators. Phones have yet to be developed to support this, or MetaQuotes might find some solution for their platform. The advantage of having MT4 or MT5 on your phone is of course mobility so you can manage positions on the go, but know that advanced technical analysis with indicators not included in the platform is not possible. So the best way to use it for alerts, emergency adjustments, and monitoring. Some traders even say that having forex in your pocket is not always a good idea especially if you become too attached to trading.
So, what we need to know is that you are not trying to impress anyone with your setup, you don't need high power, flashy desktops with a bunch of charts on the wall made of monitors. People of less developed countries can have a go on Forex trading too, they just have to have a laptop. The beauty of Forex is that it is not bound to one place, you just need a laptop, you can be anywhere in the world and it will work. How many professions can be attributed to that? Freedom from desk, monitors, and keyboards, office cubical… To summarize, most of you are already equipped enough.