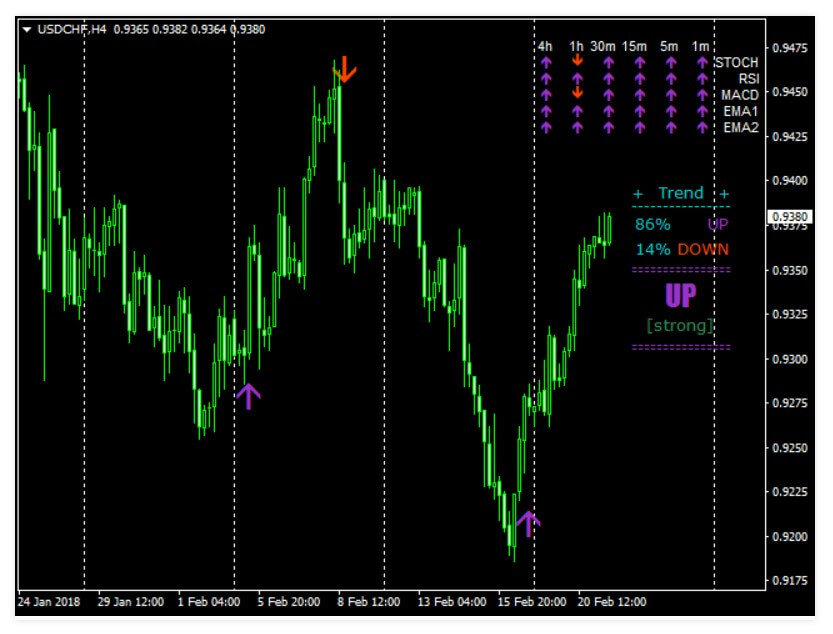 TraderHelp was created by Pavel Krysanov and first uploaded to the MQL5 marketplace on the 6th of March 2018, it has had a number of updates, the most recent update was on the 6th of August 2019 and this brought the indicator up to version 3.3.
Overview
TraderHelp is an indicator created to be used with the MetaTrader 4 trading platform, it was designed to work out the optimal point of entry and exit from a trade.
It has a number of parts, the first being arrows that will display the most efficient market entry and exit points, the up arrow will indicate a buy, and a down arrow will indicate a sell. The indicator has an analytical analysis algorithm that contains both standard and custom indicator readings.
The indicator will also show data on the charts, it will include indicators such as Stochastic, RSI, MACF, and MA on six different time periods (M1, M5, M15, M30, H1, and H43). This block of information can be used to work out the values of multiple different indicators quickly.
The final part of the indicator is an arrow indicating the direction of the trend as well as the power of the trend. The indicator will not redraw the information that it provides.
The main parameters of the indicator:
Power – indicator period

Alerts – audio alert when a signal appears

Show_info – show/hide data

EmailAlerts – send notifications by email when a signal emerges

MobileAlerts – send notifications to a mobile terminal when a signal emerges
Service Cost
TraderHelp can be purchased outright for $9 which will give you 10 activations of the indicator and no added limitations. There is also the option to rent the indicator, doing it that way will cost you $28 per month.
There is a free version available, this demo version will have some limitations but they are not sated on the site, due to this we believe that it may only be usable with the strategy tester within the MetaTrader 4 platform.
Conclusion
There are four reviews available for TraderHelp, they have all given the indicator a 5 out of 5 rating.
"
This is a great indikator, make good profit to me, because it is good to make entry, and it Works for all pair, thanks to the creator, 5 star from me
" – A 5-star review.
"This indicator gives excellent signals, for a long time wanted to find such indicator. Thank you for this" – A 5-star review.
"
great and very accurate signals, I don't get how this dude has so few reviews on his products… 5 stars!
" – A 5-star review.
"
Thanx for the support Pavel and for a good indicator. Cheers!
" – A 5-star review.
The reviews are all positive which sign a good sign, there are a few comments, the developer has been replying to them which shows that he is still actively supporting the indicator, it has been a while since the last comment so it may be worth sending any queries and questions you have to the creator just to make sure that they are still supporting the indicator before you make a purchase or a rental.