Trade Manager Pro was uploaded by Imran Hingora on the 9th of April 2014 onto the MQL5 marketplace under the Experts heading. It has not received any further updates and is still currently on version 1.0.
Overview
Trade Manager Pro is an expert advisor for the MetaTrader 4 trading platform, it has been created as a tool to help you exit out of trades. Looking through the information provided, this expert advisor will not open trades, it will only manage existing trades or trades opened by yourself in an effort to come out of the trades with profit.
The trades can be managed by their magic numbers, trade comments, ticket numbers, certain pairs, all trades, or specific pairs.
The expert advisor also comes with a number of stop losses, these include the initial take profits and stop losses, last bar stop loss, last swing stop loss, stop loss on break-even, RSI based stop loss, MACD based stop loss, time-based stop loss, and partial close.
There are a number of different trading stop options available:
Simple trailing

Parabolic trailing

ATRStop trailing

X Bars Back trailing

Fractal based trailing

Bollinger Bands trailing

Moving Average trailing

Donchian Channel trailing
A number of parameters are also available, they include things like the maximum drawdown levels, basket stop losses and take profits, to use time filters, whether to reverse trade, alerts, mail, and mobile settings.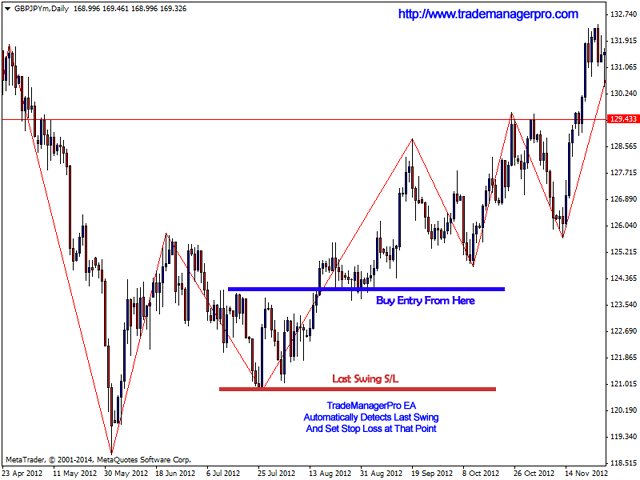 Service Cost
The expert advisor will currently cost you $97 USD to purchase and own it outright. This version will have no limitations and can be used for as long as you need to, there is also an option to rent the expert advisor, that method will cost you $30 per month.
There is a free demo version, the limitations of this version are not stated on the site, it may only be used within the strategy tester but we cannot say for sure, it may still be worth downloading to have a little look at what it offers before making a purchase or a rental.
Conclusion
There are two reviews available for the Trade Manager Pro, they give a mix of opinions and give the expert advisor an overall rating of 3 out of 5.
"This is a terrible system. The manual describes different parameters to what are in the settings. And, even the basic parameters like stop loss and take profit with the stop loss moving to break even does not work. The trade goes back to the original stop loss. If the basic parameters like these don't work properly then I hate to think what the rest of this rubbish does. Don't buy it or use it." – A 1-star review.

"Absolutely awesome! Everything you could ask for in a trade manager! Everything that I have tested on it has worked flawlessly. I especially like the fact that I only have to attach it to one chart." – A 5-star review.
So the reviews are mixed and make it hard to know exactly how the expert advisor is doing, in terms of comments, there are plenty, the developer has been replying to each one quite quickly which is a good sign as to the sort of customer support that you will receive. Due to the mixed reviews be sure to try out the free version and send any questions you have to the creator before making a purchase.