Supply and Demand Dashboard Pro can be found within the indicator section of the MQL5 marketplace. The indicator was first uploaded by its creator on the 2nd of April 2019, it has received a few different updates, the most recent update was on the 16th of January 2020 and this brought the indicator up to version 1.6.
Overview
The Supply and Demand Dashboard Pro is an indicator that was designed to be used with the MetaTrader 4 trading platform, the dashboard can be used on multiple symbols and on multiple different timeframes.
Some of the main features of the dashboard:
It shows filtered Supply and Demand values including zone strength rating,

It shows pips distances to/and within zones,

It highlights nested zones,

It gives 4 kinds of alerts for the chosen symbols in all (9) time-frames.

It is highly configurable for your personal needs!
There are plenty of features available for the dashboard too, they include alerts, 4 different types of alerts actually, including when a new zone appears, whenever the asset price enters a zone, leaves a zone, and when the zone is broken.
There are also visual features such as the prices for supply and demand, the pip distance until the supply and demand zones, a special zone strength rating, the dashboard can show all timeframes, actual time frames showing as full squares and lower time frames s dashed squares, it can be color-coded to show if the zone is new or tested, and there are many other features too.
There are also a whole host of settings and parameters that will allow you to alter the way that the indicator functions to better suit your own requirements.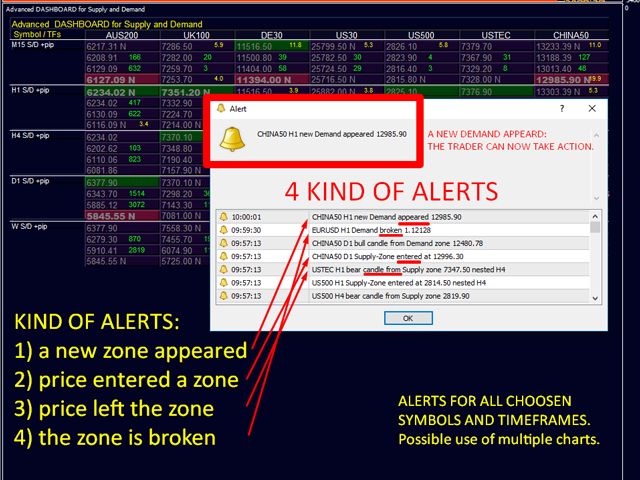 Service Cost
The indicator can not be purchased outright, instead, there are two options for renting it. The first is on a monthly basis, which will cost you $70 per month, there is also the opportunity to rent it on a yearly basis which will cost you $199 per year. There is a free version available, however, this will have some limitations, we do not know exactly what the limitations are though.
Conclusion
There are currently 7 reviews for the Supply and Demand Dashboard Pro, they are all 5-star reviews.
"I have been using s/d as trade entry and exit now with a lot of success . The problem is that I spent most of my day looking for trades and charting . Instead of charting all 28 pairs , I use this to send me alerts , then I do technical analysis . Most free ones will only tell you when price enters a zone and not when it breaks and exit. I like this so much that I will purchase the Advance Standalone version and the Exotic ACS system. I have wasted 2000 on systems and indicators in the past year – This system paid for itself within the first week. The developer is an A plus guy also. Always answers questions in a fast manner ."

"Very good indicator. Maybe the best I have ever seen. It gives you an overview of the whole market.Its easy to read, gives you alerts which you can set to you own needs. You can push the pair buttons and open chart in same chart window or on different chart window. I use different chart window and than put ACS28 Impuls and Volume indicator on that chart. Make it default and than when you push pair button it will open that chart with you indicators on it. I am very happy with it. Good support also. Thank you Bernhard."
All the reviews are very positive, there are also a few comments, the creator seems to be replying to them promptly which is a good indication of the sort of support that you would receive. Even with the positive reviews, we would recommend that you download the free version before making a purchase, this way you will be able to ensure that it works the way that it is intended.