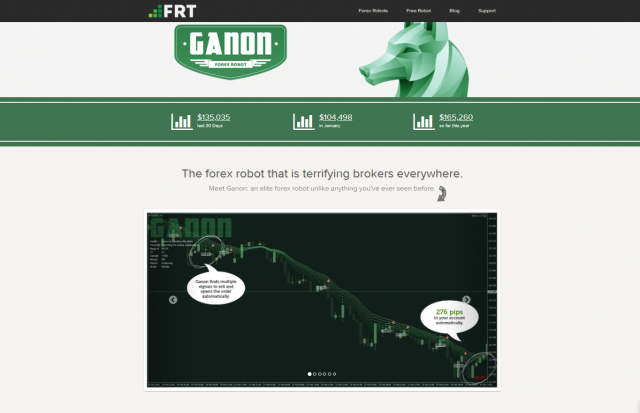 Ganon Forex is the title of a Forex trading robot that has been created by the Forex Robot Trader team. Is it worth buying this EA? Read this Ganon Robot review to see what conclusions we reached.
Overview
Ganon Forex's website promotes the robot as a very "powerful" trading tool. As mentioned above, this software is developed by the Forex Robot Trader team. According to the website, this robot is better than other competitors. This statement is based on the fact that Ganon Forex is able to detect trends better than other robots. Although sellers have some popularity in the market, the new owners have not been divulged.
Ganon Forex Robot uses what is referred to as "exclusive Strand Theory" on its website. This apparently allows the EA to find the most efficient trend exchanges and eliminate "false" trend shifts. One report comments that the strategy was worked over a period of six years, and in this time the best signs of trend have been identified. Buyers of this EA can choose between two ways to use this robot.
The software automatically optimizes settings and levels to trade all existing currency pairs. The installation does not require any particular skill and can be done in just 5 minutes. Ganon Forex promises fully automated trend trades, which require little or no effort. Using advanced trend detection, the algorithm aims to find good trades.
Service Cost
The price of the EA is currently 99 USD. There is a 50% discount for the purchase of the robot, which usually costs 199 USD. There is a free robot offered on the company website, but it is not clear as to if this is a full version of Ganon, a limited trial version, or some other type of Forex trading robot entirely.
User Comments
An important part of our reviews is to consider what users who have made use of a product or service are saying about it. We always prefer to search third-party websites rather than the official website of the service itself. The reason is simple; sometimes, what we find on official websites could have been manipulated.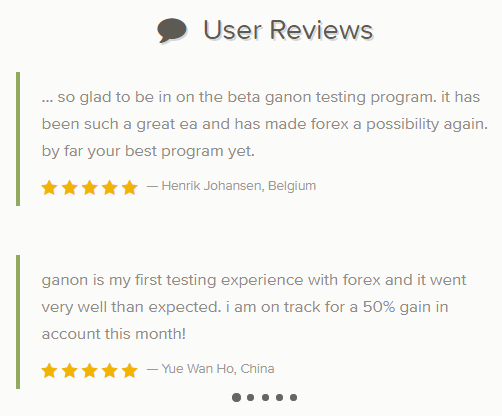 There are certainly not many comments available on this product, but the ones we have found have generally been negative, which is somewhat discouraging. The results of the operations are published on the Ganon Forex website, but you cannot rely on it 100%. We always prefer the results that appear on third-party sites where they can be verified, although in this case, we have not found any that can contrast the results.
Customer Support
We have not found a visible way on the website as it is possible to contact the provider or to get more information from some customer service. And we consider this a negative point.
Conclusion
Ganon Forex Robot offers very few details about how your robot works on the website. The information provided is not sufficient, and the lack of commercial results is also disappointing. It is much better when the seller is transparent, rather than leaving the user with doubts or suspicions.