PZ Ichimoku EA is an automated trading system created in January 2019 by developer Arturo López Pérez. Arturo López Pérez is a private investor and speculator, software engineer, and founder of Point Zero Trading Solutions.
Overview
The creator of this EA proposes to change the use of the indicator Ichimoku Kinko Hyo for this powerful and flexible robot. PZ Ichimoku EA implements many entry strategies and useful features such as customizable trading sessions and a Martingale mode.
The main features of this EA are:
Easy to use and monitor.

Several entry conditions apply.

Customizable balancing point, SL, TP, and Trailing-Stop settings.

Valid for ECN brokers / not ECN.

Works for 2-3-4-5 digit symbols.

Implements a martingale feature.

Filtering operations by forex sessions.
The EA implements many input strategies that can be turned on or off at will:
Outbreaks of the Kumo Cloud.

Tenkan crosses/ Kijun Sen confirmed by Kumo color.

Tenkan / Kijun Sen Crosses into the cloud of Kumo.

Tenkan crosses/ Kijun Sen against Kumo color.

Kijun Sen's breakups confirmed by the trend.

The Kijun Sen outbreaks are confirmed against the trend.
Additionally, it implements four different money management modes:
Lot size Trading Manual: The EA will negotiate a fixed lot size in each transaction.

Lot size Auto-calculation: The EA will risk % of the account on each transaction.

Martingale: The EA will double the size of the trade after a loss of trade.

Reverse Martingale: The EA will double the size of the trade after a winning negotiation.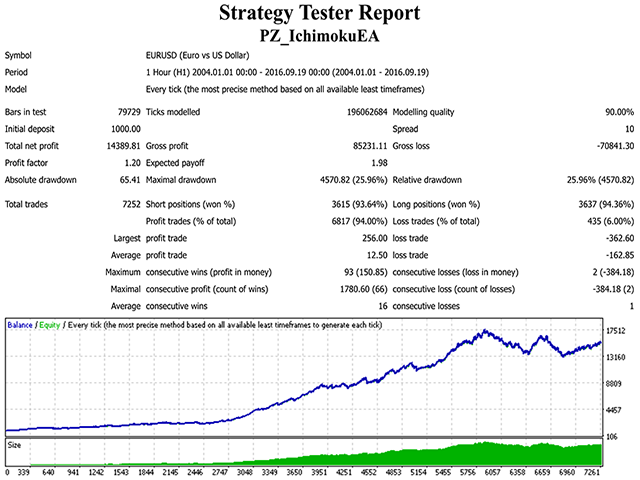 Parameters of the input:
-Ichimoku Configuration – This group of parameters contains the indicator parameters.
-Trading Events – This group allows you to enable or disable entry conditions.
-Session Settings – Enable or Disable Trading for Asian, European, or American sessions.
-Position Management – This group of adjustments applies to trading and transaction management decisions. You can select the trading address, the break point in pips, the end in %, the end in pips, the stop-loss in pips, and the take-win in pips.
-Money Management – In this configuration block you can set the lotus size for the first operation, or allow the EA to calculate it for itself. It also implements a Martingale behavior. It is recommended to introduce a manual batch size.
-EA Settings – You can select the magic number for operations, custom comment, and manual pip value if you need to overwrite the default. Don't change them unless you know what you're doing.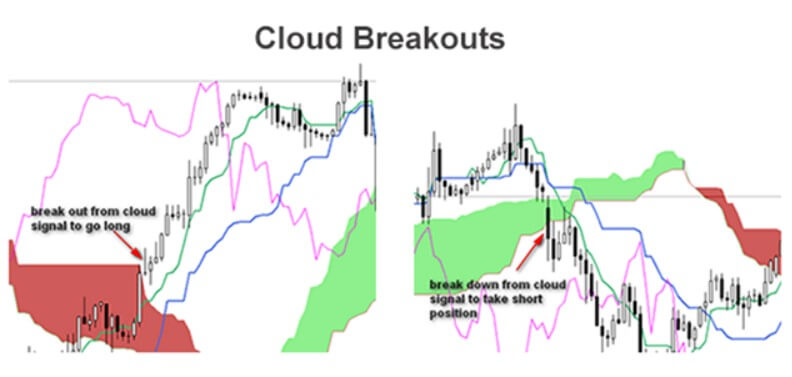 What can we expect from the PZ Ichimoku EA? This EA is a general-purpose tool whose success depends on your understanding of the underlying strategy and your ability to configure it. This EA will not generate profits under all market conditions and does not intend to do so. It is up to you to find the best parameters for each symbol and time frame with the strategy tester.
Service Cost
As of the time of this review, the PZ Ichimoku EA is provided free of cost. Simply visit the MQL5 marketplace to access not only the download but also a host of extras such as an Installation Guide, Update Guide, Troubleshooting Tips, FAQ, and much more. 
Conclusion
What we are talking about here is an EA with many possibilities, but which we consider suitable only for experienced traders who know Ichimoku's theory well. The trader will be the one who has to configure the robot to have optimal performance, and this can only be achieved if you have a good working knowledge of both the system and of the EA's configuration options.
We have detected that the opinions of the users who have already used this tool have valued it very positively, so we consider that it this be taken into account when making a decision regarding usage.