The Mean Reversion Supply Demand indicator was created in 2016 by developer Young Ho Seo. The indicator was originally introduced on the MQL5 marketplace in June of 2016. Since that time, it has undergone several updates and is currently at version 5.8
Overview
The indicator is based on the following. The concept of negotiating demand and supply is based on the quantitative mismatch between purchase and sales volumes in financial markets. For typical traders, the supply-demand zone serves as a turning point. When we look at the original concept, we have found that the original trade in demand and supply can best be made in the period of average reversal rather than the period of the trend.
To demonstrate this concept, and that any zone of supply-demand works for us as a successful trade, the price must approach the base zone, then move away, and back again to the base zone. Our trade will be introduced and the price will probably move further away from the area again. For the success of trade in supply-demand, the zigzag movement of price is essential. A zigzag movement is additionally the typical characteristic of medium reversion.
It is not credible that any trader saw supply-demand trade in-depth in terms of the concept of average reversal. This indicator presents the algorithm and the trading strategy based on the supply and demand zone in the concept of medium reversal.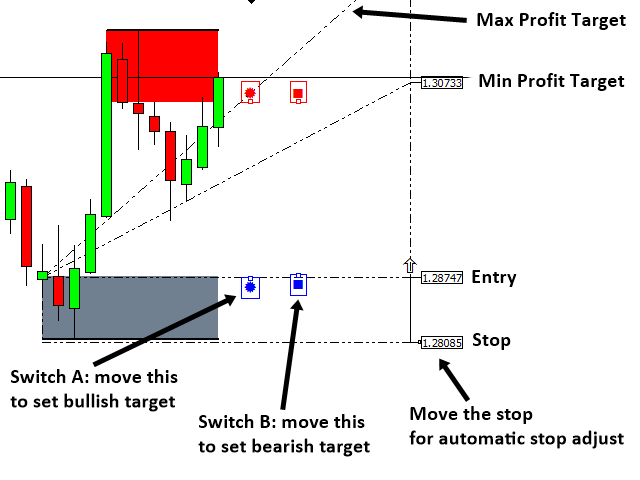 Features of our Demand for Medium Reversion Supply:
-Automatic loss detection and profit targets for any supply demand zone.
-Daily, weekly, and monthly analysis of the market profile to better calibrate the average reversion characteristics of the market (Area of value and calculation of the control point included.)
-Daily, weekly, and monthly pivot analysis to improve your average reversal analysis.
-Ability to analyze several time frames in the same table. (Simultaneous use of supply-demand zones per hour, 4 hours, and daily is possible.)
-Automatic Touch-Up detection of each supply demand zone. (Easy to identify which area is virgin and which are not.)
-Sound, Email, Push notification is possible when touching any supply-demand zone or only for the selected area (recommended mode).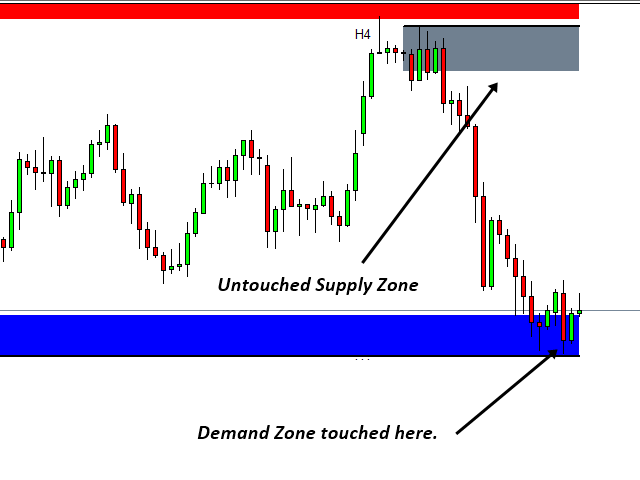 How to Use Medium Supply Demand Reversal:
This tool offers a daily, weekly, and monthly market profile to measure the odds of average reversal for the market. To build the market profile, the time frame for the table must be carefully chosen for the proper calculation of the market profile. It is usually important to recognize price movement outside the value area. The daily market profile can offer you a chance of medium to short-term reversal compared to weekly and monthly.
The following time frames are recommended.
Daily Market Profile: M5 to H1. M30 is recommended.

Weekly Market Profile: Can be used between M30 and H4. H1 is recommended.

Monthly Market Profile: H1 to D1. H4 is recommended.
In addition to market profile analysis, daily, weekly, and monthly pivot analysis can also be added to improve accuracy.
To detect a valid supply demand zone, we recommend using two or three installments at the same time in a table to detect a valid zone. For example, you can open a time table and you can apply our Average Reversion Supply Demand to detect the time supply demand zone. Supply and area of demand confirmed in several installments usually offer better chances for negotiation. When you have found the good area of supply-demand for trade, click Cashier's Bidding or Demand area to view your trading settings including the target profit, stop the loss level (fully automatic).
Service Cost
Its price in the MQL market is 80 USD, it can also be rented for 28 USD per month. A free demo version is available.
Conclusion
In short, we are talking about a quite powerful indicator that gives us a lot of valuable information for our trading. After almost 4 years in the market, this indicator has many positive ratings from its users, and the tool has constant updates.