DXY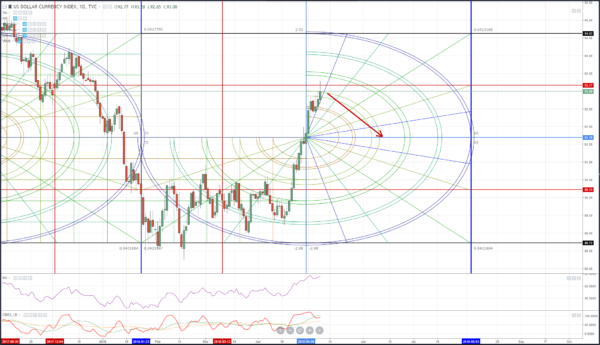 The extended conditions on the DXY (Dollar Index) have gotten to be a little exagerated. There was a significant blow off move from the inner harmonic level of 91.7 that has extended all the way towards the 93.17 zone. The 93.17 level is a natural harmonic pivot, so prices have a very high probability of being rejected at this zone. This will more than likely result in a violent reversal over the short term. For two reasons:
The approach of that harmonic has not been tested yet in this latest down move that has gone on since January of 2018. The first test almost always get's rejected at that pivot.
More importantly, we are in a 7 week uptrend. 7 weeks is also 49 days and in Gann's style of analysis, we know that this is the 'death zone' (the 49 – 52 day cycle). Gann specifically called out this period as one that ends blow off moves, which we have experienced. We can see this move as recently as with the GBPUSD pair: it's sudden down move was right after a 49-day 'death zone' in Gann's day counts.
Additionally, on the weekly we are quite extended in the Composite Index and the RSI, a retracement to the 91.7 zone should be expected.
©Forex.Academy