The ZigZag Probablilities indicator is an indicator to be used on the MetaTrader 4 trading platform, it uses several ZigZag level predictions based on probabilities. The indicator combines analysis of 5 zigzags with different rages, for every zigzag, the indicator will process the available history for calculating density distribution of the zigzag edges and conditional probabilities for their consecutive pairs.
Overview
The indicator will display up to 8 horizontal lines on price levels where future zigzags will most likely occur. Any trades placed must be placed manually as the indicator will not place them for you, the analysis provided by the indicator is to give you a better idea of where the trade entries and exits should be. There are few different settings that come with the indicator which can alter the way it looks functions slightly. These include the depth of history to use, the zigzag range to use, and then some various changes to the colors of lines and zigzags on the chart.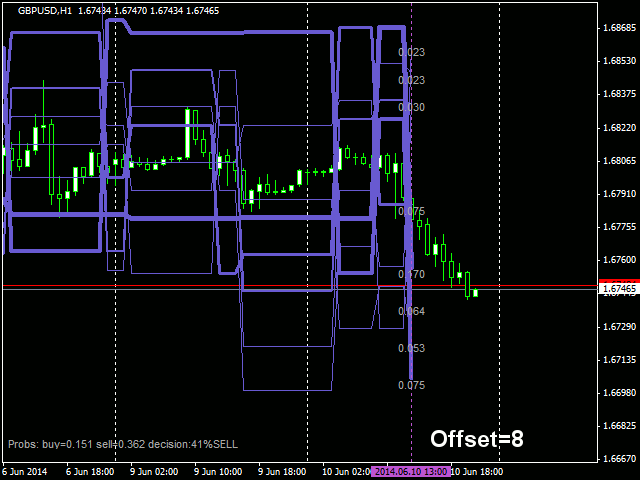 Service Cost
The indicator can currently be purchased for $75, it can also be rented on a monthly basis which will cost you $18 per month to use. There is also a free demo version available, but we do not know if this version comes with any limitations or time limits, but it is always worth trying out before purchasing.
Conclusion
There arent any review for this indicator which is a shame as it does not give us actual users' opinions. There are currently 5 activations, so it is being used by a few people, or at least was at some point in time, but we do not know how well it functions for them. As always, we would suggest that you try out the free demo version before making a purchase, just so you can make sure that it does in fact offer the features that you require and to make sure that you are able to get it set up correctly.
This Forex service can be found at the following web address: https://www.mql5.com/en/market/product/4805