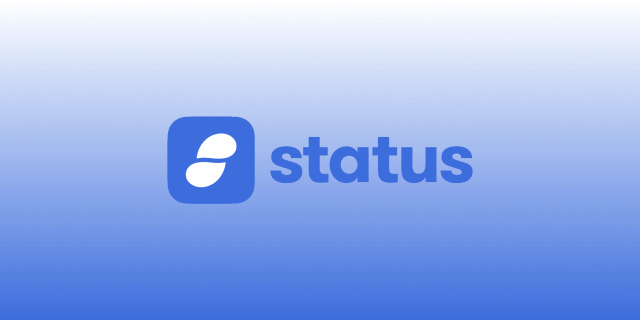 Today social media networks are characterized by centralized, powerful owners that control every aspect of the platform, denying users any say or contribution to how things are run. This is despite the networks existing courtesy of the users. 
Then there's the prevalent issue of bots, which are automated software fronting control by actual humans. What these bots do is to sway public opinion and give false credibility to messages. 
Status is a decentralized platform that gives users power and influence over the evolvement and development of the network. It also doubles as an Ethereum client that allows smartphone users all over the world to interact with the Ethereum network. In this guide, we'll embark on the Status network and discover what it's all about. We'll also get a look at SNT, the network's native token, its use, and where you can get it today.
What's Status? 
Status is a mobile operating system that seeks to grant mobile users more accessibility to the Ethereum network. The aim of the network is to allow people to interact with Ethereum on a decentralized platform. Status also features a secure and peer-to-peer messaging platform. 
Through Status, you can get access to Ethereum-based applications right via an app on your phone. The idea is to promote the adoption of Ethereum decentralized applications by one of the largest demographic of tech users in the world – smartphone users. 
How Status Aims to Reinvent Social Networks 
Status aims to change the skewed set up of current social media platforms – which are designed to give nearly all control to platform owners and advertisers, leaving users with little to no power. On top of that, users have almost no say over how such platforms evolve, despite being their main drivers for success. 
How Current Social Networks are Designed
Social media platforms such as Facebook and YouTube comprise three parties: owners, advertiser (s), and users. Each of these parties contributes to the growth and continuation of the platforms in their unique ways, and with it, different goals that often clash with each other. As such, the current social media model lacks a formula in which different parties' motivations can be aligned. 
#1. The Owner
The owner is usually the creator of the platform, and their goal is to get users to sign up on the platform. Traditionally, owners aim to retain users on the platform and extract value from them. They don't necessarily have the interest of users in mind.
#2. The  Advertiser
Also referred to as 'data broker' by Status, the advertiser facilitates the owner's extraction of value from users and the network. They do this by buying user data, as well as ads for products and services. They also buy user data profiled by the owner for more effective and targeted advertising (cue Facebook's Cambridge Analytica fiasco). 
#3. The User
The user exists on the platform to connect with and maintain engagement with their communities by sharing interests. Users have no control over what information is fed into the network, or the direction of the platform.
How Status Brings Change
Status aims to change the model where only the owner and the advertiser exercises power in the network. Via the use of Status Network Tokens (SNT), Status empowers users to be stakeholders, as opposed to powerless spectators. 
Status is designed so that the behavior of all participants align with each other's incentives. As a user on the Status platform, you're in control over what information you consume, and you get to have a say on the future direction of the network.
The Status Network Token (SNT)
The network's native token, SNT, powers the network. Users need the token to interact with some features of the Ethereum network. Holding SNT also grants you the right to contribute to key decisions on the development of the platform. 
Similarly, holding SNT allows you to upvote or downvote content, just like on Reddit or Steemit. The bigger your SNT stake, the more influential your voting power.  
Status and Usernames 
The Status Network allows only SNT token holders to have usernames. This is so as to reduce spam (e.g., the bots or fake accounts on Twitter) on the network. The same way Twitter adds a badge on accounts with a large following to verify ownership, the same way status uses badges to add trust. 
These badges are given to individuals who deposit a certain amount of SNT against their username. The badges will then display the number of tokens that are a bond of sorts for that particular account. 
Governance
In traditional social platforms, users have little say on the development of their network. Status goes against the grain by granting SNT holders a direct say on network decisions. Whatever your stake in Status, you have a voice on the network, and you can even propose changes.
Network participants' voting protocol is as follows: 
A user's tokens are cloned into 'decision' tokens for any decisions that are to be made.

A user's SNT stake is directly proportional to their decision tokens.

You don't have to hold SNTs to vote on proposals.
Still, on governance, the status network has what they call community creation and "attention-based signaling." This essentially means that users can upvote or downvote content, like on Reddit. This approval and disapproval process is what is called 'signaling.'
However, unlike on Reddit, where a user has one equal vote for every post, Status users are granted more voting strength depending on their number of STN tokens. 
Ethereum DApps on the Status Network
Some of the most popular Ethereum apps are on Status. Check them out: 
uPort – a self-sovereign identity management application that allows users to declare digital independence.
Gnosis – a prediction market that harnesses crowd-sourced wisdom
Oasis Exchange – a decentralized crypto asset exchange through which individuals can directly trade ERC20 tokens
Ethlance – a job market platform where people can hire and be hired, with cryptocurrency as the only mode of payment
Aragon – a platform where businesses from all over the world can create decentralized autonomous organizations
Etherisc – An insurance platform that makes insurance transactions more efficient and facilitates lower costs and more transparency. 
Ujo – A platform where artists can create content and share it with the world on their terms
The Status Team 
Status is the brainchild of Carl Bennetts and Jarrad Hope. The two have a long history working together, including in a software distribution company. 
Status has also boarded former Google executive Nabil Nahdy to serve as Chief Operating Officer. He brings his experience as a former lead for Google Maps and Google Flights, where he acquired experience for developing products for millions of users.
Altogether, the status team features 40 plus full-time members with experience cutting across business, marketing, law, and community management.
Status Token's Economics
This is a breakdown of the statistics of SNT as of June 13, 2020. The token is trading at $0.025 911 while ranking at #69 in the market. Its market cap is $899 22459, while its 24-hour volume is $2124 2329. SNT has a circulating supply of 3, 470, 483, 788, while its total supply is 6, 804, 870, 174. Its all-time high was $0.675945 (January 04, 2018), while it's all-time low is $0.006196 (March 13, 2020). 
Where to Buy and Store SNT Tokens 
You can grab some SNT from Swyftx, Binance, Cointree, Bitfinex, Coinswitch, YoBitNet, KuCoin, Huobi, Indacoin, Bithumb, Poloniex, OKEx, IDEX, Bittrex and ShapeShift. You will need to purchase a currency such as BTC, ETH, or USDT and exchange it for the token. 
As an Ethereum-based token, SNT can be stored in any Ethereum wallet. Popular choices include MyEtherWallet, MetaMask, Guarda, ethaddress, Parity, Trust, and hardware outlets Ledger Nano and Trezor. 
Final Words
As a social network, Status hands back the power to the users. There are no powerful strings being pulled from behind to control the user experience, and participants actually have decision-making power over the direction of the network.
And with the platform, the Ethereum network – the world's second most popular blockchain platform, is not far out of reach any longer. Smartphone users can interact with the most popular DApps on the platform and derive value from them. Status's proposal is unique and timely, and both Ethereum fans and proponents of decentralized messaging platforms will be watching to see the direction of the project.