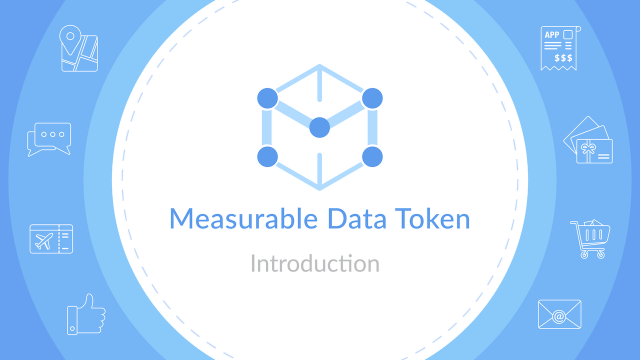 Living in the digital age means we leave digital footprints every time we log in to an application. This data is very lucrative to the companies behind these applications – it's like the new oil, and yet the owners of that data do not benefit from it in any meaningful way. Additionally, they have almost no control over their data privacy.
What if data owners had more control over how their data is handled and earned from it? Blockchain can make this possible. The technology's qualities of decentralization and transparency can help make this a reality. 
Launched in 2017, Measurable Data Token is a token designed to achieve this through a decentralized data exchange ecosystem. It connects data providers, users, and buyers, and ascribes value to data to make economic sense to owners. 
How MDT Works 
#1. Decentralized Data Trading Economy
Through MDT, the team wants to end the era of corporates trading user data without their consent. It wants to create a decentralized data ecosystem that is fair and beneficial to all parties, and it wants to do this by creating a new platform and assigning economic value to data. The MDT token is the unit of data exchange that will connect platform users. 
It will compensate data owners for sharing their anonymous data while offering data buyers and providers a more effective and transparent model. In the MDT ecosystem, data owners can finally reclaim the true value of their data.
On their part, buyers will have a better trading model in terms of security, transparency, and speed. Cryptographically secured smart contracts will eliminate the potential risk of fraud, as will a completely transparent process. Unlike a traditional data exchange model, where buyers are at risk of purchasing invalid data, they can participate in the validation process in MDT. The MDT platform is held together by MDT token – which is the most significant component of the ecosystem. 
#2. MDT Technology and Participants
The MDT platform relies on several technologies to accomplish its big picture. Below, we'll take a look at the main pieces of technology. We'll also see the participants of the ecosystem. 
This is a free software development kit by the MDT team that users, including providers and developers, can use. The kit also includes a wallet address that users can leverage to store and track their rewards. 
This is an entity that obtains users' anonymous data and uses rewards data owners (users) with MDT tokens.
These are users who share their data in the MDT ecosystem and receive rewards in the form of MDT tokens.
The entity buys the rights to the use of owners' data. They could get this data either through accessing the database or by buying it from providers. At the moment, buyers do not get the ownership rights of such data. 
This is a data point that results from every transaction. It has a denomination that ascribes value to it in the ecosystem. 
This is a decentralized data exchange (DEX) that facilitates transactions between data owners, providers, and buyers. It provides for secure and immutable transactions. Initially, those actions would be administered by the MDT platform. However, the network will, in the near future, switch to a purely smart contracts-based model.
#3. MyMDT App 
MyMDT app is a decentralized application (DApp) based on Ethereum through which users can get rewarded for sharing data on the platform. It's the user-facing part of the ecosystem, and you can join the MDT ecosystem through it. The app currently supports three features: 
Allowing users to join the MDT ecosystem and share anonymous data so they can earn MDT tokens

Allocates rewards to users 

Allows users to earn rewards for completing certain tailor-made tasks for third-party applications
Community Strategy of MDT
The MDT team plans to pursue several strategies in the future to advance its growth. 
Current strategies include: 
Carrying out marketing campaigns on various social media platforms

Partnering with other industry players such as exchanges in joints campaign efforts including seminars

working together with prominent institutions such as Nanyang Technological University of Singapore to hold blockchain hackathons

Curating content for various video formats to increase awareness of data rewards

Updating community members weekly on the program's development
Future strategies include the following: 
Introduce data reward apps in various data formats to sell the idea to the mainstream

Launch an ambassador campaign

Work with artificial intelligence companies to increase awareness on data reward responsibility in the public
The MDT Token
The Measurable Data Token (MDT), which has the same name as the platform, is based on the Ethereum blockchain and is used to monetize their own data 
Measurable Data Token was distributed in the following manner: 
Seed sale: 15%

Private sale: 35%

Equity investors: 10%

Team tokens: 10%

Advisors' tokens: 1%

User growth pool: 15%
Key Metrics 
On Sep 29, 2020, MDT traded at $0.013749, with a market cap of $9,043,789, which placed it at #528. It has a 24-hour volume of $229,322, a circulating supply of 657,790,346, and a total supply of 1 billion. It has an all-time high of $0.858288 (Jan 10, 2018) and an all-time low of $0.001614 (Dec 17, 2018). 
Where to Buy and Store MDT 
There's no shortage of where to purchase MDT tokens. The token is listed on several reputable exchanges, including Binance, DigiFinex, Gate.io, Poloniex, Bittrex, Uniswap, BKEX, Uniswap, and Bancor Network. You can find it listed against currencies such as BTC, ETH, WETH, TRX, BNB, and USDT. 
Options for storing MDT include Ledger, Trezor, KeepKey, MyEtherWallet, Coinomi, Exodus, and My Data Token Wallet. 
Final Thoughts
The MDT platform is among many blockchain-based platforms that seek to solve the problem of big and powerful companies profiting off user data while the users walk away with nothing. What sets it apart is its MyMDT app that allows users to get on board the platform and start trading data conveniently. The MDT team will need to keep innovating if it's to go toe-to-toe with similar projects in the space.