Bitcoin has proved to be a major force to reckon with in the world of finance. It's no surprise, therefore, that thousands of businesses have cropped up all over the world to support it. One of these is the rather unexpected Bitcoin ATMs. Unexpected because Bitcoin is supposed to be a digital-only currency, and also the massive security concerns usually associated with it. 
In this post, we'll discuss Bitcoin ATMs and answer those burning questions you're dying to know. 
Understanding a Bitcoin ATM
At its simplest definition, a Bitcoin ATM is a machine that allows individuals to buy and sell bitcoins. 'ATM' here is rather a misnomer, because while it might resemble a traditional ATM, a Bitcoin ATM is not backed by banks, and neither does it dispense cash as a traditional ATM. On the contrary, Bitcoin ATMs are connected to the internet and are mostly backed by crypto exchanges. 
Here are all the main facts you need to know about Bitcoin ATMs. 
How Does a Bitcoin ATM work? 
This is the most obvious question that comes to one's mind. After all, Bitcoin has no physical existence, so how could a Bitcoin ATM possibly work?
First thing, Bitcoin ATMs are connected to crypto exchanges. It's these exchanges that facilitate the trade and see to it that you receive your Bitcoin quickly and safely. Since you're transacting directly with the exchange, there's no need for middlemen, escrow accounts, lawyers, and so on. This combination of convenience and safety eventually reflects on the transaction fee. It's not unusual to pay up to $50 in transaction fees. However, the fee is mostly calculated based on the volume of the trade, as opposed to a fixed fee as in legacy ATMs. 
Just like with exchanges, you need to register an account or use an existing one to conduct a transaction. While some Bitcoin ATMs facilitate anonymous transactions, these are on the less common side.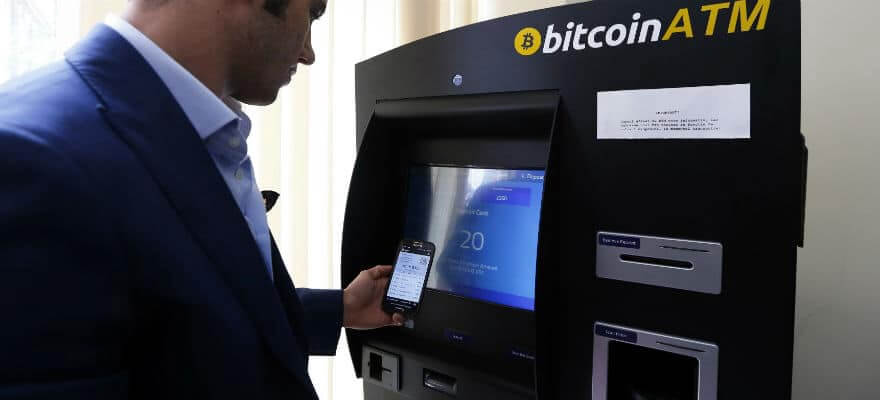 Depending on the ATM, you may receive a physical copy of your transaction receipt, or you may just receive a digital one only. Also, depending on the ATM, you may need to link your wallet in order to complete the transaction. 
Most of the time, a Bitcoin ATM will set a minimum and maximum amount of money that you can deposit in order to purchase Bitcoin. If you cannot afford 1 Bitcoin ( which is likely to be several thousands of Dollars), you can usually still buy Bitcoin fractions. Remember, one Bitcoin token can be divided into eight decimal places (0.00000001). 
Most ATM kiosks require the user to complete some basic security checks, such as two-factor authentication. This may involve having to submit your phone number, through which you will be sent a secret code that will give you access to the ATM. Other ATMs will require you to submit some form of official identification, such as a national ID, passport, or driver's license.
How to use a Bitcoin ATM 
Every bitcoin ATM will be unique in terms of quality, processing time, and other features, depending on the manufacturer. However, when it comes down to how they actually work, they're pretty much the same. This is how to use a Bitcoin ATM. 
Indicate how much bitcoins you want to buy

Enter the receiving crypto address (Most ATMs will conveniently scan the QR code of your wallet)

Insert the Fiat currency equivalent of the crypto you'd like to purchase

Print out the receipt of the transaction (optional)
Some Bitcoin ATMs also allow you to sell crypto for cash. The procedure will be as follows: 
Indicate how much Fiat currency you want the machine to put out. 

Send crypto to the public address produced by the machine.

Depending on the kiosk, you'll either receive cash immediately or undergo several confirmation steps before you get it
Note that almost invariably, a Bitcoin ATM will have a CCTV camera due to the safety concerns surrounding crypto. For individuals unfamiliar with how to operate one, or in the case of a problem, there'll likely be an attendant nearby to offer help. 
Is Using a Bitcoin ATM Risky? 
It's natural to have concerns about the safety of using a Bitcoin ATM. Questions like "What if the machine is compromised during my transaction?" What if there's a power outage?" "What if the machine is a clone and can steal my money?" 
Well, you can avoid some of the risks by just being extra careful. It's no secret that Bitcoin ATMs can be a high target for nefarious activities. And some of the safety responsibility lies squarely on your shoulders. For instance, more shady parts of town can be riskier than the upscale areas. If you must visit such an ATM, then stay on extremely high alert. Also, as much as possible, avoid carrying large amounts of cash. 
Also, make sure to go for an ATM in a well-lit area. The appearance of the machine also matters. Skip the dirty, poorly-maintained, graffiti-covered machine for the well-kept, clean one. 
Then there's the other aspect that's behind your control – the cybersecurity one. Bitcoin ATMs may be the target of ransomware or hacking attacks. As such, these potential risks are not far-fetched: the machine being hijacked so that you lose your bitcoins, a hacker transferring your funds to their account, and so on. One way to mitigate the chances of this happening is to use an ATM whose exchange account you already have. This way, the funds will be sent directly to your wallet address, which is safer than generating a new account entirely. 
How to Find a Bitcoin ATM near You 
Are you looking to find a Bitcoin ATM near your location? The easiest way to do so is to use a tracking tool. One of these is Coinatmradar, which is the most referred to so far. At the time of writing, it has listed 8998 crypto ATMs worldwide. Coinatmradar is pretty useful just for the important features it supports, which include buy and sell options, ability to locate the closest machine, the directions to that machine, available cryptos, how to buy and sell Bitcoin, and available ATM installations by country. 
Coinatmradar lets you choose between eleven popular cryptocurrencies – Bitcoin, Bitcoin Cash, Ethereum, Litecoin, DASH, Monero, Tether, ZCash, Dogecoin, and Ripple. When you search Bitcoin ATM by country, the website will take you to a page with location, contact, address, supported coins, daily limits, and info on whether to buy and sell options are both supported.
Other options include sites that track Bitcoin ATMs in a specific region. An example is Findbitcoinatm.com.au, which lets you trace Bitcoin ATMs in Australia, or Cryptocoinmap.ru which lets you identify crypto teller machines in Russia. Other services, such as Google Maps or Yelp might also prove useful.
Closing Thoughts
So there you go. You can acquire Bitcoin faster than you thought in a Bitcoin ATM. And if you want to sell, confirm whether the particular ATM in question supports that function. And, of course, exercise common sense and extreme caution when transacting Bitcoin via an ATM.