VARIANSE is the business name of the company VDX Limited, a company regulated by the FCA, specialized in electronic commerce technology, low latency systems, and market data. The broker offers its clients e-commerce in currencies, indices, energy products, metals, and futures through its comprehensive e-commerce platform, called Latentx. According to the VARIANSE website, this platform provides direct access to the STP market and a running speed of only 0.1 ms.
As mentioned above, VARIANSE is operated by VDX Ltd.; a company authorised and regulated by the UK Financial Conduct Authority (FCA). The UK financial regulator sets strict requirements for brokers. They are required to comply with certain rules and procedures that guarantee client funds, the execution of orders, and the minimum capital requirement.
Regulated brokers are required to keep clients funds separate from their operating funds in segregated accounts, and VARIANSE says on its website that the funds of segregated clients are deposited at Barclays Bank, London. Also, FCA-regulated brokers are required to hold at least €730000 to demonstrate their financial solvency. Regulatory authorities, such as the FCA, in most jurisdictions, require very similar minimum capital requirements for financial service providers. For example, brokers based in Cyprus must have at least €1 million to operate legally.
Concerning customer money security, we must say that all companies regulated by the FCA are included in the Financial Services Clearing System (FSCS), which guarantees customers up to £50,000 per person.
ACCOUNT TYPES
VARIANSE offers its clients a selection of three types of accounts: Classic, Ecnpro, and PRIME. The Classic account is designed for inexperienced beginner traders as well as those who do not want to trade in large volumes. The Ecnpro account provides direct ECN connectivity and is ideal for both regular and expert traders. Finally, the PRIME account is designed for professional traders trading in high volumes. FIX API and Free VPS connected, are available in this last account, but, no metals are offered for trading. Also, the commissions in the PRIME account are negotiable.
Here are the characteristics of each:
CLASSIC Account:
No. of Instruments  100 +

Spreads (from)

1 pip

FX Commissions (per side) Click for CFD rates. Non

Minimum Deposit (In Base Currency Units).  500 USD / EUR / GBP

Base Currency

USD / EUR / GBP / PLN / JPY / AUD

Pro Leverage up to

1:400

Retail Leverage up to

1:30

Minimum Trade Size

0.01 lot

Minimum Trade Step

0.01 lot
ECNpro Account:
No. of Instruments  100 +

Spreads (from)

0 pips

FX Commissions (per side) Click for CFD rates. 3,5 USD / lot.

Minimum Deposit (In Base Currency Units).  5.000 USD / EUR / GBP

Base Currency

USD / EUR / GBP / PLN / JPY / AUD

Pro Leverage up to

1:400

Retail Leverage up to

1:30

Minimum Trade Size

0.01 lot

Minimum Trade Step

0.01 lot
PRIME Account:
No. of Instruments  60 +

Spreads (from)

0 pips

FX Commissions (per side) Click for CFD rates.  From 2 USD / lot

Minimum Deposit (In Base Currency Units).  50.000 USD / EUR / GBP

Base Currency

USD / EUR / GBP / PLN / JPY / AUD

Pro Leverage up to

1:200

Retail Leverage up to

1:30

Minimum Trade Size

1 lot

Minimum Trade Step

0.1 lot
PLATFORMS
VARIANSE offers its customers two excellent trading platforms. The well-known MT4 and the Flextrade platform. MT4 is perfectly equipped for traders to take advantage of the power and movement of foreign exchange markets. It provides the necessary tools and resources to analyze prices and market trends. MT4 provides facilities for fast and efficient execution of trades and has the ability to create and employ custom algorithmic trading strategies (Expert Advisors) through customization built into the MQL editor.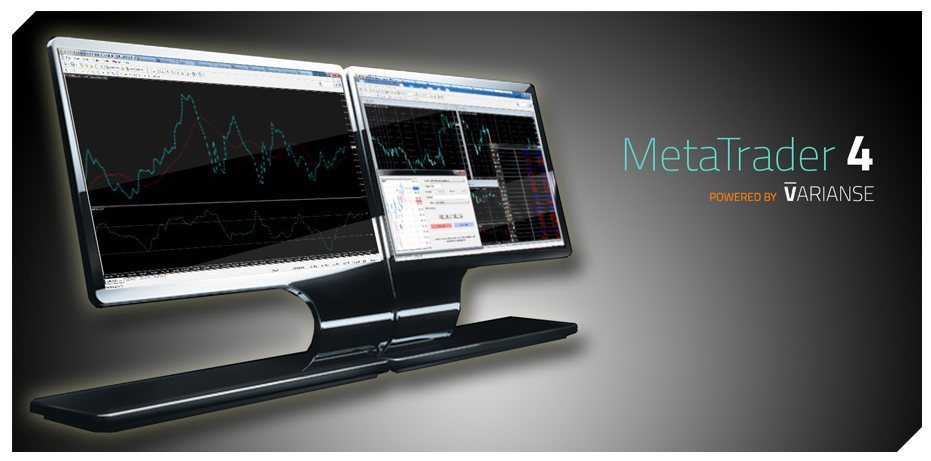 On the other hand, Flextrade is only available for PRIME account customers. Maxxtrader, is the most professional option for Forex traders, and is a trading platform that allows advanced execution of trades. This platform supports advanced STP runs and electronic routing of orders, and you can see how it is used on the desks of forex operations of the world's largest institutions.
LEVERAGE
The maximum leverage rates offered by VARIANSE are comparatively high, equivalent to 1:400 in the Classic and ECNpro accounts, and 1:200 for the Prime professional account. Traders need to know that greater leverage means higher risk, not just the ability to make big profits on a small deposit. It's a double-edged weapon we need to know how to handle.
TRADE SIZES
The minimum trade size for the Classic and Ecnpro accounts is 0.01 lot (micro lot), while for the Prime account the minimum trade size is one lot. We think the minimum trade size required for Prime accounts is a bit excessive; we think a requirement of 0.1 lot (mini lot) would have been more appropriate. There is no information on the maximum trade size on this broker's website.
TRADING COSTS
Now we'll show you a table with the commissions that VARIANSE charges for trading its assets in the different accounts it offers.


To these costs must be added the swap, which is a typical cost in all brokers, the Swap, is any position held overnight, which will incur a maintenance cost (interest). This amount can be negative or positive depending on the instrument and the direction of the position, and its amount is fixed by the central banks of the base currency of the open position.
ASSETS
VARIANSE has a tasty variety of assets with which to trade, here we detail the complete list with the offer of this broker,
Forex:
AUDCAD, AUDCHF, AUDJPY, AUDNZD, AUDSGD, AUDUSD, CADCHF, CADJPY, CADSGD, CHFJPY, CHFSGD, EURAUD, EURCAD, EURCHF, EURGBP, EURHKD, EURJPY, EURMXN, EURNOK, EURNZD, EURPLN, EURSEK, EURSGD, EURTRY, EURUSD, GBPAUD, GBPCAD, GBPCHF, GBPJPY, GBPNOK, HKDJPYS, MXNJPY, NOKJPY, NOKSEK, NZDCAD, NZDCHF, NZDJPY, NZDSGD, NZDUSD, SGDJPY, USDCAD, USDCHF, USDCNH, USDDKK, USDHKD, USDJPY, USDMXN, USDNOK, USDPLN, USDRUB, USDSEK, USDSGD, USDTRY, and USDZAR
Indices:
AU200 Australia 200, DE30 Germany 30, ES35 Spain 35, FR40 France 40, HK50 Hong Kong 50, JP225 Japan 225, EU50 Euro 50 ESTOXX, UK100 FTSE 100, US30 US 30, US500 S&P 500, and UT100 US Tech NASDAQ
Energy:
UKOil F Brent Crude Oil, USOil F West Texas Oil, and NGAS Natural Gas
Metals:
XAU USD Gold Spot, XAG USD Silver Spot, and Copper HG Copper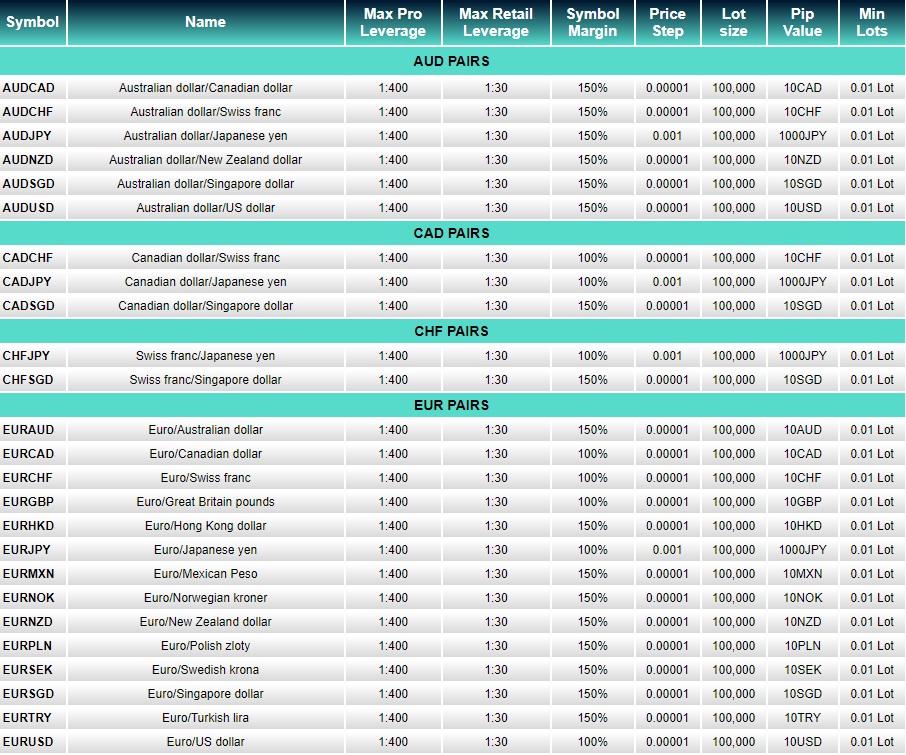 SPREADS
VARIANSE offers competitive variable spreads in its asset portfolio, starting from 1 pip in the main currency pairs for the Classic account without commissions. The other two accounts, ECNpro and Prime, offer tighter spreads, from 0 pips in EUR/USD in the most volatile hours on the markets, but have a commission amounting to USD 3.5 per lot traded in the ECN account, and 2 USD per lot traded in the Prime Account; This commission is negotiable depending on the volumes traded.
MINIMUM DEPOSIT
VARIANSE requires at least 500 USD from its customers in order to open a real account. This is a relatively high initial deposit for the industry average. We can find other FCA regulated foreign exchange brokers that require smaller amounts. Remember also that the ECN account requires a minimum deposit of USD 5.000, and the PRIME account of USD 50,000, which is a considerable amount.
DEPOSIT METHODS & COSTS
VARIANSE offers to its clients several different methods of deposit, these include Bank transfer, credit or debit cards (Visa or Mastercard), Skrill, Sofort, Uphold, and Unionpay.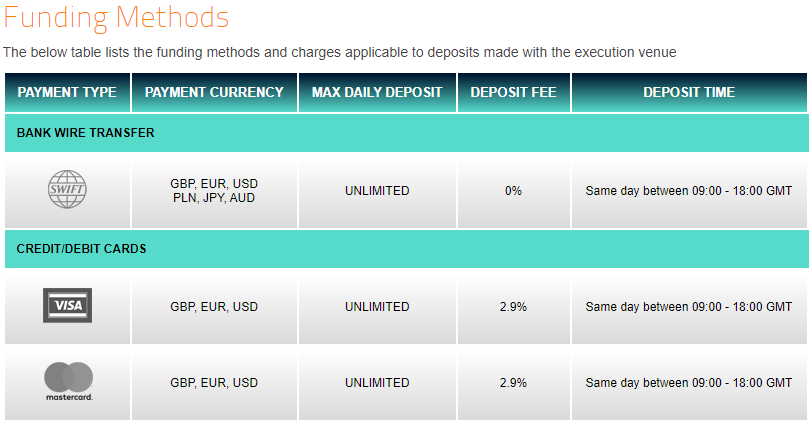 WITHDRAWAL METHODS & COSTS & PROCESSING & WAIT TIME
On its website, VARIANSE says that all withdrawals are usually processed via bank wire transfer, and in some cases, they may be able to send funds back to your Credit Card, Skrill, or Uphold account if the funds were originally deposited via the method.
The withdrawal costs in the different methods are as follows: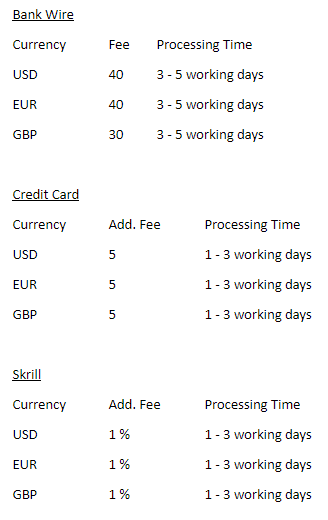 The broker's withdrawal processing time is 24 hours.
BONUSES & PROMOTIONS
On the VARIANSE website, we have not found any current bonuses or promotions. However, the broker has an Introducing Broker program. This program is made to reward individuals or companies who refer new clients, and they open trading accounts with VARIANSE. Every time one of the clients you have indicated to perform a transaction, your account will be rewarded in real-time. There is no limit to the number of clients or transactions that may be paid.
EDUCATIONAL & TRADING TOOLS
We have not found any educational content on the VARIANSE website. Nor any tool of interest to the trader. We have missed some news section, or a simple economic calendar, very useful for trades so that they can know the most important daily events and that can affect the different assets they may be trading. For us, it is a negative point that this broker has not bothered to incorporate these tools for his clients on his website.
CUSTOMER SERVICE
To contact the customer service of this broker, we have three main ways, phone, email, and an online chat. Here are the details: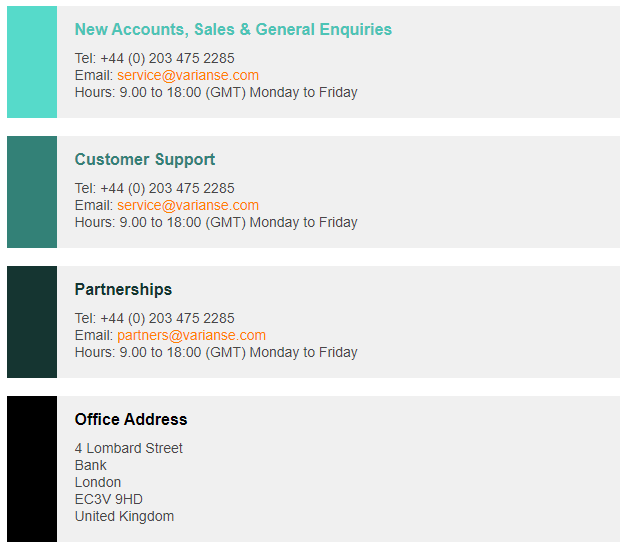 DEMO ACCOUNT
A Demo account can benefit the trader in 2 ways:
– Practicing commercial techniques
– Learning the different tools of the platform.
It is widespread for traders to open a Demo account before depositing money into a real account. It is also essential to know that the Demo account retains the same live prices and market conditions, simulating the exposure in a real account. To get the demo account offered by VARIANSE, just fill out a form with your personal data, and they will respond with the instructions for installation.
COUNTRIES ACCEPTED
The information on the VARIANSE´s website is not directed at residents of the United States or any particular country outside the UK and is not intended for distribution to any person in any country or jurisdiction where such distribution or use would be contrary to local law or regulation.
CONCLUSION
In general, the commercial conditions of VARIANSE are attractive, both for the new traders and for the more experienced ones, although the initial minimum deposit for the Prime account seems excessive (50.000 USD). The broker is well regulated (FCA), and says it offers high-speed execution in transactions. It also provides a good variety of assets to trade. A negative aspect is the absence of educational content and tools of interest to the trader, such as an economic calendar. The broker offers a demo account, which we consider essential, and 2 good trading platforms (MT4 and Flextrade). We don't like the commissions you apply to both deposits and withdrawals.
To summarize the above, here are the advantages and disadvantages concerning VARIANSE:
Advantages:
Regulated by the FCA

Good trading platforms, too

Attractive spreads
Disadvantages:
Low levels of leverage

It has no educational material or tools of interest to its clients