The Varchev broker offers trading in forex, CFDs, ETFs, agricultural goods, stocks, as well as in futures on metals, oil and gas, and indices. The broker's currency portfolio contains about 40 pairs, major and minor in the Metatrader account, as well as some exotic pairs in the account called VAT.
Varchev is a Bulgarian financial services company with 17 years of market experience. It is regulated as an investment mediator by the Bulgarian Financial Supervisory Commission (FSC), which means that the company can provide its services throughout the EU, thanks to the Mifid passport rules. Also, Varchev Finance is registered by the Financial Conduct Authority (FCA) of the United Kingdom as a foreign company from another EEA country.
Varchev Finance is also a member of the Investment Compensation Fund in Bulgaria, which covers up to 90% of the amount due in the event of the company's insolvency, but not more than 40.000 BGN (around 20.000 EUR). The FCA points out that the Financial Services Clearing Service may also compensate specific customers if the company closes for economic reasons. This makes Varchev a highly regulated and secure broker who can provide its services throughout the European Economic Area with guarantees.
ACCOUNT TYPES
Varchev offers 2 types of accounts for trading in Forex and CFD, called Metatrader and VAT (Varchev Absolute Trader). This latter account is actually the xStation platform of the main Polish broker XTB, which offers it through a white label association. The platforms have more or less the same trading conditions with the clear main difference in spreads. The broker also offers a free demo account with $10,000 virtual for trial purposes.
PLATFORMS
Varchev Brokers offers two trading platforms: MetaTrader 4, MetaTrader 5, and Xstation in collaboration with XTB, renamed Varchev Absolute Trader (VAT). Both platforms also offer apps for Android and Apple, for use on mobile devices such as smartphones and tablets.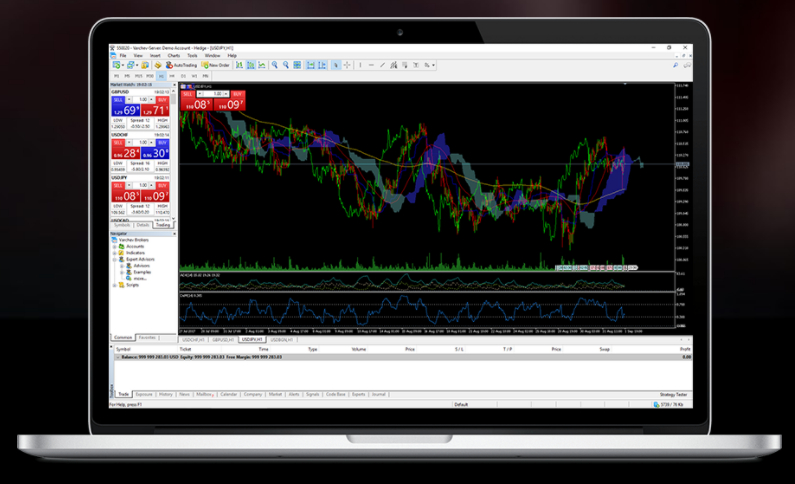 The XStation platform was the "Best Trading Platform 2016" given by Online Personal Wealth Awards and offers fast execution speeds, technical analysis, graphics tools, social trading, and a host of other options.
For their part, the platforms of MetaTrader, both in its version 4 and in its version 5, much more modern, do not need too much presentation. They are, without a doubt, the platforms most used by traders all over the world. These platforms are highly appreciated for their excellent advanced graphics package, their variety of technical indicators, their ability to use their well-known Expert Advisors (Eas), very useful to automate your trading, your historical data for backtesting, and testing the effectiveness of your strategies, etc. And on the MT5 platform, the possibility to include all the characteristics of its predecessor, and also to be able to trade in derivatives and futures, all on the same platform.
LEVERAGE
The leverage will depend on whether the trader is professional or retail. In this way, a retail trader will have the leverages recommended by the ESMA, with a maximum of 1: 30 for certain currencies and a professional trader will be able to obtain leverage of up to 1: 500 depending on his balance sheet or volume. Here are the leverages for each client group:
Retail Traders
1:30 for all Major Forex pairs:

EUR USD, USD JPY, USD CHF, USD CAD, EUR GBP, GBP USD, EUR JPY, EUR CHF, EUR CAD, GBP JPY, GBP CHF, GBP CAD, CHF JPY, CAD JPY, and CAD CHF.

1:20 for non-major Forex pairs:

AUD USD, NZD USD, EUR AUD, EUR NZD, GBP AUD, GBP NZD, AUD CAD, AUD CHF, AUD JPY, AUD NZD, NZD CAD, NZD CHF, NZD JPY, USD BGN, GBP BGN, USD TRY, and EUR TRY.

1:20 for Gold and Major equity índices:

DAX, CAC, UKX, DJIA, SPX, NDX / DE30, FRA40, UK100, US30, US500, US100, JAP225, EU50, and  GOLD

1:10 for minor equity indices:

ITA40, SPA35, SUI20, and W20

1:10 for Commodities and Metals:

Silver, Palladium, Platinum, Aluminium, Copper, Nickel, Zinc, NATGAS, OIL, OIL WTI, Cocoa, Coffee, Corn, Cotton, Soybean, Sugar, and Wheat

1:5 for Stocks and ETFs:

American stocks, European stocks, and ETFs

1:5 for all other CFDs

1:2 for Cryptocurrencies:

BTC USD, ETH USD, XRP USD, and LTC USD

Professional Traders
Leverage Balance/Equity
1:500

up to $ 10,000

1:400

$ 10,000 – $20,000

1:200

$ 20,000 – $50,000

1:100

$ 50,000 – $250,000

1:75

$ 250,000 – $400,000

1:50

above $ 400,000
Volume Leverage
Up to 10 lots (1 mil.)

1:500

From 10 lots (1 mil.) to 20 lots (2 mil.)

1:400

From 20 lots (2 mil.) to 100 lots (10 mil.)

1:200

Above 100 lots (10 mil.)

1:50 under negotiating
TRADE SIZES
With Varchev, in any of its 2 available accounts, you can trade with a minimum trade size of 0.01 pips (micro lot). This is a good fact because the majority of novice traders demand the possibility of being able to start trading with small positions to minimize their risks.
TRADING COSTS
The trading costs with this broker will be determined basically by its spread and commissions to trade. Barchev offers 2 accounts and we have detected a big difference in costs, in terms of spread, between them, so we will take as reference the VAT account that offers spreads in EUR / USD from 1 pip.
Additionally, this broker does not charge commissions for trading, so to assume a cost from 1 pip in the major currencies, is a very reasonable cost and even a little below the industry average.
The other cost we have to take into account is the Swap or Overnight Financing, which is any position held overnight, which will incur a maintenance cost (interest). This amount can be negative or positive depending on the instrument and the direction of the position, and its amount is fixed by the central banks of the base currency of the open position.

ASSETS
Varchev makes available to its clients a wide range of assets to trade, including CFDs, cryptocurrencies, indices, metals, commodities, stocks, and Forex.
In this review we give priority to forex trading, so we will show only the currency pairs we will have available to trade with this broker: 
AUD CAD, AUD CHF, AUD JPY, AUD NZD, AUD USD, CAD CHF, CAD JPY, CHF JPY, EUR AUD, EUR CAD, EUR CHF, EUR GBP, EUR JPY, EUR NZD, EUR TRY, EUR USD, GBP AUD, GBP BGN, GBP CAD, GBP CHF, GBP JPY, GBP NZD, GBP USD, NZD CAD, NZD CHF, NZD JPY, NZD USD, USD BGN, USD CAD, USD CHF, USD JPY, and USD TRY.

SPREADS
In the Metatrader account, Varchev Brokers offers fixed spreads of between 2 to 4 pips, which is a little above the industry average. The spread in the other account (VAT) is 1 pip in the EUR USD pair, which is much more favorable. The company does not charge commissions or fees on any of the account types to trade. We find this cost difference somewhat incomprehensible, which will undoubtedly make the majority of potential customers opt for the VAT account, which is considerably cheaper.
MINIMUM DEPOSIT
Varchev Brokers, like its Bulgarian counterpart Benchmark, does not require an initial deposit requirement to open a trading account. Naturally, to start trading, customers need to make a deposit. However, we have not been able to find information on what is the minimum deposit requirement, if any.
DEPOSIT METHODS & COSTS
Varchev Brokers accepts customer deposits through bank transfers, credit and debit cards (Visa, Mastercard, and Maestro), as well as through online payment systems Neteller, Skrill, Ukash, Giropay, Itau, the Bulgarian ePay, and Paypal online payment system. The company also accepts deposits at Bitcoin.
It is also possible to make cash deposits. You can deposit with cash by going to the broker's offices available in Sofia and Varna. For deposits, the broker will not charge any commission to his customers, only the costs that a bank transfer may have on the part of the customer's bank will have to be taken into account.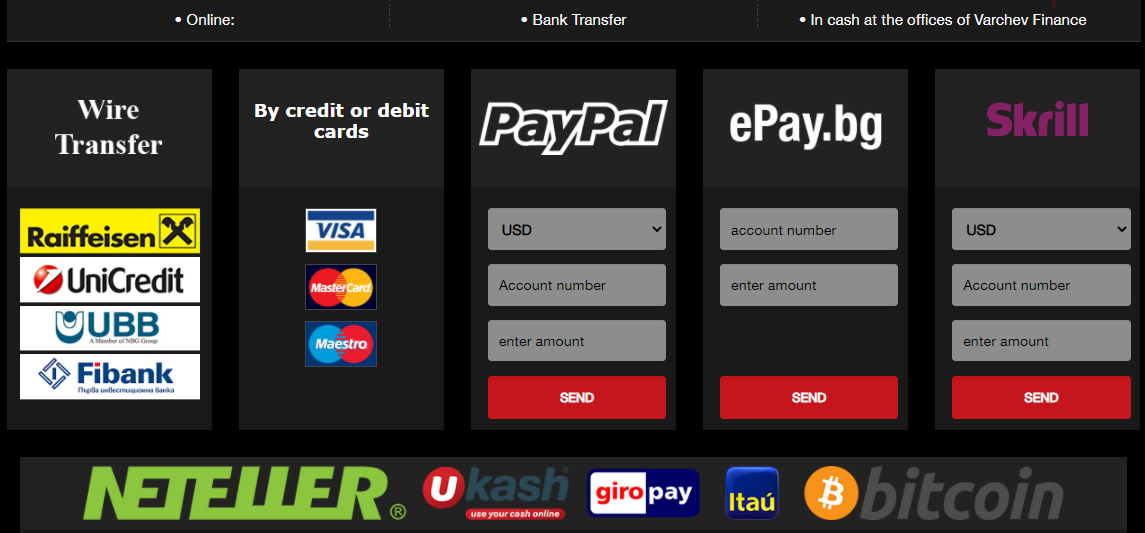 WITHDRAWAL METHODS & COSTS
The withdrawal methods will be the same as those detailed in the section on deposits. The only difference is that no cash withdrawals can be made at the broker's offices, but must be made by bank transfer to an account in your name if you used that deposit method before.
All withdrawals from Varchev Finance to its customers will be returned to where the funds originated initially, that is when they were initially transferred to Varchev Finance. The broker does not report on its website about the costs that may exist for making deposits using any method.
WITHDRAWAL PROCESSING & WAIT TIME
Varchev undertakes to process withdrawals requested by its clients within a maximum of 1 business day. Then you have to add the waiting times that each payment system has. Withdrawals made by credit/debit cards and e-wallets are usually paid on the same day. Withdrawals by bank transfer will take between 2 and 5 days to appear in your bank account balance.
BONUSES & PROMOTIONS
Varchev Brokers has a bonus program with various types of offers.
The first is the "Account" bonus, which is a credit rate of up to $1000, depending on the volume of deposit made by the customer. This promotion applies only to new customers on their first deposit. For example, for deposits of at least 3,000 USD, the broker will add a bonus of 250 USD, and for deposits of at least 10,000 USD, the broker will add the maximum bonus of 1,000 USD. These bonuses are removable subject to a number of trading volume conditions. Varchev has not clearly reported the terms on its website. There is also a cashback bonus and a promotion for when you refer to a friend or a third person.
EDUCATIONAL & TRADING TOOLS
We haven't found a specific educational area, but we have found a lot of interesting content. This broker has a fascinating blog, as well as a pervasive and high-quality economic news area. It also has market analysis and certain assets. There is also an economic calendar, which we always comment on is a handy tool for any trader by the information of the most important events of the day that come in it.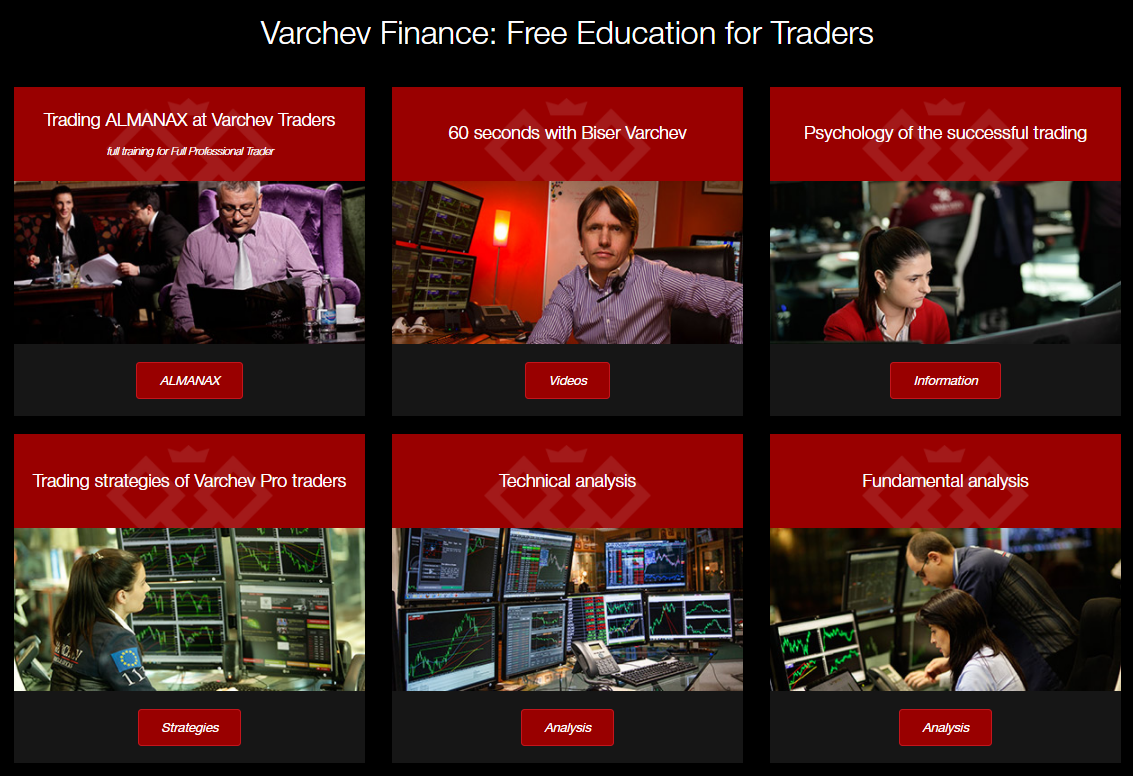 CUSTOMER SERVICE
To contact the customer service we have several alternatives. We can do this by phone, by means of a contact form available on the web, through a live chat live, by telegram, or by personally going to any of the 2 offices in Sofia and Varna. Curiously we have not found an email address, and clarify that Telegram is an instant messaging service similar to WhatsApp.
The contact details collected are as follows:
Contact with dealer +359 700 17 600.  

Varchev Exchange – +359 700 115 44.

London Phone: +44 20 8144 1497.

25 Canada Square, Level 33, office 50, Canary Wharf London

Sofia – "Tzar Samuil" street N1 on the corner of Patriarch Euthymius

Varna – "Vladislav Varnenchik" bulevard 186, Floor: 4, office: 4.035
DEMO ACCOUNT
Fortunately, Varchev provides its customers with a demo account. The client will be able to choose the platform to have that Demo account, it can be MT4 or MT5. In order to have this account, Varchev has a specific area on its webpage where you can download the application and also obtain the necessary instructions for its use.
COUNTRIES ACCEPTED
The broker does not report on his website about citizens of any jurisdiction who may not be Varchev's clients. In this case, if you intend to open an account with this broker, you will need to contact Varchev to check if you are a suitable customer or not.
On the Varchev registration page, we have detected that no United States of America appears, so we assume that citizens of this country are not accepted to open an account with this broker.
CONCLUSION
Varchev Brokers is a well regulated European broker, which means it is reliable and can offer its services throughout the EEA, and its association with XTB gives it an advantage over other brokers. On the other hand, Varchev offers greater leverage for professional traders (1:500) and offers many payment options, as well as an account (VAT) with no commissions and an attractive spread.