Trend Scan is an indicator that can be found listed for sale in the MQL5 marketplace. The indicator was first uploaded on the 3rd of November 2017 and has had no further updates so the indicator is still on version 1.0.
Overview
Trend Scan is an indicator to be used with the MetaTrader 4 trading platform, its purpose is to determine the current trend. The indicator is suitable for any currency pair and any timeframe, the indicator will take into account the volume and volatility of the currencies and then combine them to display the result as a histogram. 
There are a bunch of parameters that you can change which will alter the way that the indicator works:
Main Settings:
VolMode – whether to use real volumes in the calculation.

GlobalPeriod – global period for calculations.

LocalPeriod – local period for calculations.

SignalLevel – signal level. If VolMode = false, the values of the variable will not exceed 1. Otherwise, there is no limit for value increase.

HistoryBars – number of bars for display.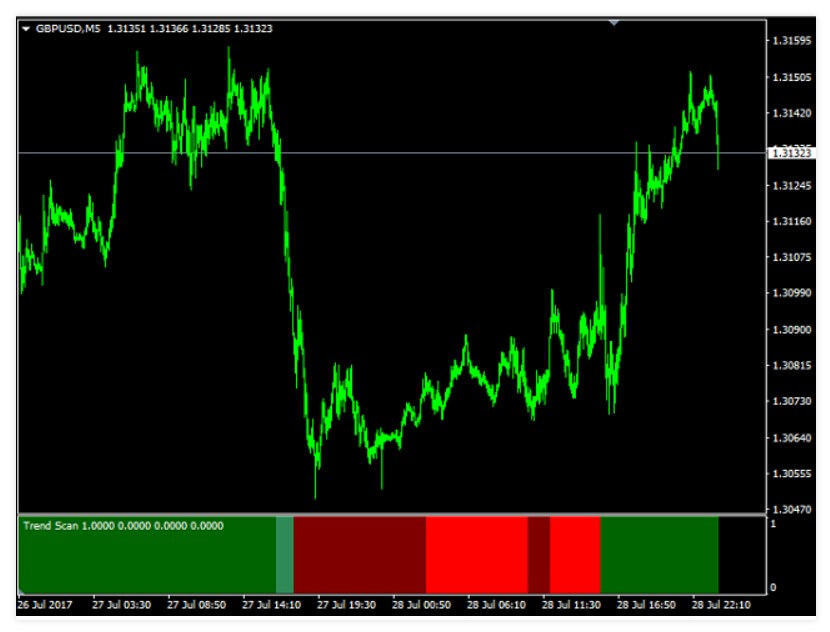 Alert Settings:
Alerts – if true, an alert is enabled.

AMessage – display a dialog window.

ASound – generate a sound alert.

AEmail – send an email at the address specified in the Email tab of the Options window.

ANotificaton – send a notification to mobile terminals.

soundfile – the name of the audio file.
Service Cost
The Trend Scan indicator can be purchased for $35, this will give you unlimited use of the indicator, you can also rent the indicator for $10 per month, and will be charged $10 for each month that you use the indicator. There is also a free version of the indicator that you can try out before making a purchase.
Conclusion
Unfortunately, there aren't any written reviews or rating s available for the Rend Scan indicator, there also aren't any comments so we do not know what the support is like. What we would suggest is that you download the free version to try out, that was you will know that the indicator does what it is supposed to and that you are able to get it set up correctly on your own charts before putting any money down to buy it.