Tradeo is a Cyprus based foreign exchange broker that is registered and regulated by the Cyprus Securities and Exchange Commission (CySEC). Tradeo's effective and intuitive tools revolutionize the trading experience for beginners just starting out and experienced traders looking to grow. Tradeo's platform streamlines this entire process with an all-inclusive trading environment powered by cutting edge, professional-grade technology. Tradeo aims for transparent pricing with no extra commissions or hidden costs, what you see is what you get. Those are the claims of Tradeo, we will now be looking into the services being offered to see how they compare to the competition and so you can decide if they are the right broker for you to use.
Account Types
There are two different accounts which are based on the trading platform they use (we will look at those next), we have outlined the key features of the accounts below, and will go over them further throughout the review.
MetaTrader 4 Account: The account requires a minimum deposit of at least $250, it comes with a variable spread and can be leveraged up to 1:30. It comes with access to the MT4 mobile app, a senior account manager, and spreads starting from as low as 0.9 pips.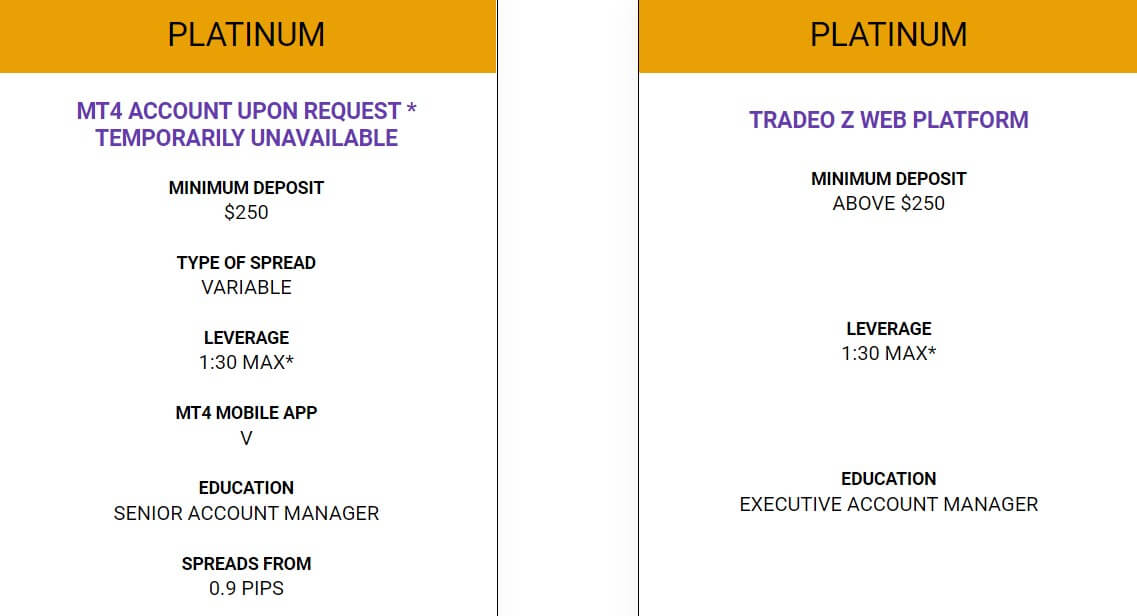 Tradeo Z Web Account: You need to deposit a least $250 to open this account type, it comes with a maximum leverage of 1L:30 and gains access to an executive account manager. This account acts slightly more like a binary options account, we will outline some key features as we go through the review.
Platforms
As mentioned in the account section, there are two different platforms that the account is based around. We have outlined some of their features below.
MetaTrader 4 (MT4): Tradeo doesn't actually mention MT4 very much on the site even though it is one of the world's most used and most liked trading platforms offering huge amounts of customizations and accessibility. It is usable as a desktop download, mobile application, and as a web trader. It has access to hundreds and thousands of indicators and expert advisors which help to enhance analysis and allows for automated trading. MetaTrader 4 is used by over 1,000,000 traders for good reasons.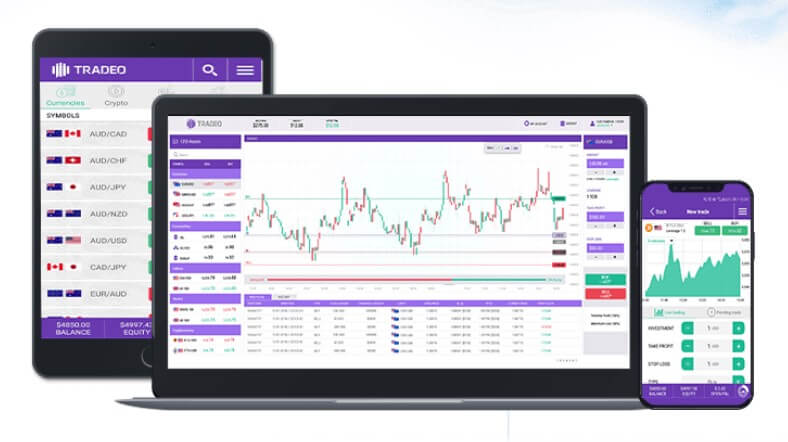 Tradeo Z Web Trader: This is Tradeos' very own proprietary trading platform, it is usable as a web treader or mobile application. Some of its features boated by Tradeo are that it offers quick execution of client trades, a friendly user interface, a wide range financial instruments user can trade with, access to a personal account manager including leading experts with extensive experience to guide clients when they start working on the platform, the ability to open, view, and edit positions, check account balances and P&L, and to set stop loss, take profit and limit orders.
Leverage
Both accounts can have a maximum leverage of 1:30, however, different instruments have different leverages, so while some Forex Major pairs may have 1:30, forex crosses will have 1:20 and some insides and commodities will be as low as 1:10 or 1:2, be sure to check the contract specifications for the instruments you wish to trade.
Trade Sizes
The different account types have slightly different sizes when using MT4, the trade sizes start at 0.01 lots when trading forex, they also go up in increments of 0.01 lots until they reach the maximum size of 50 lots. Indices start at 0.01 lots and go up in 0.01 lots until they reach the maximum of 15 lots, metals start at 0.01 lots and go up to 30 lots while Stocks start at 1 lot and can go as high as 500 lots.
When using the Tradeo Z Web Platform, the forex trades start from $25 and can go as high as $10,000,000. Cryptocurrencies, metals, and indices all have the same $25 minimum and $10,000,000 maximum trade sizes.
Trading Costs
There isn't any added commission on any of the trading accounts as they all use a spread based system that we will look at later in this review. There are swap charges, these are charges that are paid when holding trades overnight if you are using the MetaTrader 4 account they can be viewed within the platform if you are using the Tradeo Web Platform the swap fees can be viewed on the site. There are also swap-free Islamic accounts available should your beliefs mean that you cannot accept or pay interest.
Assets

The assets at Tradeo have been broken down into various categories, we have listed them below along with the instruments within each group.
Forex: Over 40 to choose from, including a variety of majors, minors, and exotics.
Indices: Spain 35, France 40, UK 100, Germany 30, S&P 500, Dow Jones, Nikkei 225, Nasdaq and more.
Metals: Gold, Silver, Platinum, and Palladium are available to trade.
Commodities: WTI Crude Oil and Brent Crude Oil.
Cryptocurrencies: Bitcoin (EUR and USD), Ethereum, Litecoin, Dash, Ripple.
Stocks: There are plenty of stocks for the US to trade, some of them include Amazon, Alibaba, Chevron, Facebook, FedEx, Google, Netflix, VISA, Total, and Intel.
Spreads
The accounts page shows that the MT4 account has spreads starting from 0.9 pips, however, when we look at the average spreads available the lowest one available is EURUSD at 1.4 pips. The Tradeo platform has EURUSD starting at 0.4 pips which is a lot slower than the MT4 account, however other assets such as AUD/CAD have a spread of 3.76 pips on MT4 and a massive 16 pips on the Tradeo Web Platform.
The spreads on both accounts are variable which means they will be influenced by the markets, the more volatility that there are the markets or if there is a lack in liquidity, they will often be seen higher, as shown above, different instruments will also have different spreads.
Minimum Deposit
Both accounts require a minimum deposit of $250 to open up. We do not know if this amount reduces once an account has been opened for the future top-up deposits.
Deposit Methods & Costs
You are able to deposit using Bank Wire Transfer, Credit / Debit Card, Neteller, and Skrill. Tradeo does not charge processing fees on deposits. Please note however that charges may be applied by the issuing, intermediary, and/or beneficiary bank (in case of bank transfers) or by the relevant payment processor (in case of card deposits and e-payment deposits), resulting in a smaller amount than you deposited.

Withdrawal Methods & Costs
Information regarding withdrawals indicates that Bank Wire Transfers, Credit Cards, and alternative payment methods are available, but they do not say what they are. There are also fees for various methods that we have detailed below.
Fees for Wire Transfers:
Up To 10,000 $ /€ / £ – Fee 30.00 $ / €/ £
Above 10, 000 $ /€ / £ – 0.30% Fee of the withdrawal amount
Fees for Credit cards: 15.00 $ / €/ £
Fees for alternative payment methods are 1% with a minimum Fee of 15 $ / €/ £**
Withdrawal Processing & Wait Time
Tradeo does not actually say how long it will take for them to execute your withdrawal request, they just simply state that after thy have executed it, it will take between 2 to 5 working days to fully process and to be available for use.
Bonuses & Promotions
It does not look like there are any active promotions or bonuses so if you are interested in them, you may have to contact the customer service team to see if there is anything that you are able to take part in.
Educational & Trading Tools
The educational side of the site contains a page called Tradeo Tube, this has videos that contain weekly analysis. This hasn't been updated since January 05, 2020, though. There is also a glossary of trading-related terms, so you can take a look if you come across something you do not know the meaning of. The final section is a page containing Ebooks, they go over topics like how to start trading, or what cryptocurrencies are. Everything is very basic and not really what you need to become a trading expert.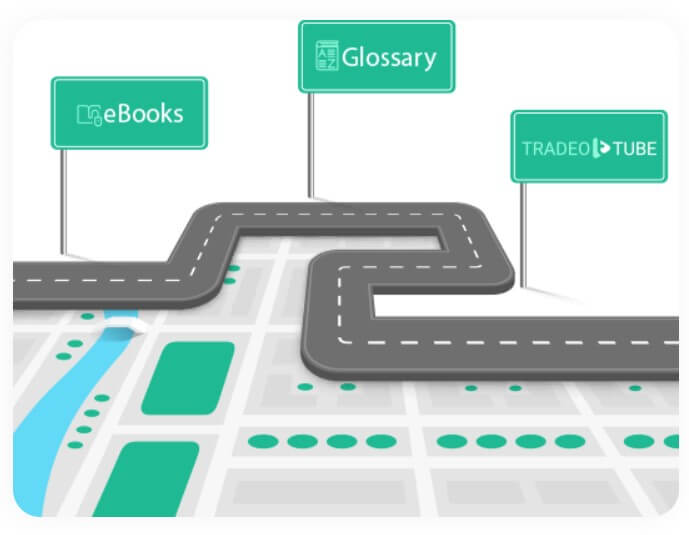 Customer Service
You can get in touch with Tradeo by using the online submission form, simply fill it in along with your email and you should get a reply within a day. You can also use the email address provided directly or the phone number, there is also a postal address available should you wish to contact them that way.
Address: 140 Vasileos Constantinou, Tofias Building, 1st floor, 3080, Limassol, Cyprus.
Email: support@tradeo.com
Phone: +35725262292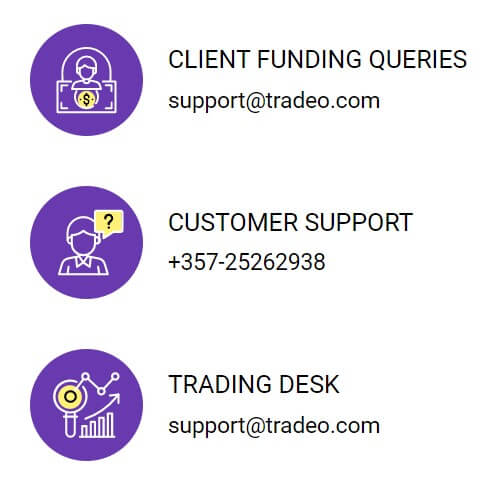 Demo Account
Demo accounts allow you to test out strategies and trades without any risk, so it is good that Tradeo is offering them, you can get a demo account for either platform/account type and they last indefinitely. The trading conditions will mimic the trading conditions that each account type provides.
Countries Accepted
This information is not present on the site if you are thinking of joining we would recommend contacting the customer service team prior to creating an account, just to be sure that you are eligible for one.
Conclusion
Tradeo is offering two very distinct account sand platforms, while on paper they may seem very similar, the platforms that they use make them stand apart. For a more traditional trading experience, you would need to use the MT4 account. The leverage is a bit of a let down having a 1:30 maximum can be quite limiting. The spreads are states as being low but some of them are as high as 16 which is far from low and so some currency pairs or instruments can be quite expensive to trade. A few methods available to deposit with no deposit fees, but there are withdrawal fees which is a shame to see.