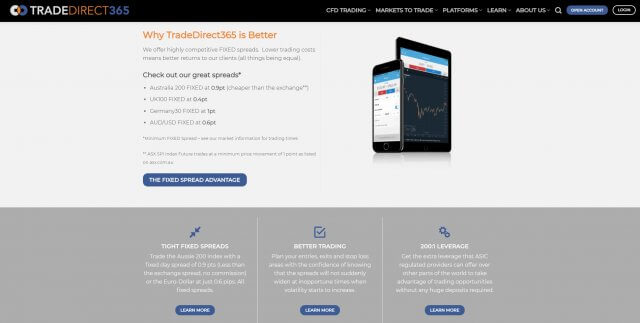 In 2014, Davin Clarke, a professional trader, decided to launch his very own CFD trading company with the idea of offering traders the fairest and the easiest way to trade available, and this is how TradeDirect365 was created. Today, six years after its launch, this company still holds the same values at heart; transparent pricing approach, low commission and tight, fixed spreads and a simple to use intuitive CFD trading platform. 
TradeDirect365, which is actually the trading name of Finsa Pty Limited, are regulated by ASIC (AFSL No. 422661), one of the world's most respected financial regulators. This alone should put customers' minds at ease that their funds are safe and held separately from the company's own. 
On their sleek looking website, this broker lists a number of advantages that their customers will experience as well as a comparative list, comparing TradeDirect 365, to other similar brokers, which is quite unusual to find. 
Join us on this review as we dive deeper and see what this broker has to offer and to check whether what they claim is based on fact.
Account Types
TradeDriect 365 has two account types on offer, and these completely depend on the platform that the clients decide to use. There are quite a few differences between the two. The Cloudtrade CFD platform has many more options when it comes to available instruments to trade and this account only offers fixed spreads. Customers using this platform and account can also enjoy a welcome bonus and a one-click demo account. You can find a full comparative list of the two accounts/platforms on the broker's Compare Our Trading Platforms page. 
Platforms
This broker offers two different platforms to its clients, the popular MT4 as well as their proprietary CloudTrade platform. Starting from the MT4, this platform does not need much introduction for those of you who have been trading for a while. This multi-lingual platform is well known as one of the most recognized and prestigious platforms around. This platform offers trading on a number of devices namely; Windows, Mac, Android, and IOS. You can find a download link on the TradeDirect365 website as well as a link to open up an MT4 account.

The platform offers 30 built-in technical indicators with adjustable and interactive charts that enable clients to stay afloat current trading market activities, which is convenient as this industry changes at lightning-fast speeds. Some additional perks of this platform include full customizability, Expert Advisors, and multilingual service. Although we now have the MT5, the 'bigger brother' of the initial MT4 platform, many traders still prefer the latter. 
The broker's own CloudTrade platform is a browser-based and app-based CFD trading platform that has been developed for a number of years. The broker offers a number of videos to help get customers used to trading using this platform. You can find these videos on the broker's Platform's page. 
Leverage
This broker offers a decent leverage of 200:1. Beginner traders, and even experienced ones, should use leverage cautiously as it might bring about big losses, however trading wisely with leverage can be extremely fruitful and worthwhile. 
Trade Sizes
The minimum contract size available with this broker is a mini contract, or AUD $ 0.01 on their CloudTrade CFD Platform or 0.01 lot on the MT4 platform. This broker does not specify the maximum trading sizes that they allow. 
Trading Costs
It seems as though this broker tries their best to keep trading costs at a minimum for their clients. From what we could see on their website they do not charge any inactivity fees, account closure fees, account maintenance fees or phone trading order fees, which is always good news. However, the ASX (Australian Securities Exchange) does charge a monthly fee for real-time pricing data for Australian stocks per account. The cost for this is AUD $27.50 per month, however, if customers of TradeDirect 365 execute 2 round turn trades, or four single legs, of any ASX stock CFD within a calendar month, this fee is waived. This fee is not compulsory as it is the customers themselves who have to opt in to receiving this live data feed, however for those of you who would like to receive it make sure that you subscribe to it at the beginning of the month as ASX charge the full month price, irrespective of which day of the month customers subscribes.

For those holding overnight fees, they should also expect to be charged swap fees. All cash CFD transactions held overnight incur; 2.5% finance fee + RBA rate per annum on ASX CFDs for long positions and this is the same for short positions. Customers should expect to be charged a 0.07% on ASX stock trades when using the CloudTrade CFDs platform and $1.50 per lot when making use of the MT4 platform. Apart from this, this broker offers tight, 24 hour fixed spreads on all of their available markets but we will discuss this later on in this review. 
Assets
TradeDirect365 has a large variety of assets available for trading, this includes Trade Indices, Stocks, Forex Currencies, Commodities, and even cryptocurrencies. For Indices, this broker offers Australia 200, UK100, Germany 30 and Wall St, Commbank, Rio Tinto, Deutsche Bank and Amazon as Stocks, EUR/USD, AUD/USD and USD/JPY for Forex, Gold, Silver, and Oils as Commodities and Bitcoin, Ethereum and Ripple as Cryptocurrencies.
You can find the full list of TradeDirect 365's available assets on their Markets to Trade page on their website. 

Spreads
This broker offers fixed tight spreads 24 hours on all their available markets. This way their clients can rest assured that their trades are not influenced by external factors and are not subject to spikes in their spreads.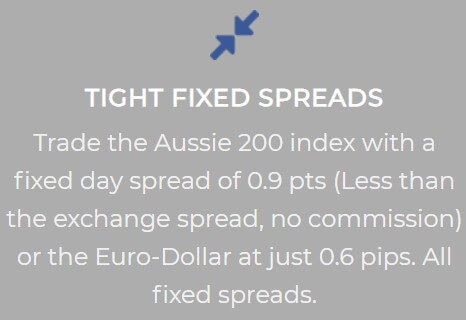 They claim that their fixed spreads are some of the most competitive in the industry, for example, the popular EUR/USD, AUD/USD, and USD/JPY forex pairs all have a fixed spread of 0.8 (with no added commissions). Comparing this to other brokers, we must admit that TradeDirect 365's spreads are quite tight. The Aussie 100 Index CFD has a fixed spread of 0.9 points. 
Minimum Deposit
Unlike many other brokers around, TradeDirect 365 does not implement any minimum deposit requirement for clients to open up an account. This is good news for those who would like to try out trading for the first time as this broker allows anyone to open an account with what they afford. 
Deposit Methods & Costs
When it comes to depositing funds into your TradeDirect365 account there aren't a lot of options as this broker only accepts deposits via Bank Transfer/Wire, Credit or Debit card only for AUD deposits or Polipay which is an instant online payment method. Those customers setting up an account with USD, GBP, or EUR should contact the broker directly for more information regarding depositing.
From what we could see on their website, this broker does not charge any fees for depositing. 
Here are their Bank details for AUD payments:
Bank Name: Wastpac Banking Corporation
Bank Address: 115 Queen Street, Brisbane, QLD 4000, Australia
BSB Number: 034-008
Account Number: 188015
Account Name: Finsa Pty – Treade Direct 365 Client AUD 
Withdrawal Methods & Costs
Customers can withdraw their money back to the same payment method they used initially to deposit the funds, that is via Credit or Debit card, PoliPay, or Bank transfer. There is no mention of withdrawal fees customers may encounter when withdrawing their funds, however, we suggest that you ask the broker directly regarding this information. 
Withdrawal Processing & Wait Time
The only information we found regarding estimated wait times customers may encounter when waiting for their funds is that instant deposits can only be made from their platform's PAYMENTS tab. 
Bonuses & Promotions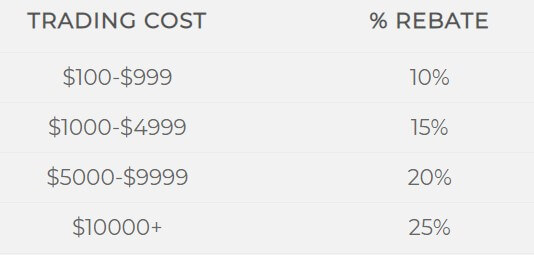 This broker has an interesting Cash rebate that can be extremely attractive for those about to open up an account with this broker.  This welcome bonus gives new customers up to AUD $2,500 trading cost (spread + commission) cash rebate for their first month's trading costs. Usually, these kinds of bonuses come with a number of complicated terms and conditions customers must be sure to follow, however, in TradeDirect 365s's case this does not seem to be the case. To be eligible customers are only required to open up an account, start trading and after one month get in touch via email and claim their bonus. Keep in mind that this promotion runs from 1st August to the 29th of February and only for those using the broker's proprietary platform the CloudTrade platform. 
Another plus is that the money can be either used to trade or it can even be withdrawn. The rebate is paid out according to the percentages stated by the broker for example if a customer opens an account and trades FX and Stocks for 30 days with their spread and commissions reaching $800, their welcome bonus will be $80 (10% of $800).
You can find the full rebate percentages on the broker's About Us page under the 2500 Cashback promotion title. 
Educational & Trading Tools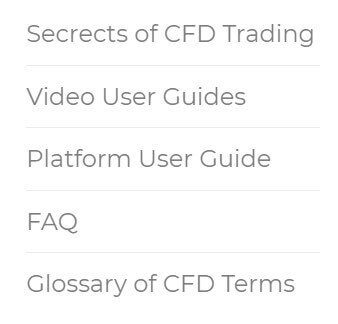 On their website, TradeDirect 365 has a page dedicated to educational information. On this segment of their site you can find a number of easy to follow, short videos explaining topics such as finding an instrument on the platform, placing trades, using watch lists, and closing trades just to mention a few. Apart from these videos which provide a good solid background to those just starting out on the broker's own platform, this broker also has an extensive segment dedicated to Secrets of CFD Trading. The articles cover a diverse range of topics that will help customers get a hang of trading CFDs and developing their own strategies. 
Customers can also make use of a Glossary and a FAQ page that covers the basic questions people tend to ask when starting to trade with a new broker. When it comes to trading tools, the broker only has a Dividend Projection chart and Market Information on their site, so their customers need to use trading tools found on the platform that they decide to choose. 
Customer Service
Clients wanting to get in touch with this broker can do so via telephone, email, or live chat. Unfortunately, we did not have such a great experience when trying to contact the broker as our email was left unanswered and the same happened on their live chat. We assumed this might be because of the time zone difference. However, we expected to be given an answer via email within 42 hours, and this did not happen. 
Here is their contact information:
Address – Level 36,
                Governor Phillip Tower,
                One Farrer Place,
                Sydney, NSW 2000
Email Address – support@TradeDirect365.com.au
Telephone – Support Line (within Australia): 1800 886 514 (press 2)
                    Outside Australia: +61 2 8310 4713
                    Support Line (UK): +44 (0) 203 301 0483

Demo Account
Trade Direct 365 does offer a demo account that enables customers to test drive their CloudTrade CFD Platform. This broker also provides a number of videos that can help traders get started on this platform and become more confident when placing their trades. The Demo Account comes with $10,000 in virtual funds and it will enable customers to access thousands of global markets risk-free.
If you want to test out this platform, head on to the Broker's Platforms page and there you will find a simple form to fill out to open up the demo account. Unfortunately, there is no option to test out the Demo account using the MT4 platform. 
Countries Accepted
On the disclaimer found at the bottom of their website, the broker states that the information and services explained on the site are not directed towards residents of the United States or any other country out of Australia in which the use or distribution of such information would be contrary to their own countries laws and regulations. 
Conclusion
TradeDirect 365 is an Australian CFD and Forex broker that is regulated by one of the most reputable regulators, the ASIC. The broker does not offer much choice when it comes to account types, however, customers can open an account with no strict minimum deposit requirements. The MT4 and CloudTrade platforms both have a number of advantages; however, customers can only test out the CloudTrade platform on the demo account.
They offer a leverage of up to 1:200 which is quite decent, and their fixed spreads are quite low when comparing them to other regulated brokers. Their Learn page has quite a number of interesting videos and articles that should point beginner traders in the right direction when making decisions whilst trading. 
Some disadvantages we encountered were a lack of choice when it comes to payment methods and more importantly, their customer service seems to be rather slow and we were left with questions unanswered.
Taking everything into consideration, TradeDirect 365 seems to be a broker that customers can trust with their money and they have many more advantages than disadvantages. If you like what you've read about this broker, visit their website to get a clearer idea of what they're offering and determine whether this broker would be a good match for you.