TMA Currency Meter is located within the Indicators section of the MQL5 marketplace. Paul Geirnaerdt first uploaded the TMA Currency Meter indicator on the 24th of November 2014, and it was last updated on the 22nd of July 2019. The current version of the indicator is version 2.2.
Overview
TMA Currency Meter is an indicator for the MetaTrader 4 trading platform, the indicator is based on the triangular moving average of the available symbols, it will show you which currency is strong, strengthening, weak, or weakening. 
It is a multi-timeframe indicator and works well to show currency strength on higher timeframes. When attached to a single chart it will give buy and sell signals based on the moving averages. 
The main usage for the indicator include:
Find strong and weak currencies

Find signals for symbols with strong moving currencies

Find signals for the TMA Slope of all symbols

Use any timeframe

Use any higher timeframe than the chart timeframe

Show buy and sell signals

Show up and downtrends

Show currency crosses

Show strong, weak, or normal crosses
The indicator also comes with some settings, these settings allow you to alter the way it functions, some of them include whether to use major symbols from the market watch, which symbols to use, to show the chart for certain symbols only, which timeframe to use, to show CSS values, difference thresholds, signal zone bandwidth, alerts, currency names, colors, and more.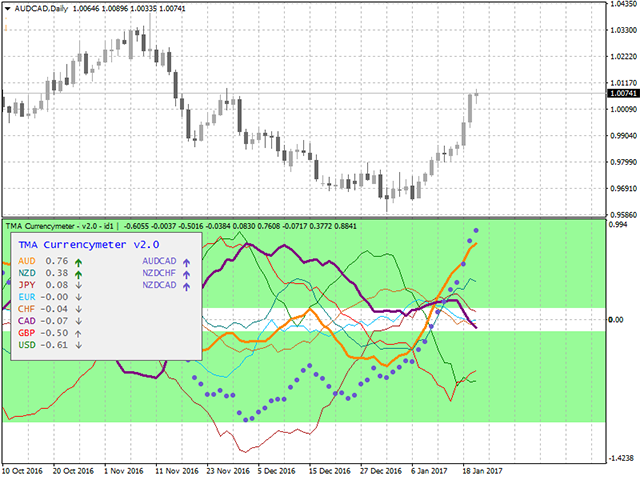 Service Cost
The indicator will currently cost you $69 to purchase it with no limitations attached, you are also able to rent it for a six-month period, this will cost you $9 for the six months. There is a free demo version available, this will come with some limitations but there is no indication on the site as to what the limitations would be, it is still worth downloading to try out though.
Conclusion
The current rating for the TMA Currency Meter is 4 out of 5, this is the average given by the six available user reviews.
"I give the indicator a 3 to 4. But I messaged the developer with a question about the indicator and depending on the answer if he could make what would seem like a small minor change or improvement and NO answer at all not even a no I cant or wont do that. Not even an answer to my question, maybe it was my fault and I was doing something wrong, then tell me and let me know. So ZERO stars on customer support !" – A 3-star review.

"I attached indicator on chart and it was instantly removed. Tried to contact author twice but no response. I think mql5 should protect us buyers from this. Paid 30$ for something I cant even use. Stay away" – A 1-star review.

"It's one of the best currency meter I have ever seen, and of-course it deserves 5 stars" – A 5-star review.
The majority of the reviews are positive but there are some negative ones in there, they mention not having any support from the developer which is concerning, looking at the comments section, the creator is replying to comments, so we do not know why these reviewers did not receive any support. Due to the negative reviews, we would strongly suggest that you download and try the free demo version before making a purchase, this way you can make sure that it will work for you and suits your needs.