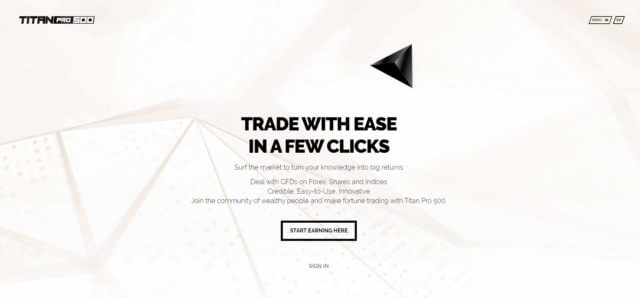 TitanPro 500 is a forex and CFD broker established in 2014 and located in Budapest. The broker offers several different account types, which are attractive at first glance. High leverage options, a wide asset portfolio, and decent deposit minimums caught our attention, but there is so much to consider if you think that this broker might be a good option. Stay with us to find out all of the details about Titan Pro 500, so that you can make an informed decision.
Account Types
Upon signing up for an account, all traders are granted Bronze account status. On their Account Types page, TP500 actually mentions that they offer five different account types, with the options being Bronze, Silver, Gold, Platinum, and Diamond. We would initially assume that the advantages associated with each account type would depend on its level, with Basic being the most standard account and Diamond is the best account available. However, the accounts all seem to offer the same basic deposit requirement, leverage, spread, and etc. Below, you can view the specifics for each account type.
Bronze Account
Minimum Deposit: $250
Leverage: up to 1:300
Extras: Account manager and one-on-one tutorials.
Silver Account
Minimum Deposit: $250
Leverage: up to 1:300
Extras: Account manager and one-on-one tutorials.
Gold Account
Minimum Deposit: $250
Leverage: up to 1:300
Extras: Account manager and one-on-one tutorials.
Platinum Account
Minimum Deposit: $250
Leverage: up to 1:300
Extras: Account manager and one-on-one tutorials.
Diamond Account
Minimum Deposit: $250
Leverage: Up to 1:300
Extras: Account manager and private webinar with a professional.

As you may have noticed, the only true difference seems to be that certain account types offer more educational opportunities, like one-on-one tutorials and even a private webinar for Diamond account holders. Since every account starts at the Bronze level, it seems that certain factors may warrant an upgrade, but it isn't quite clear what other purposes the upgrades would serve. Therefore, we will have to focus on the most basic Bronze account type throughout this review.
Platform
At first, we were not quite sure whether this broker offered the MetaTrader 4 platform, which is the world's most preferred trading platform. We found that the broker does offer trading through their website via their own trading platform, which seems to be a basic platform without any extra accessories. The TP500 platform would serve its purpose if one wanted a more simplistic experience, but we were happy to report that we found the ever-popular MetaTrader 4 is also supported. This would likely be the majority of trader's first choice, considering that the platform comes with so many analytical tools and customizable options. In order to access MT4, you would first need to sign in to your account. From there, you can look to the far right of the screen and select the MetaTrader 4 option. Doing so will grant you the necessary login details for the account.
Leverage
All account types offer a maximum leverage of up to 1:300. This option should be more than satisfactory for traders that prefer taking higher risks, but you may want to select a lower leverage setting if you are not fond of high-risk trading. Still, high leverage options allow traders to have more breathing room and the ability to select the type of leverage they prefer, so we're happy to see a higher option here. Another plus would be that this leverage option is available regardless of which account type you've opened. Elsewhere, you'll often find that better accounts come with lower leverage caps, which is usually done to limit the loss of some traders, since those better account types usually have higher deposit requirements, meaning those clients have more to lose. This broker will allow the trader to make the decision themselves. When comparing this option to the competition, we would say that this certainly isn't the highest leverage option we've seen, but it is well above average and available for all account types; therefore, this broker scores well in this category.
Trading Costs
This broker's website offers absolutely no details on their associated trading costs. While we tried to reach out to support to find out the details, we did not receive a response within 24 hours, and support was not active on chat. It is always better for brokers to be transparent about these costs, even if they are higher than average. Due to the lack of information or response we got here, we have to assume that the commission costs with this broker could be high. What we can mention to our readers would be the fact that the spreads with this broker do tend to be higher than average, and that we know swap fees are applicable. One must assume that the commission fees are less than attractive as well, based on those facts.
Assets
TP500 offers more than 40 forex pairs, exotic pairs, CFDs on stocks, indices, and cryptocurrencies. Exotic options include the USDRUB, USDKK, USDPLN, and many more. We also found CFDs on more than 20 indices including oil, coffee, and wheat, just to name a few. Precious metal options include gold, silver, and platinum. You'll also find that this broker is offering a variety of crypto coins, with the popular Bitcoin, Dash, Ethereum, Ripple, and Bitcoin cash being options. Overall, this broker is offering a range of assets and includes some more options that are better than average.
Spreads
It's always nice to see brokers being transparent and offering all of the necessary details on their website, so we must note that it was disappointing to see that this broker was not very forthcoming with information about their spreads. After doing some research, we assume that this is most likely due to the fact that the spreads seem to start from around 3 pips on the main account type. This amount is double the average spread one would usually see, so this broker really needs to offer something better in the other categories to make up for it. It's possible that the upgraded account types may offer better options, but due to lack of information, we must assume that this is what one should expect to see when trading with this broker.
Minimum Deposit
The minimum deposit requirement with this broker starts at $250. In a sense, this option may be considered an average deposit amount, but we've noticed that a lot more brokers are offering an average that is more in the category of $100 as of lately. For those that may just be getting into the field, the initial deposit amount could seem steep. For those people, we should mention that one can occasionally find a broker offering much lower deposit minimums around $10, but it may take some looking around. On the other hand, this minimum could be considered to be lenient when compared with deposit minimums that go into the thousands elsewhere.
Deposit Methods & Costs
As it stands, the only deposit method offered by this broker is bank wire, so we're really missing the ability to pick from a variety of methods here. Yes, bank wire will always be a trustworthy funding method, but many prefer to use a faster and cheaper option, like Visa or MasterCard. Others prefer to use methods like Bitcoin, but that option is not as widely available. We do want to mention that the payment portal has a section devoted to Visa/MasterCard withdrawals, but this option is no longer available. This suggests to us that the option was available previously, or perhaps that it will become available in the future. If TP500 does restore the card payment method in the near future, it would definitely help to provide a better variety of funding methods. For now, we must say that funding options are very limited here.

Withdrawal Methods & Costs
Withdrawal methods are just as limited as deposit options, with bank wire being the only option. The website does not mention fees, but banks usually charge fees from their side for wire. You can expect the fee to typically range from $25 to $50 but check with your bank if you'd like to know specifically. When withdrawing via bank wire, we recommend making larger, less frequent withdrawals. This way, you'll be able to avoid paying the fee as much as possible. In comparison with the competition, we must say that this broker does not fare well in this category, due to the lack of choices and inescapable withdrawal fees.
Withdrawal Processing & Wait Time
Once again, the website is very vague about this category, so the best we can do is to make a logical guess of how long withdrawals may take. The typical timeframe is usually anywhere from 2 to 8 business days to receive a bank wire. Since this company and banks operate Monday through Friday, the weekends would not count as processing days. Two days would not be a horrible waiting period, but one should have more realistic expectations of around the five or six business day period, or possibly longer. The best thing to do would be to plan out withdrawals in advance so that funds will be available when needed.
Bonuses & Promotions
TP500 does seem to be offering a bonus at this time but the website is very vague about the opportunity and does not explain how much the bonus is actually offering. The condition is that once the bonus is received, one would be required to execute a trading volume of 25 times the bonus amount, plus the deposit, in order to make a withdrawal. We see minimum trading requirements often, but this broker's conditions are much too restrictive in our opinion. Since the bonus will restrict you from making a withdrawal, you may want to think twice before participating.
Educational & Trading Tools
Account managers are offered for each account type, but there are some added educational benefits available, depending on the account type you've opened. One-on-one tutorials are available for the Silver, Gold, Platinum, and Diamond accounts. This is a great addition, but we don't see the reason why Basic account holders should be left out. The Premium account offers a private webinar and live trading with an expert trader. The website also offers an updated economic calendar, which is certainly helpful. Overall, the tutorials and webinar make this broker stand out in this section because this is not something that is commonly offered, especially not for account types with a minimum deposit of $250.

Demo Account
We're happy to report that this broker had joined the many others offering demo accounts as a means of practice for traders. We actually tested out the demo with this broker and gathered some of our facts while doing so, since the website lacked some important information. If you're anything less than a seasoned professional, we highly recommend you take advantage of these free practice accounts. There's no better way to learn than by trading, and using this company's demo account will allow you to do so without risking any real funds. If you're in a hurry to open a real account, try opening one of each. Practice on the demo and test the market, while making more realistic decisions on your demo account. Then, compare your results.
Customer Service
TP500 advertises 24/7 customer support hours with contact options being LiveChat, phone, or email. These hours are certainly competitive since many brokers close in the evening and don't operate on the weekends. However, we were a little disappointed when we tested out their LiveChat, both during the day and at night, and found that agents were never online. You are able to fill in details and type a message directly from the chat window in order to conveniently create a ticket, but this certainly took away from the instant contact options we were looking for.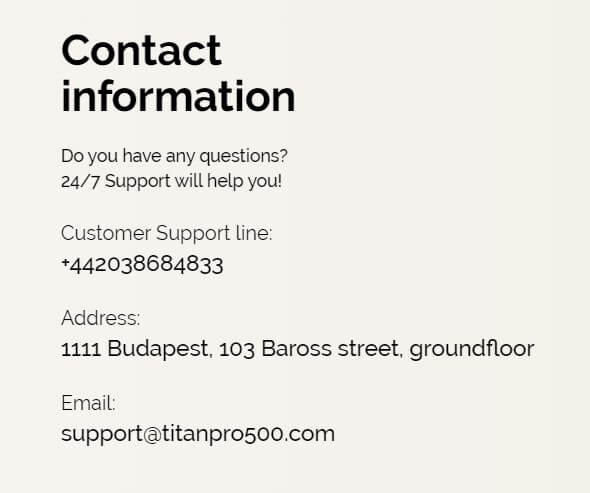 Keep in mind that the lack of agents on chat doesn't mean that customer support isn't in the office, so it may not take long to receive a response via email. If you find that you need help quickly and no agents are online, we would recommend calling their office through their direct phone number. Initially, we would have added this category to the list of positive qualities about this broker, but the shortage of LiveChat agents forced us to consider this broker's customer service team as nothing more than average.
Email: support@titanpro500.com
Phone: +442038684833
Countries Accepted
This broker would be a good option for anyone who usually finds their countries restricted from trading, especially those in the United States. When we signed up for an account, the site didn't even ask us to select a country, which proves that this broker is very lenient in this category. However, the sign-up page does allow one to input a US-based phone number, therefore it is very safe to say that there will be no problems creating an account with this broker. Relaxed restrictions could make TP500 more worthy of consideration, since it may be harder to find another broker that is as lenient.
Conclusion
TitanPro 500n offers several positive qualities, but there are also some downsides to choosing this broker. To start with the negative, we must remind our readers that this broker offers spreads that are twice as high as average, funding methods are limited to bank wire, withdrawal times can be quite long, and the website is not very transparent, especially when it comes to trading sizes and trading costs. The company offers average bonus opportunities, since conditions for withdrawal are difficult to meet, and customer support could only be considered as average since agents are not always available.

Ending on a good note, we should remind you that leverage up to 1:300 is available on all account types, the company offers a diverse asset portfolio, including crypto-coins, demo accounts, and one-on-one tutorials are available, MT4 is supported, and there are relaxed account opening restrictions. It really comes down to whether this broker is offering what you, the trader, are looking for.