TIO Markets is a forex broker regulated by the Finance Conduct Authority (FCA) and is a broker claiming a few different things. They claim to offer no commission, no fees, no hassle which should make them a no brainer. In this review, we dive into what they really offer so you can make an informed decision as to whether or not they are the right broker for you.
Account Types
There are 3 accounts available, however with TIO Markets they are called plans, these plans act as payment gateways to better trading conditions.
All Accounts: All accounts get access to the following perks, max leverage of 1:200, however you can request higher up to 1:500, no fees on deposits or withdrawals, fast withdrawals, security and license regulation, lightning-fast trade execution, 120+ instruments to trade, access to customer services and negative balance protection.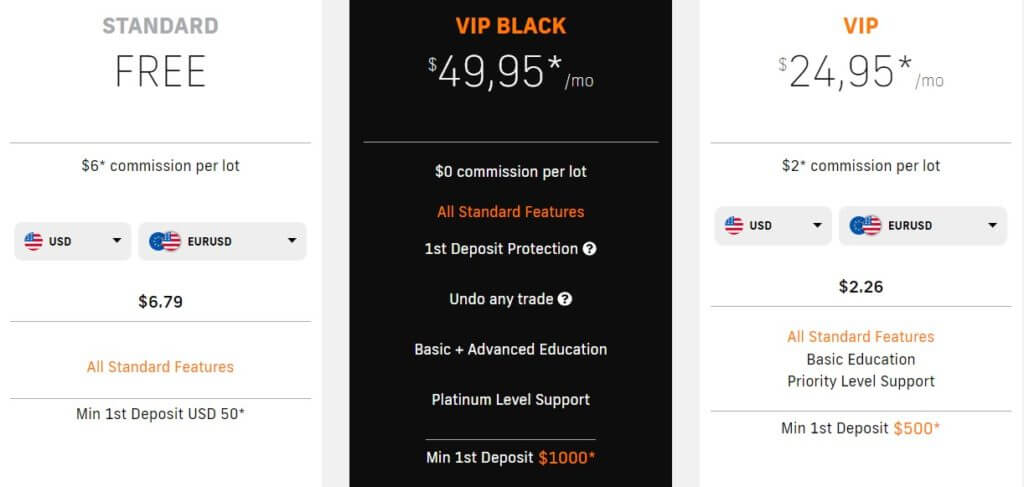 Free: The free account comes with all the above, however, due to it being free, there is a $6 commission per lot traded added to the account.
VIP: The VIP account costs $24.95 per month, it has a 3$ commission for each lot traded and grants the user access to priority support and level 1 education, we will look into what that means later in this review.
VIP Black: The VIP Black account costs you $49.95 per month, this removes any commissions charges from the account. This gives you access to TIOshield and TIOreimburse, we look at these in more detail in the promotion section of this review, you also get access to platinum support and advanced education.
It's rare to see brokers charging for membership in terms of an active subscription, is it worth paying that for reduced commission? It would depend on how much you trade, and what the other features actually are.
Platforms
TIO Markets offers 2 platforms to trade with, both from the same family MetaTrader 4 (MT4) and MetaTrader 5 (MT5).
MetaTrader 4 (MT4):
As for today, MetaTrader 4 still is one of the most popular trading platforms in the world. This platform offers rich functionality, operation simplicity, stable operation and interface easy to understand even for novice traders. The client-side of the MetaTrader 4 platform is now available for all operating systems since its browser version allows you to trade without downloading and installing the desktop application. MetaTrader 4 platform allows you to trade not only on the Forex market but also on other financial markets. These features of the platform make staying connected to the market 24 hours a day an easy task.
MetaTrader 5 (MT5):
MetaTrader 5 is the most popular trading platform, this is the fifth generation of platform for online trading in the financial markets. MT5 includes all the advantages of the previous version, complemented by a variety of unique technical solutions for operations on the Forex market, stock markets, as well as futures and CFD trading. In the meantime, it allows you to use a single trading account for different markets. MetaTrader 5 is also available for almost all types of mobile devices (thanks to the web version of terminal and versions for iOs and Android).
Leverage
Leverage is available up to 1:200 as standard, however, should you wish to trade with higher leverage, you can request to have the leverage raised to a maximum of 1:500, simply get in touch with TIO Markets to request this.
Trade Sizes
The trade sizes start where you would expect, at 0.01 lots (also known as a micro lot). We could not find any information regarding the maximum trade size, however, these normally sit between 50 lots and 100 lots which is more than enough for 99.9% of retail traders.
Trading Costs
There are commissions added to the free and VIP accounts, the free account has $6 per lot added which is the industry standard, the VIP account has a commission of $2, however, there is a monthly charge of $24.95 to have this account. The VIP Black account does not have any commission however it costs you $49.95 per month to use, so depending on your trade volume, you can decide if it is better to go for a commission or a subscription.
It should be noted that swap charges affect all accounts and can be viewed from within the trading platform of choice, these are charged or paid for holding trades overnight. There are also spreads with TIO Markets and these are discussed in more detail later in this review.
Assets
There are plenty of tradable instruments ready for your consideration with TIO Markets, they are broken down into the following categories, 70+ forex currency pairs, 5 energies, 3 cryptocurrencies, 60 shares, and 11 indices. While it is great to see cryptocurrencies making an appearance it would have been good to have seen more of them as they are a very popular trading instrument at the moment that a lot of new traders are looking towards.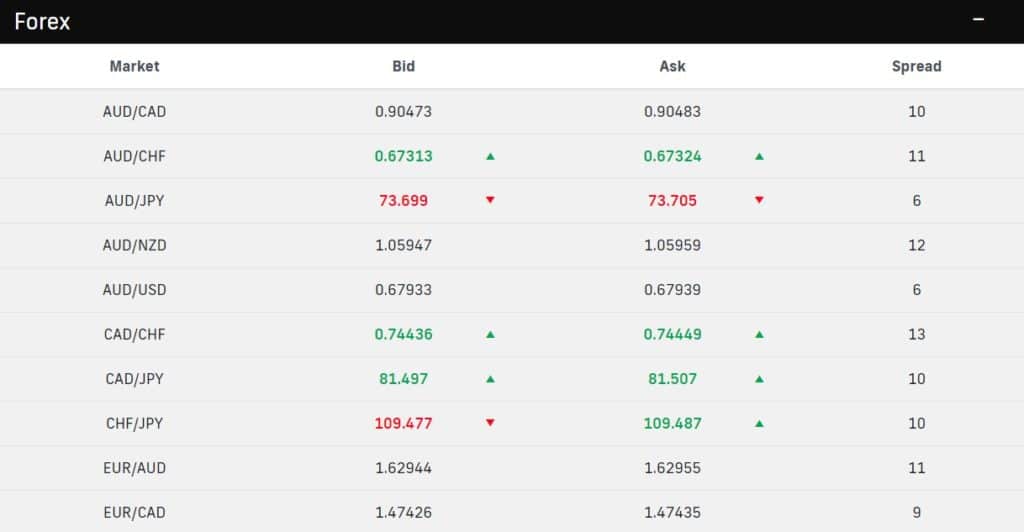 Spreads
All spreads are variable which means that they will fluctuate based on the market conditions. Spreads have been seen anywhere between 0.1 pips to 7 pips depending on the currency and account that you have. An example of a crypto spread is that BTCUSD was currently sitting at 13.4 when we checked. The VIP Black account has spreads starting at 0 for major currency pairs, minor and exotic currency pairs still have spread but they are far lower than the other two accounts.
Minimum Deposit
Tio MArkets does not specify a minimum deposit so we are assuming you can deposit any amount, however when starting a new account, we always recommend starting with around $500 in order to be able to use proper risk management.
Deposit Methods & Costs
Tio MArkets do not actively promote their deposit methods however we were able to discover that they currently support all major credit and debit cards, they also allow for bank wire transfers as well as some popular e-wallets such as Neteller and Skrill. There may be others but as they are not advertised it is hard for us to tell.

TIO Markets do not add any fees for their deposits, but if using bank wire transfer, be sure to check with your bank to see if they make any of their own charges.
Withdrawal Methods & Costs
As with the deposit methods, there was no clear indication of what methods are accepted, we would be assuming that the same methods are available to withdraw as they are to deposit. We are also unsure f any fees are added to any withdrawals.
Withdrawal Processing & Wait Time
Individual processing times are unknown, however, the website states that withdrawals are normally processed within a few hours, so for e-wallets, this should mean the funds are available to you within a few minutes after processing. Card withdrawals normally take between 1 and 5 days to process and bank transfers between 3 and 7 days to fully process depending on your bank.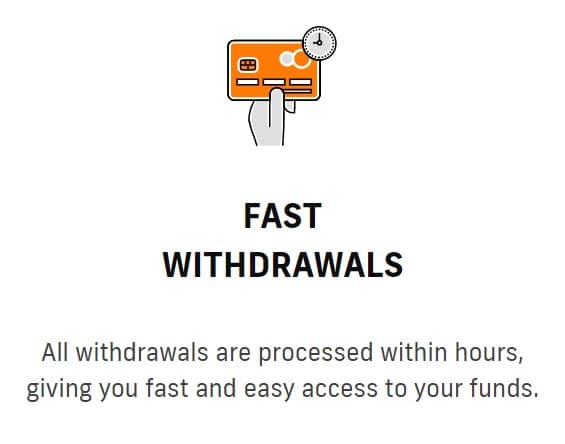 Bonuses & Promotions
There are a few bonuses available with TIO Markets, we have outlined them below for you.
TIOreinburse: Available for VIP Black subscribers, this promotion allows you to receive 50% of your deposit back if your account is stopped out within the first 30 days. These reimbursed funds are counted as bonus funds and can not be withdrawn themselves.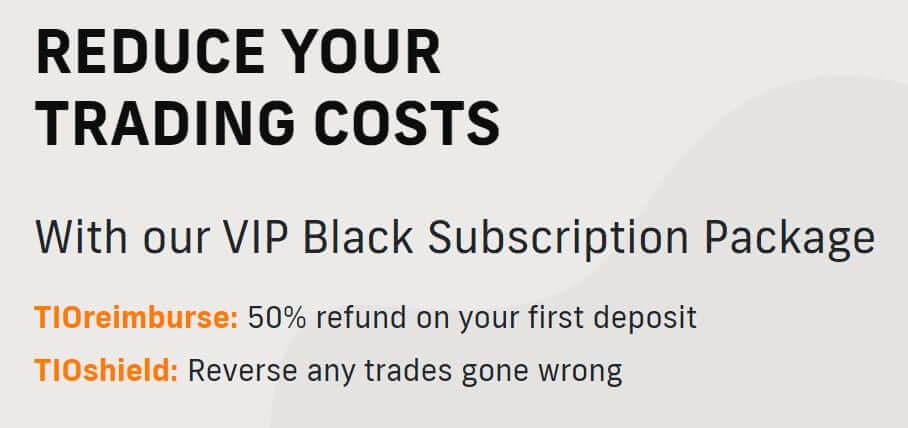 TIOshield: Available to VIP Black subscribers, this allows you to open a trade and then close it within the first 60 minutes if it is going against you, there is a small premium to pay, however.
Trading Competitions: TIO Markets hold regular trading competitions where you can trade and have a chance to wish a share of $300,000 in trading credits. Each competition is slightly different so be sure to check out the competition page for more information. There are both solo and team competitions.
Educational & Trading Tools
There are some educational videos available to view, these give a basic understanding of the forex markets and ways to analyze and trade. Apart from these videos outlining different features of the site and accounts, there isn't much more in terms of education. There are a few additional webinars available for VIP Black members but we are unable to tell what these webinars are like.
Customer Service
Should you have any queries or need any help, there are a number of different ways to get in contact with TIO Markets. You can use the online form to send your question and you should expect to get a reply back via email. There are also live chat and a telegram chat available to get support. There are also a number of emails to get in contact with different departments such as general inquiries, support, partnerships, and dispute resolution. Finally, there is a postal address available should you wish to send a physical letter. Surprisingly there is no phone number available to call.
Demo Account
Demo accounts are available, simply click the "Try the Demo" button on the website and sign up, once you have your demo account it lasts indefinitely unless you do not use it, if it is left dormant for too long then it will be automatically closed, if this happens you can simply open up a new one.
Countries Accepted
The website states that the information and services provided are not intended for residents of the USA or OFAC, it is not however limited to just these countries. So if you are unsure if you are eligible to join, simply get in contact with the support team to find out.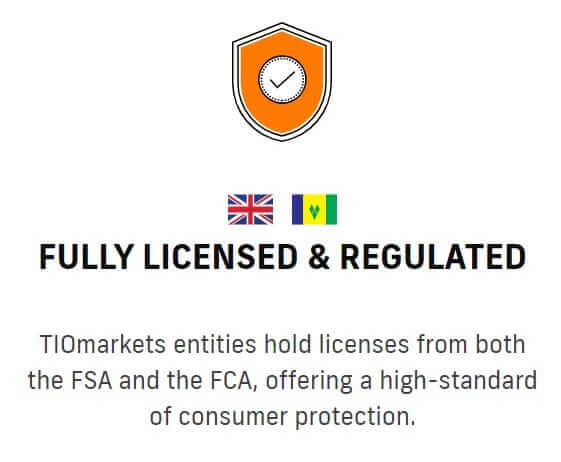 Conclusion
It is not very often that you find a forex broker with a subscription model, it could word out beneficial to sign up to one of these subscriptions if you current commissions are more than the subscription cost, there are plenty of benefits that come along with the subscription. Trading conditions are competitive and there are plenty of ways to get in contact with the support team. There is a lack of information in regards to deposits and withdrawals and it took a lot of digging to find any info at all. Two very good trading platforms make TIO Markets seem like an appealing place to trade, but be sure to do your own research to ensure they are right for you before signing up.
We hope you like this TIO Markets review, if you did, be sure to check out some of the other reviews in order to help find the broker that is right for you.