How You Can Make Money Using Forex.Academy's Free Trading Signals Service – PART 2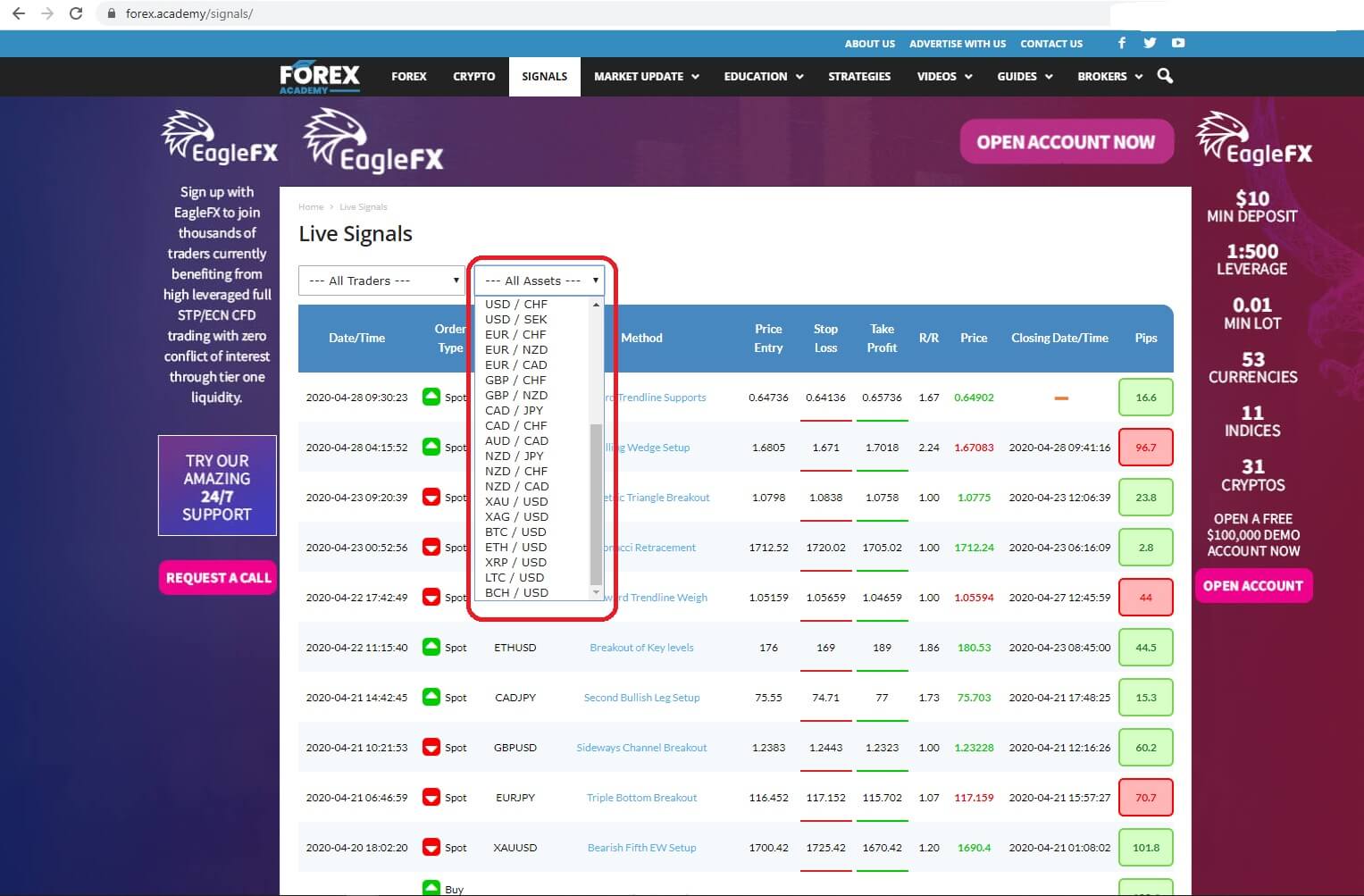 Welcome to how can you make money using forex academies free trading signals service part 2. By connecting to the Forex.Academy website and clicking the tab for our Free Trading Signals Service, you will find this page.
If you haven't seen part one, please do so because we go into great detail about the usability of the trading signals page, including the various types of the assets being traded, the types of trade setups, and details of the professional traders involved in the signals.
In this presentation we will be looking at how the signals service can help you, the trader, whether you are a novice trader or a seasoned professional, there is something here for you in this superb free signal service.
So for argument's sake, let's say you are a complete novice forex trader, and you have looked at the forex space and decided that you would like to take advantage of this 5 trillion dollars per day turnover business machine, which is totally recession-proof. You have a couple of options, one you can go to the trouble of learning every aspect of the forex market, including everything that you will need to know about fundamental and technical analysis, which is no mean feat because there is just so much to learn in order to become a proficient and profitable currency trader. That said, all the educational tools that you will need can be found absolutely free of charge on the Forex Academy website.
You also have the option of using a copy or mirror trading platform, where you link your forex account to a trader based on the scrutiny you have done regarding his/her track record. However, most traders will not give you a biography, and hardly any of them will speak to you directly regarding their trading approach and methodology. Also, there will be a monthly subscription cost to the mirror platform, and also a separate fee-based subscription to the trader. While you may be able to see his/her performance track record, you will not be able to analyze their trade setups, because he or she will very likely not provide that information to you. In effect, you are blindly trusting them to make you money.
Alternatively, you can use the forex Academy trading signals service, which is totally free,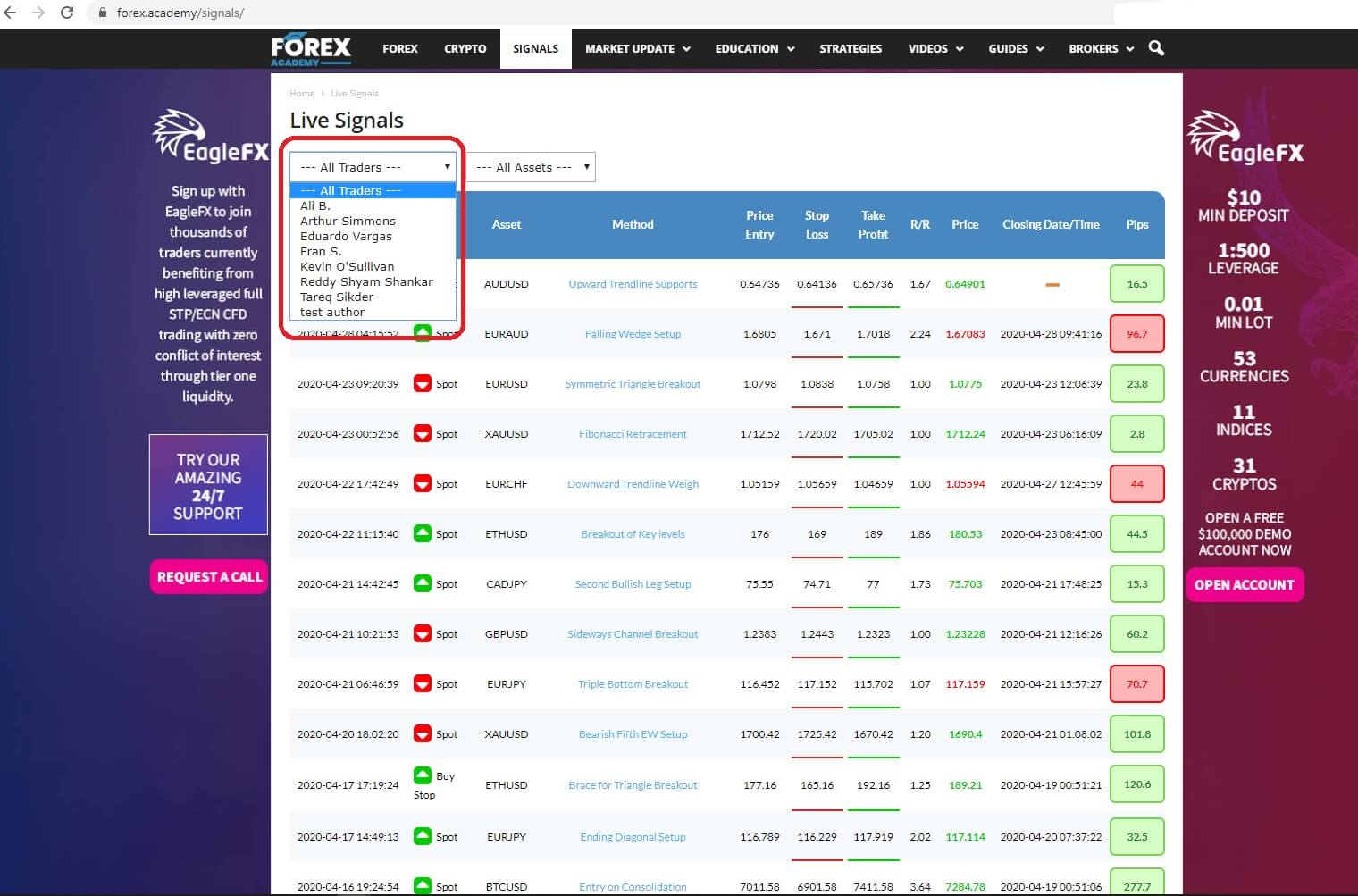 And where you get to choose the type of asset which is traded, from a basket of currencies and bitcoins.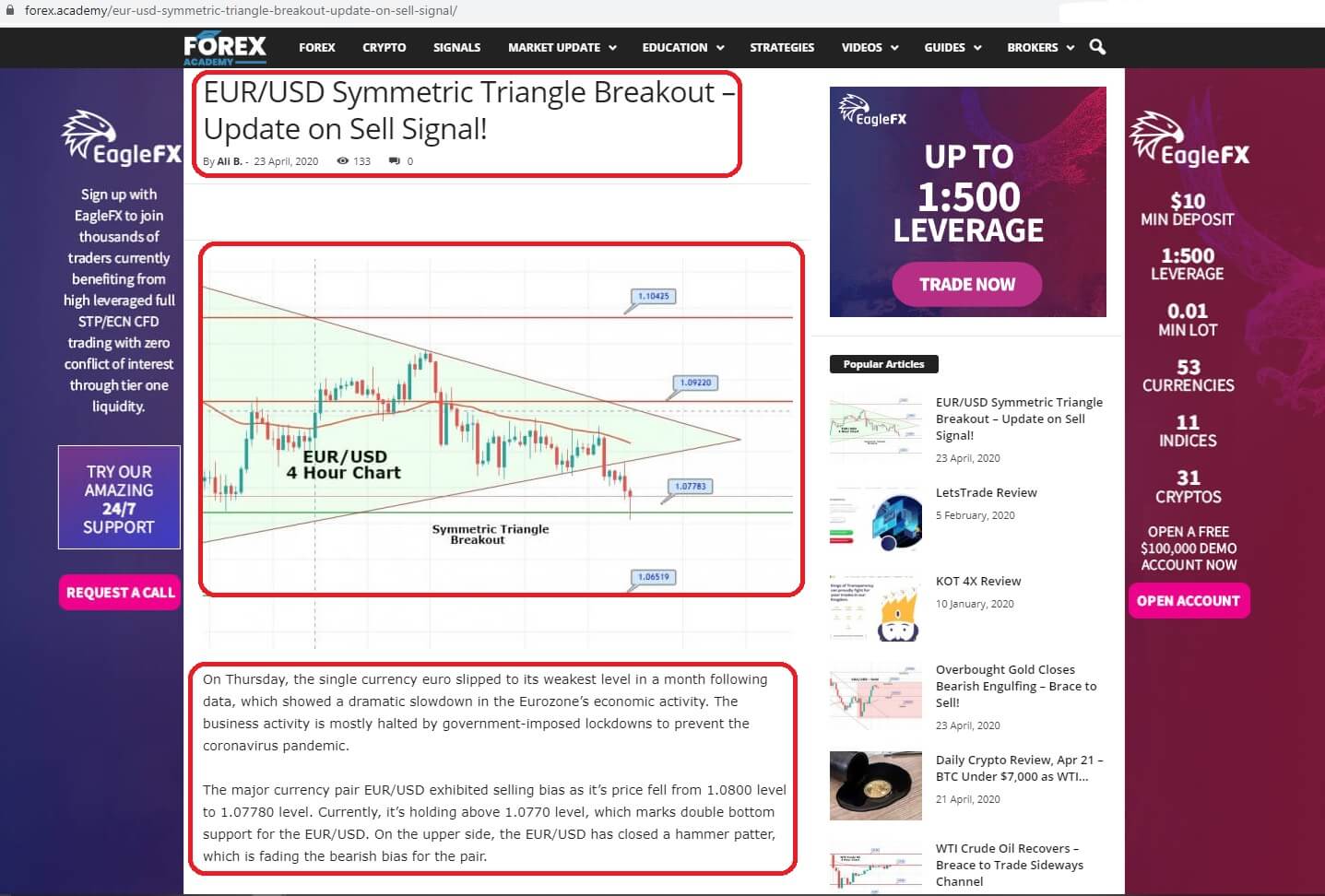 And where you are provided with a biography of each trader, including their professional status within the forex market, both past, and present.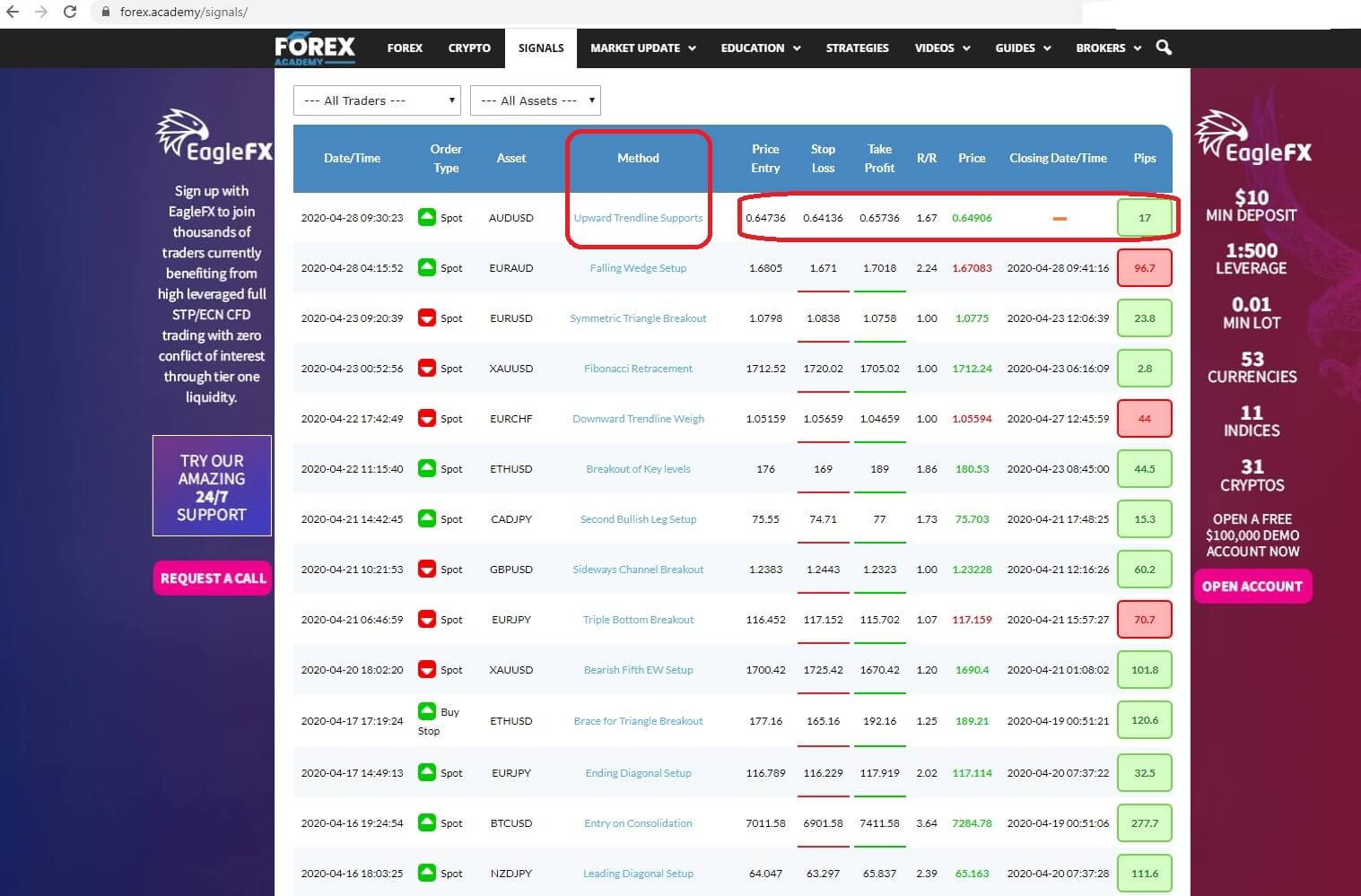 And where you can find details of the trade, including the name of the asset being traded, the technical analysis name for the trade setup, up-to-date visual technical analysis charts of the setups, and a written description of the fundamental and technical analysis behind each and every trade. Our professional traders only use technical and fundamental analysis setups that are widely used in the forex trading community in order to offer you reliable trading signals.
Trades will either be instant execution or pending orders and where you will be able to keep an eye on the trade table as and when these opportunities are presented, in which case you can pick and choose which trade to copy on your own trading platform. Having looked at the technical set up that the trader has uploaded in the method section, you then simply add stop loss and take profit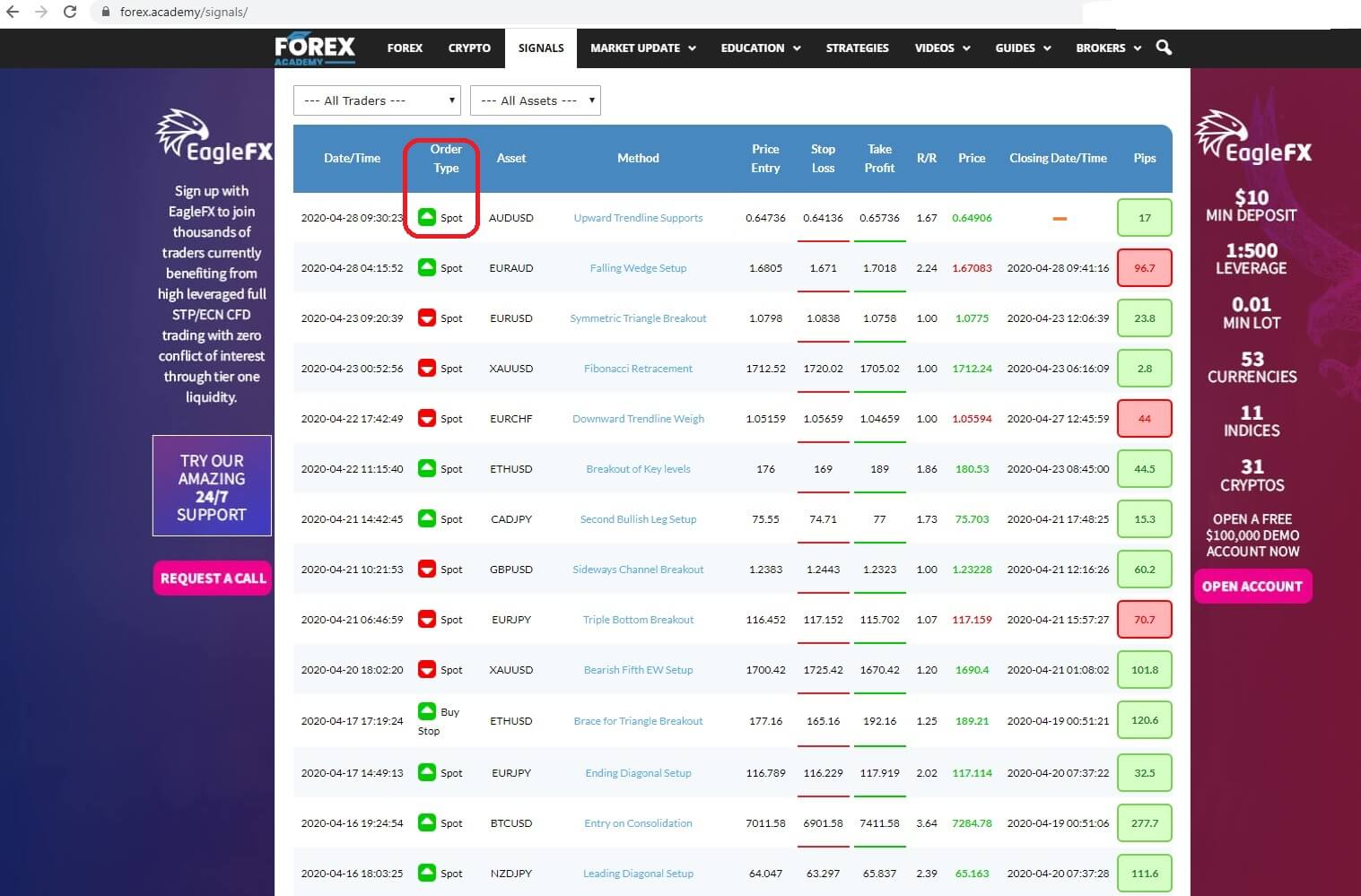 levels, or make adjustments to them based on your own risk preferences, and you then copy the entry price
bearing in mind that if it is an instant execution you might miss a few pips unless you are monitoring the table continually. However, you would be more likely to get in at the beginning of the trade by copying pending orders such as this buy stop order.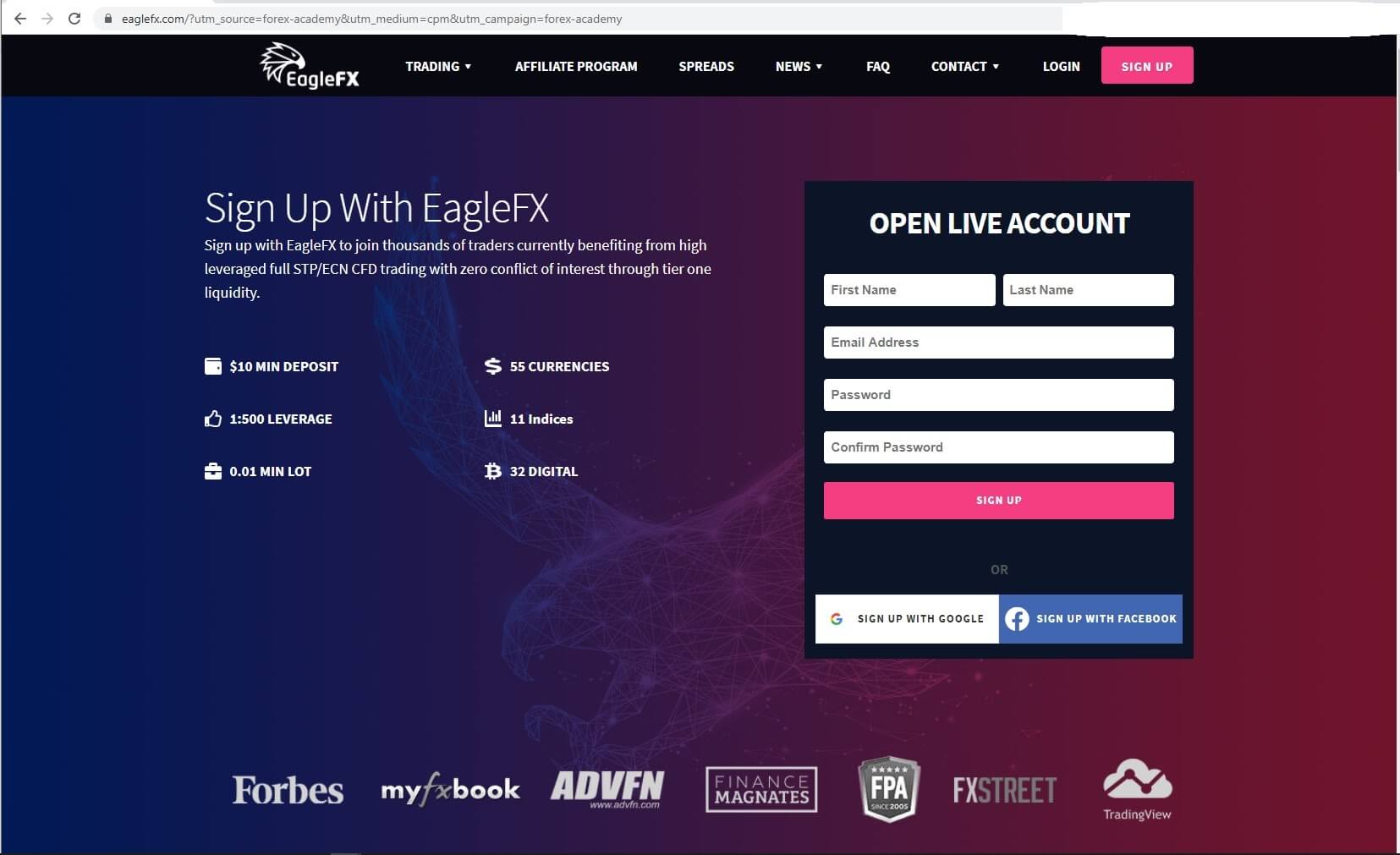 If you would like to be notified by a free subscription service of every single trade set up, you can open up an account with eagle FX, by visiting their website www.eaglefx.com, who are our partners in this venture, and where you will benefit from high leverage and full, STP/ECN, processing which means you will have zero trading conflict with this reliable and respected broker.
Another benefit of having an account with the EagleFX is that you will also be notified automatically of key FX levels, which act as magnets for price action in the spot forex market. You can also find details of these on the forex academy website by clicking on the market update tab and scrolling down to FX options.
So, as you can see, if you are a novice trader, you have the ability to research the trade, and if you like it, you can copy them onto your own platform having confidence in the expertise of the professional trader who set the trade signal up in the first place. This will help you to grow as a trader, as you steadily learn more about trading via this unique option.
Of course, it might be that you are a seasoned trader and hence you are still happy with the methods that you find on our trade table, and perhaps you want to spend a little less time looking at setups yourself, in which case you can copy our free signals in order for you to enjoy that lifestyle choice.
Please also keep an eye out for the relevant marketplace for 'Signal Academy' Android and IOS trading signals apps, which we are developing and which will be available to download soon.